Established in 2011, Cycling for libraries is an international cycling conference for librarians and library enthusiasts. It aims to promote libraries and to raise awareness of the services and resources that libraries offer to their audiences. In France and in French-speaking countries, this project is called Cyclo-biblio.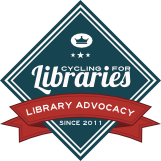 Cycling for libraries work in collaboration with local library associations and international organizations such as IFLA and EBLIDA. Cycling for libraries is proud to collaborate with major actors in the field of European libraries.
Cycling for libraries is both a politically and economically independent conference and a bicycle tour. It contributes to the physical and mental well-being of library professionals, promotes networking at both local and international levels, and above all, emphasizes the crucial role of libraries for society and for intellectual and scientific education in general. Cycling for libraries also supports environmental values and a green lifestyle. Cycling for libraries is directly inspired by the many values of librarianship. These values include openness, freedom of access to information, lifelong learning and innovation. Librarianship is also by its very nature humanistic, internationalist, cross-border and practical.
Cycling for libraries a pioneer in modern networking for professionals
Cycling, especially long-distance cycling, surpasses golf as the preferred means of networking for today's professionals according to The Economist in its April 26, 2013 issue. There are several reasons for this. First, cycling as a group fosters team spirit while golf is more competitive. Long-distance riding also relieves stress while focusing on the essentials. By riding in a group, cyclists work as a team, taking turns to ride, which requires more work but benefits everyone, according to The Economist.
From the beginning, Cycling for libraries wanted to take advantage of the new social media and communication tools for the organization of the event. Every year the organizing group is composed of Finnish librarians on the one hand and organizers from the countries where the congress is located on the other. They are really in the field of cooperation and they gladly accept the fact that most of their partners are abroad. Although Cycling for libraries is much more about face-to-face interaction and interesting meetings, especially in terms of participants, the web plays a key role in organizing and communicating the event worldwide for all those who want to keep libraries alive and functioning.