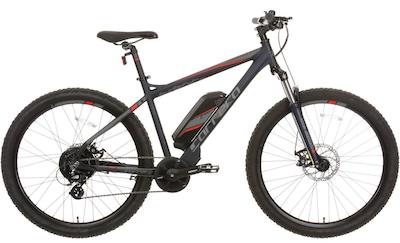 Carrera Vengeance E Bike
Wheel Size: 27.5"
Top Speed: Assistance to 15.5mph
Range: Average 25-30 miles (max 40 miles)
Number of Gears: 8 Speed gearing
Suspension: Front Suspension with 100mm travel
Our Verdict: Designed for both the urban commuter and the off-road adventurer, it's the perfect choice for those seeking a versatile and reliable e-bike experience.
Click on these Carrera Vengeance E Bike deals to see more:
Releated Deals:Carrera Crosscity Electric Folding BikeCarrera Crossfire Electric BikeCarrera CrossfuseCarrera Impel IM-2Carrera Impel IM-3Carrera Subway Electric Bike
7 Reasons You'll Love This Bike
Powerful performance with assistance up to 15.5mph.
Long-lasting battery with an average range of 25-30 miles.
Smooth gear transitions with 8 Speed reliable gearing.
Superior braking with Tektro Mechanical Disc Brakes.
Comfortable rides with Carrera Memory Foam Saddle.
Durable 7005 Alloy frame built to last.
Fully UK legal
Perfect for on or off road adventures with 100mm front suspension travel.
The Carrera Vengeance electric mountain bike shares its foundations with the top selling Carrera Vengeance standard pedal action mountain bike. Given the addition of a rear drive motor and a generous 317Wh battery, this e-bike has a range of up to 40 miles to give you all the help you could want on rugged off road adventures.
With a battery recharge time of just 6 hours it means it can easily be topped up overnight or plugged in at work.
Fully UK legal, the Vengeance e-bike is powered by an intelligent rear hub motor which delivers speeds up to 15.5mph to help both your commutes and adventures!
The Vengeance's aluminium lightweight frame aids handling, while its gearing allows you to maintain complete control of the amount of power you want to add on the flat and on the climbs. The mechanical disc brakes with large 180mm rotors provide straightforward stopping force that will easily bring you to a halt on the steepest of descents. The hefty 27.5" Kenda K1027 tyres, coupled with the Suntour XCT coil suspension's 100mm travel, will soften the bumps when the going gets rough.
Carrera Vengeance Electric Bike Specification
Comes in both men's and women's variants
Lightweight aluminium frame
8-speed gearing
180mm Tektro Mechanical Disc Brakes
100mm Suntour XCT coil suspension forks


*You want a solid commuter
*You want to ride off road
*You love riding but don't enjoy hills so much
*No one has ever regretted buying an electric mountain bike!
Tyres
The Carrera Vengeance electric bike comes with Kenda K1027 all condition cross-country tyres. The medium size square knobs and split paddle design offer maximum traction that is great in the mud and on tarmac ensuring you have full control of the bike in the corners and on descents.
The tyres provide moderate rolling resistance with the addition of multiple tie-bars from knob to knob giving extra casing strength.
Service Check
Because this ebike is sold through a high street retailer, you'll have peace of mind knowing that you can easily get full backup and support for your Carrera Vengeance electric bike, motor and battery.
Don't Buy This Bike If...
If you're looking for a bike exclusively for extreme off-road challenges. You'll want something even more rugged
Do Buy This Bike If...
You're seeking a versatile e-bike for both commuting and adventures.
You value the assurance of a high street warranty.
You appreciate the extended range this model offers.
You want a bike that combines traditional cycling with modern e-bike features.
Reviews:
When it comes to making popular bikes for UK trails, Carrera's reputation precedes it. Their latest offering, an e-bike version of the Vulcan mountain bike, is no exception. This beast is powered by the Suntour HESC system, and let me tell you, it's ready to send it on the gnarliest of singletracks.
Now, let's talk price. The Vengeance E comes in at a sub £1200 price tag. In a market where many e-mtbs at this price point seem like they've never seen a hardcore trail, this bike is a breath of fresh air. From the get-go, it's clear that this isn't just any hardtail. The torque-sensing motor system, typically reserved for the pricier e-bikes, promises a ride that's as smooth as it is exhilarating.
The Vengeance E's alloy frame, reminiscent of the non-assisted Vulcan, is all about hacking those trails. It's robust, with welding that looks like it can handle some serious hammering. And with a weight capacity that's more than generous, it's clear this bike is ready for some serious climbing.
Equipped with 8 speed Sram or Microshift gearing, depending on which model you choose, Tektro mechanical disc brakes, and Kenda K1027 rubber ready to rail those berms, this bike is built for performance. The 27.5" double-walled rims ensure stability when you're hucking down those trails.
Now, the HESC (Human Energy Synergy Concept) is where things get interesting. This hub motor system, with its torque-sensing tech, promises power delivery that's as smooth as butter on a hot singletrack. No more unexpected power surges, just pure responsive assistance where you need it.
The Vengeance E is all about versatility. Whether you're hammering it in the local woods or cruising on moderate cross-country rides, this bike has got your back. The motor's smooth power delivery, combined with its hardtail design, makes it feel like you're riding a bike that's way above its price point.
Battery-wise, we're looking at a range that varies. On regular tracks, expect about 20-30 miles. But if you're just out there chilling on flatter terrains, 40 miles is entirely within reach. And when it's time to recharge? About four hours and you're good to go.
In the world of e-mtbs, where renowned mid-motor e-bikes often come with a hefty price tag, the Vengeance E is a game-changer. It's not just about value for money; it's about getting a bike that's ready to shred, climb, and have fun on, no matter the trail. So, if you're looking for a bike that's as reliable as it is versatile, the Vengeance E should be at the top of your list.