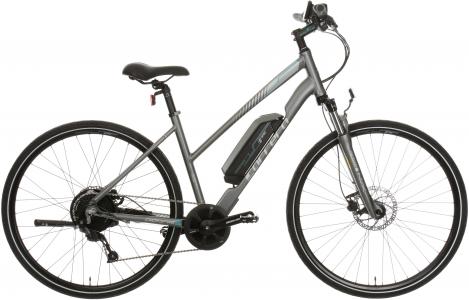 Carrera Crossfire Electric Bike
Wheel Size: 700c
Top Speed: 15.5mph
Range: Average 25-30 miles (max 60 miles)
Number of Gears: 9
Suspension: Suntour 75mm Travel
Our Verdict: The Carrera Crossfire E Mens Electric Hybrid Bike 2.0 is a versatile and reliable e-bike perfect for daily commutes, leisurely rides, and even challenging terrains. It's best suited for those who value comfort, efficiency, and a touch of adventure in their rides.
Click on these Carrera Crossfire Electric Bike deals to see more:
Releated Deals:Carrera Crosscity Electric Folding BikeCarrera CrossfuseCarrera Impel IM-2Carrera Impel IM-3Carrera Subway Electric BikeCarrera Vengeance E Bike
7 Reasons You'll Love The Crossfire Electric Bike
Impressive range of up to 60 miles on a single charge.
Smooth shifting with 9-speed Shimano gears.
Enhanced stopping power with Tektro Hydraulic Disc brakes.
Comfortable rides with Carrera Memory Foam Saddle.
Durable and lightweight Aluminium frame.
Puncture-resistant Kenda tyres for stress-free commutes.
Backed by a Lifetime Frame Guarantee.
The Carrera Crossfire E is not just an electric bike; it's a companion for all your cycling adventures. Whether you're heading out for long leisure rides, daily commutes, shopping trips, or seeking a bit of assistance on uphill climbs, this bike has got you covered. Its design ensures you get the best of both worlds - the efficiency of a road bike and the resilience of a mountain bike.
About Carrera
Carrera, a name synonymous with innovation and quality, has been at the forefront of the cycling industry for years. Known for producing bikes that cater to everyday riders and weekend adventurers, Carrera focuses on enhancing the overall cycling experience. Their e-bikes, including the Crossfire E, are a testament to their commitment to bringing advanced technology and design to the masses. With Carrera, you're not just getting a bike; you're investing in a legacy of excellence and passion for cycling.
Carrera Crossfire Electric Bike Specifications
Range: 25-30 miles (max 60 miles)
Recharge Time: 6 Hours
Battery: Removable 417Wh
Frame: Aluminium
Gears: 9 Speed Shimano
Brakes: Tektro Hydraulic Disc
Wheels: 700c Kenda K-935
Don't buy this bike if...
If you're an extreme off-road enthusiast looking to ride hard on rugged terrains all day.
Do Buy This Bike If...
You're looking for a reliable commuter bike.
You value the assurance of a high street warranty.
You appreciate the extended range this model offers.
You want a blend of comfort, efficiency, and style in your e-bike.