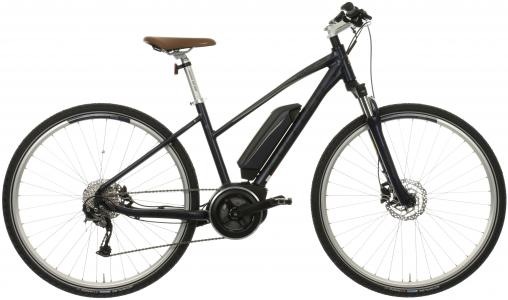 Carrera Crossfuse
Wheel Size: 700c
Top Speed: UK legal assistance to 15.5mph
Range: Average 30-35 miles (max 80 miles)
Number of Gears: 9
Suspension: Suntour NEX HLO Forks 63mm
Our Verdict: The Carrera Crossfuse is an exceptional electric bike that offers a perfect balance of power, performance, and style. It's ideal for your daily commuters and your weekend adventurers.
Click on these Carrera Crossfuse deals to see more:
Releated Deals:Carrera Crosscity Electric Folding BikeCarrera Crossfire Electric BikeCarrera Impel IM-2Carrera Impel IM-3Carrera Subway Electric BikeCarrera Vengeance E Bike
7 Reasons You'll Love The Carrera Crossfuse
Powerful Bosch Active Line motor ensures a smooth and efficient ride.
Long-lasting 400Wh Bosch Powerpack for extended adventures.
Comfortable Selle Italia Gel saddle for those longer journeys.
9-speed Shimano gears for versatile cycling across different terrain.
Shimano Hydraulic Discs for reliable and responsive braking in the wet or dry.
Stylish and durable design backed by Carrera's reputation.
Front suspension ensures a smooth comfy ride even on bumpy tracks.
The Carrera Crossfuse is not just an electric bike; it's a statement. Whether you're taking on long leisure rides, daily commutes, shopping trips, or seeking a little assistance on challenging routes, this bike does it all. Its larger wheels, more ergonomic design and array of advanced features for a bike of this price, all ensure that every ride is a joy.
About Carrera
Carrera, a renowned name in the cycling industry, has been at the forefront of innovation and design for years. With a rich history of delivering top-quality bikes, Carrera has always been the go-to choice for cycling enthusiasts. Their venture into electric bikes has further solidified their position as leaders in the market, offering riders an enhanced cycling experience backed by the trusted Carrera legacy.
Carrera Crossfuse Specifications
Motor: Bosch Active Line Plus Mid Drive
Display: Bosch Purion
Battery: Bosch 400Wh
Gears: Shimano Acera 9 Speed
Brakes: Shimano Hydraulic Discs
Frame: Lightweight Aluminium
Tyres: Schwalbe Tyrago KG
Don't Buy This Bike If...
If you're looking for a rugged off-road bike for extreme terrains and challenges. The larger wheels and lighter frame make this more suited to smoother tracks and cycle paths.
Do Buy This Bike If...
You're seeking a reliable commuter e-bike.
You value a bike backed by a reputable brand and high-street warranty.
You want to ride further with the extended range this model offers.
You're looking for a classic blend of style, performance, and innovation, all at a cracking price.