Carrera Vengeance Mountain Bike
/
/
/

Carrera Vengeance Mountain Bike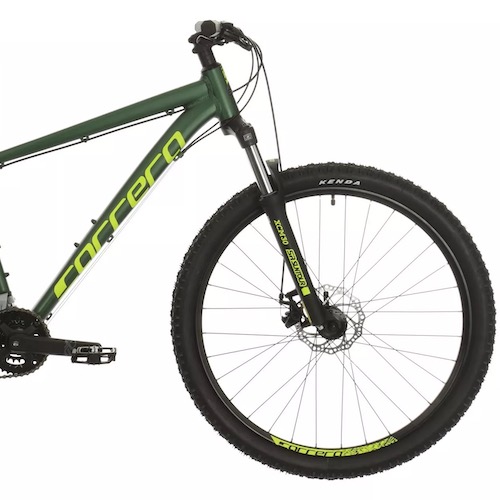 The Carrera Vengeance is one of the best selling bikes in the UK right now, read on to find out if it's going to be the right mountain bike for you
Cheapest Prices Seen for Carrera Vengeance Mountain Bike:
Benefits:
Do you want a rugged off-road capable bike that will comfortably take you on adventures with ease, but without breaking the bank? The Shimano equipped Carrera Vengeance fits the bill.
This 16 speed hardtail from the UK's most popular mountain bike brand features an aluminium alloy hardtail frame with a lifetime warranty, front suspension with laid back geometry coupled with a short stem and wide handlebars to give you maximum thrills out on the trails.
Add in aggressive off road tyres and disc brakes on the front and rear, and you've got yourself a classic mountain bike that is perfectly suited to being ridden around the local woods or on all day countryside epics.
Specs at a glance:
Frameset: Lightweight strong and durable Alloy frame backed up with a lifetime warranty as standard
Forks: Suntour XCM suspension giving 100mm of plush travel
Gears: 16 speed Shimano Altus - 2x8
Brakes: Mechanical disc-brakes for smooth, keen stopping
Wheels: 27.5' double-walled rims for extra durability
Tyres: Kenda off-road tread pattern with an extra puncture-resistant inner layer
More Info:
You can also use this bike for commuting. It won't be as fast as a road bike or a hybrid bike, but the Carrera Vengeance is perfect for city riding as well as off-road riding. The more puncture resistant tyres are an additional welcome on glass and rubbish strewn streets.
If you are too small for the smallest Carrera Vengeance 27.5 mountain bike there is also a Carrera Vengeance 26" bike and a Carrera Vengeance 24 Junior bike available