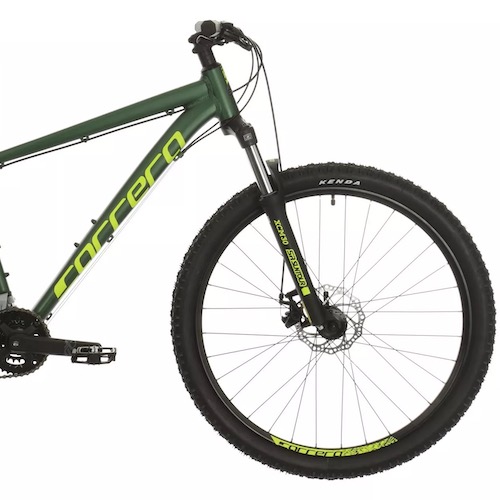 Carrera Vengeance
Weight 14.5 kg
Suspension 100mm front
Frame Aluminum
Wheel size 27.5″
Gears 16
Brakes Mechanical Disc
Dive into the world of mountain biking with the Carrera Vengeance, a bike that promises not just a ride, but an experience. Crafted with precision, loaded with features, and designed for the passionate, this bike is your ticket to uncharted terrains and unforgettable adventures.
Click on these Carrera Vengeance deals to see more:
Releated Deals:Black Carrera BikeCarrera CodeCarrera FuryCarrera HellcatCarrera KarkinosCarrera KrakenCarrera SulcataCarrera TitanCarrera ValourCarrera VendettaCarrera Vulcan Mountain Bike
7 REASONS YOU'LL LOVE THIS CARRERA MOUNTAIN BIKE
Sturdy Frame: Built with a lightweight yet durable alloy frame, the Carrera Vengeance promises strength on every ride.

Smooth Ride: Navigate rough terrains with ease, thanks to the Suntour XCM adjustable forks offering 100mm of travel.

Efficient Gearing: With 16-speed Shimano Altus gearing, conquer hills like never before.

Braking Excellence: Mechanical disc-brakes ensure smooth, controlled, and safe stopping on any terrain.

Durable Wheels: 27.5" double-walled rims promise longevity and resilience.

Ultimate Comfort: The Carrera Memory Foam Saddle ensures you enjoy every moment of your ride, no matter how long or challenging.

Puncture Protection: Say goodbye to unexpected halts with Carrera Puncture Protect tyres, designed with an extra layer of resistance against punctures.
VENGEANCE KEY FEATURES & BENEFITS
Designed for More: Carrera bikes are not just vehicles; they're experiences. Whether you're an everyday rider or a weekend adventurer, the Vengeance is crafted to elevate your cycling journey. More miles, more challenges, more freedom – that's the Carrera promise.

Modern Makeover: Carrera have reimagined the Vengeance, giving it a contemporary look and feel, making it a modern-day mountain biking marvel.

Extra Comfort: Carrera have listened to extensive rider feedback. With memory foam saddles and ergonomically designed handlebar grips, comfort is no longer a luxury, in fact they've made it a standard.

Peace of Mind: The special puncture protection tyres, fortified with a Kevlar layer, help ensure that your rides are uninterrupted and smooth.

Efficient Gearing: The modern 2x gear setup not only reduces weight but also simplifies gear shifting, making your rides more intuitive and enjoyable.

Top-Notch Equipment: Carrera's commitment to quality is evident in the Vengeance. From the Shimano Altus 2x8 groupset to the mechanical disc brakes and Suntour XCM suspension forks, every component is chosen for performance and durability.
The Carrera Vengeance is more than just a mountain bike; it's a statement. A statement of passion, adventure, and commitment. Every detail, from the alloy frame to the 27.5" wheels, is a testament to Carrera's dedication to providing the best for its riders.
So, if you're ready to take on new trails, face challenging terrains, and create memories that last a lifetime, the Carrera Vengeance is waiting for you. Gear up, ride on, and let the adventures begin!
Benefits of the Carrera Vengeance 27.5 wheels
Of the three main wheel sizes available on mountain bikes, the Vengeance sits comfortably in the middle with 27.5 wheels. Originally, mountain bikes in the UK used to come with smaller 26-inch wheels, which were great for making a twitchy bike that could navigate between the trees on fast forest singletrack with ease, but less good when it comes to smoothly rolling over large potholes and debris, which the larger 29" wheels handle easily. The problem some people have with the larger wheels is that is makes the bike feel a lot bigger, and for shorter riders the top tube can be too close to comfort to the groin region when dismounting or standing astride the bike. Enter 27.5 wheels - an improvement on the smaller wheels when it comes to rolling over obstacles, but without uncomfortably changing the geometry of the bike. A perfect balance between the two.
WHY CARRERA?
For over two decades, Carrera has been manufacturing high-quality and reliable bikes that stand out for their exceptional value. Available on the high street, through Halfords, one of the UK's most trusted cycling retailers, Carrera offers impressive performance without the premium price tag.
All Carrera bikes are designed to incorporate decades of engineering experience with rigorous testing ensuring that every model meets the highest standards for safety, comfort, and durability. Costs are controlled through integrated in-house manufacturing and direct sales which allows Carrera to equip their bikes with professional-grade components from leading brands rarely found at these lower price points. From road racing to mountain trails, Carrera bikes deliver pro-level performance across disciplines that competitors can't match pound for pound. With excellent customer service and lifetime maintenance guarantees, Carrera bikes represent unmatched quality for your money. If you seek true value backed by decades of expertise, Carrera is the smart choice.
DON'T BUY THIS BIKE IF...
Your friends are all on fast road bikes and expect you to keep up
DO BUY THIS BIKE IF...
You want a bike you can reliably commute on, no matter how rough your local cycle paths wre

You want a high end bike for leisure rides

You want to confidently take on any woodland trail, towpath or farm track

You're buying a present for a teenager gaining their two-wheeled independence (look at the Carrera Vengeance 26" Junior Bike if this one is too big)

You want to put a rack and panniers on to do local shopping