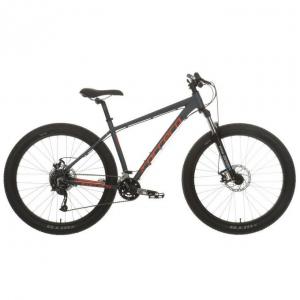 Carrera Vendetta
Wheel Size: 27.5+
Suspension: Front
Gears: 18
Brakes: Mechanical Disc
Weight: 15.7kg
If you want an affordable mountain bike that can handle backcountry trails and local adventures, keep reading to see why the versatile Carrera Vendetta is ready for wherever you want to ride.
Click on these Carrera Vendetta deals to see more:
Releated Deals:Carrera CodeCarrera FuryCarrera HellcatCarrera KarkinosCarrera KrakenCarrera SulcataCarrera TitanCarrera ValourCarrera VengeanceCarrera Vulcan Mountain Bike
7 Reasons You'll Love the Carrera Vendetta
Lightweight and Durable Alloy Frame - Provides a solid foundation for trail riding without excessive weight.
100mm Suspension Fork - The Suntour XCM fork smooths out bumps and rough terrain.
18-Speed Drivetrain - Wide Shimano Altus gear range handles every type of incline and terrain.
Mechanical Disc Brakes - Controlled stopping power in any conditions for confident trail riding.
27.5" Plus-Sized Tires - 2.8" wide tires roll over obstacles and add traction and control.
Puncture Protection - Kevlar-reinforced tires reduce flats so you can keep rolling.
Fat tyre fun - Get the fun performance of a fatbike with the 27.5+ size tyres, without the added weight or change in handling.
Vendetta Key Features & Benefits
Alloy Frame – Durable and efficient for trail riding.
27.5" Plus Tires – Added traction, control and comfort.
100mm Suspension Fork – Smooths out bumps and increases grip.
18-Speed Drivetrain – Wide gearing range for any terrain.
Mechanical Disc Brakes – Confident stopping in all conditions.
Puncture Protection – Reduces flats for uninterrupted riding.
Ergonomic Touchpoints – Dialed for comfort over long distances.
Why Carrera?
For over two decades, Carrera has been manufacturing high-quality and reliable bikes that stand out for their exceptional value. Available on the high street, through Halfords, one of the UK's most trusted cycling retailers, Carrera offers impressive performance without the premium price tag.
All Carrera bikes are designed to incorporate decades of engineering experience with rigorous testing ensuring that every model meets the highest standards for safety, comfort, and durability. Costs are controlled through integrated in-house manufacturing and direct sales which allows Carrera to equip their bikes with professional-grade components from leading brands rarely found at these lower price points. From road racing to mountain trails, Carrera bikes deliver pro-level performance across disciplines that competitors can't match pound for pound. With excellent customer service and lifetime maintenance guarantees, Carrera bikes represent unmatched quality for your money. If you seek true value backed by decades of expertise, Carrera is the smart choice.
Don't Buy This Bike If...
You want to do fast commuting. This bike is built for off road fun.
Do Buy This Bike If...
You want one reliable bike for trail riding and around-town use.
You seek a comfortable bike for exploring local woodland trails, parks, towpaths, etc.
You need an all-weather bike for commuting on variable terrain.
You want a quality starter mountain bike without breaking the bank.
You're a heavier rider and like the look of beefier tyres
With its smooth-riding suspension, grippy plus-sized tires, wide gear range and trusted components, the Carrera Vendetta delivers versatile performance for every kind of adventure. It's just as ready to shred singletrack as it is canal towpaths Jump on a Vendetta today and experience the mountain biking freedom big tyred bikes can bring you.