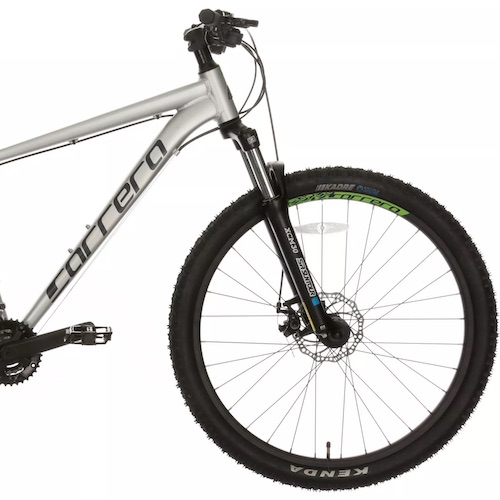 Carrera Valour
Wheel Size: 27.5
Suspension: Front
Brakes: V-Brakes
Gears: 14
Weight: 15kg
There are currently two main versions of the Carrera Valour mountain bike available - click to see each one below, or scroll down to read more.
Click on these Carrera Valour deals to see more:
Releated Deals:Black Carrera BikeCarrera CodeCarrera FuryCarrera HellcatCarrera KarkinosCarrera KrakenCarrera SulcataCarrera TitanCarrera VendettaCarrera VengeanceCarrera Vulcan Mountain Bike
All About The Carrera Valour Mountain Bike
The Carrera range of mountain bikes gives extremely well-specced value for money for any riders looking for a bike that can handle aggressive UK off-road trails with ease. Based on the popular 27.5 wheel size, these bikes share an aluminium frame with a geometry that suits a 100mm travel fork for extra comfort on rugged trails. Carrera are so confident of the frame build quality that they offer a lifetime warranty on them.
Designed to be a rugged access all areas type of mountain bike, this very capable entry-level bike in the Carrera mountain bike range, more than fits the bill.
This new to the market mountain bike comes with the modern longer wheelbase frame geometry favoured by mountain bike riders currently used for shredding the UK's trails.
Designed to utilize wider handlebars coupled with shorter stems and a suspension fork the Carrera Valour looks modern and provides an exciting ride.
The trigger style gear shifters provide swift and crisp gear changes on the 2x drivetrain and the choice of v-brakes or disc brakes give you confident stopping power whichever model of Carrera Valour bike you choose.

For anyone who finds some mountain bike saddles uncomfortable, you'll be glad to hear that this bike features a supportive memory foam layer of extra padding providing you with more cushioning.
The Valour's wheels come with tough puncture protection tyres that will also enable you to ride more confidently knowing you've got less likelihood of getting flats, so you can really go for it!

Carrera Valour Bike Range Differences
All of the Valour mountain bike range is based on the same aluminium frame.
The standard entry-level model comes with aluminium V-brakes for controlled and effortless braking, and Shimano Altus 14 speed gearing providing crisp shifts across a wide range of gears.
The Disc brake model comes with mechanical disc brakes for even greater control on steep downhill trails, and 16 speed Microshift gearing providing a little more choice in gear selection.
The Valour Junior mountain bike features the same great design ethos but is suitable for younger riders who are a bit too big for a regular childrens bike. It can also be useful for a shorter person who doesn't comfortably fit on a womens or mens mountain bike.
Carrera Mountain Bike Warranties
Carrera take bike build quality very seriously, which is why the Valour frame comes with a lifetime warranty