Carrera Sulcata
/
/
/

Carrera Sulcata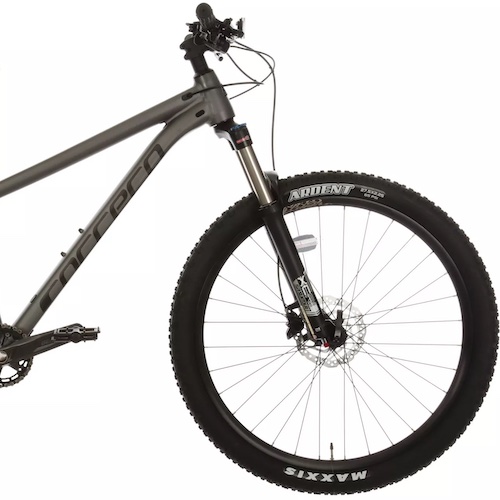 The Carrera Sulcata range of mountain bikes sit at the top of the Halfords mountain bike offerings, alongside the high-end Voodoos and Boardmans.
Updated from its previous 29er incarnation, the aluminium framed hardtail now features 27.5 wheels, and an up to date laid back relaxed geometry coupled with 120mm travel forks and a short stem to provide responsiveness in the steering department.
There are three major price points for the Sulcata range, each providing extremely good value for money. The only major difference between the models are the groupset and forks.
Cheapest Prices Seen for Carrera Sulcata:
Benefits:
If you're an experienced off roader who's looking for a keenly priced hardtail that can be hammered in the woods as well as long all day epic off road rides then this is for you. If the budget will stretch to it go for the Sulcata 3.2 model - you'll love the forks and upgraded tyres. If you can't afford it don't fret, you can get the same frame on the cheaper models and upgrade the parts at a later date when your needs dictate. The Sulcata frame is a great basis for a quality mtb.
Specs at a glance:
Showing the primary differences between the bikes in the current Carrera Sulcata mountain bike range:
Carrera Sulcata 1
Forks: Suntour XCM forks with hydraulic speed lockout and 120mm of travel
Gears: 20-speed Shimano Deore, 11-42T Rear, 36/22T Front
Brakes: Tektro Hydraulic discs
Tyres: DELI SA-281 All terrain tyres
Carrera Sulcata 2.1
Brake Type: Shimano BL-M210 Hydraulic Disc Brakes
Gears: Shimano RD-M5120 Deore, 2x11 - 11-42T rear, 36x26T front
Forks: RST Omega 27.5 with 120mm travel
Tyres: DELI SA-258 All terrain tyres
Carrera Sulcata 2.2
Brake Type : Shimano BL-M210 Hydraulic Disc Brake
Gears : Shimano RD-M5120 Deore, 2x11 - 11-51T rear
Forks : RST Omega 27.5 with 120mm travel
Tyres: DELI SA-281 All terrain tyres
Carrera Sulcata 3.1
Forks: RST Omega 27.5 with 120mm of travel
Gears: 1x11 Shimano Deore 11-51T rear
Brakes: Shimano BL-M210 Hydraulic Disc Brake
Tyres: DELI SA-281 All terrain tyres
Carrera Sulcata 3.2
Forks: Suntour XCR with 120mm of travel
Gears: 1x11 Shimano Deore 11-51T rear
Brakes: Shimano BL-M210 Hydraulic Disc Brake
Tyres: Maxxis Ardent