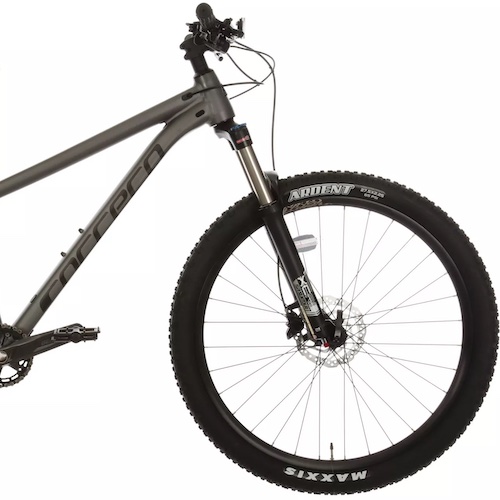 Carrera Sulcata
Suspension 120mm front
Frame Aluminum
Wheel size 27.5
Gears 2x10 Speed, 2x11 Speed and 1x11 Speed
Brakes Hydraulic Disc
Bikesy Verdict: Carrera have delivered a standout bike with the Sulcata. You'll be hard pushed to find similar value for money - high end Shimano gearing and plush longer travel lockout forks mean this is a bike that can be pushed and hammered on UK trails. This is a very inexpensive route into real off road mountain biking. A definite thumbs up from us.
There are currently four different versions of the Carrera Sulcata MTB available - click to see each one below, or scroll down to read more
Click on these Carrera Sulcata deals to see more:
Releated Deals:Black Carrera BikeCarrera CodeCarrera FuryCarrera HellcatCarrera KarkinosCarrera KrakenCarrera TitanCarrera ValourCarrera VendettaCarrera VengeanceCarrera Vulcan Mountain Bike
Mens Mountain Bike
The Carrera Sulcata range of mountain bikes give extremely well-specced value for money for any riders looking for an mtb that can handle aggressive UK off-road trails with ease. Based on the popular 27.5 wheel size, these bikes share an alloy frame with a geometry that suits 120mm travel forks for extra comfort on rugged trails. The manufacturers are so confident of the build quality of these frames that they offer a lifetime warranty on them.
Updated from its previous 29er incarnation, the aluminium hardtail frame now features 27.5 wheels, and an up to date laid back relaxed geometry coupled with 120mm travel forks and a short stem to provide responsiveness in the steering department.
There are three major price points for the Sulcata range, each providing extremely good value for money. The only major difference between the models are the groupset and forks.
As any experienced rider knows, if you're starting out on a budget in mountain biking Carrera is a great brand to start with.


The Sulcata Range
If you plan to ride hard off-road on all-day epics, go for the highest-spec Sulcata you can afford. The value for money on offer here is so impressive, you really can get an amazingly well-specced off-road bike for less, so we'd recommend you make the most of it.
Carrera Sulcata 1
It's hard to find a better value mountain bike in the UK than the Sulcata 1. Equipped with Shimano Deore 2x10 gearing, reliable shifts are guaranteed. Couple this with powerful Tektro hydraulic disc brakes and Suntour XCM forks with 120mm of travel and a lockout to aid with the climbs, this is a bike you can confidently take into the mountains and have a great day out on.
Carrera Sulcata 2.1
This bike is the perfect companion for your next adventure. With powerful Tektro hydraulic brakes, smooth Shimano Deore gears and lightweight 120mm forks for hammering those tougher descents whatever challenge you throw at it, these will help you every step of the way. Featuring the same Sulcata frame featured on the higher-end models, it makes the handling more responsive and predictable, whether you're climbing or dropping downhill. Add in the wide range of gears available thanks to the Shimano 2x11 drivetrain and the more than capable 42T cassette to make light work of the climbs.
Carrera Sulcata 2.2
The Sulcata 2.2 offers you the same great componentry and forks as the Sulcata 3.1 but with the added upgrade from Tektro hydraulic brakes to Shimano ones.
Carrera Sulcata 3.1
The Carrera Sulcata 3.1 mountain bike is the ideal trail companion in the UK and beyond. This bike is equipped with powerful Shimano hydraulic brakes and lightweight lightweight 120mm RST travel suspension forks allowing you to confidently ascend or descend. Both he Sulcata 3.1 and 3.2 offer the right balance of steady speed for minimal effort, thanks to its lightweight aluminium frame. Climbing has never been easier thanks to the single chainring 1x11 Shimano gear setup which features a large 51T cassette on the back wheel to help you tackle even the most difficult climbs. The wider cassette and single ring gives you a broad range of gears with only one gear lever, which is a popular choice for riders wanting to upgrade to a dropper seat post later on (the dropper lever sits where the front gear lever would have previously been located on the left hand side of the handlebars). This is a great way to get the benefits of the high-level Deore groupset and plush cross-country capable 120mm forks at a fantastic price.
Carrera Sulcata 3.2
The 3.2 comes as per the Sulcata 3.1 but with lightweight Suntour XCR forks with lockout and 120mm of travel.
Limited Edition Mountain Bike
Some years there is also a Limited Edition mountain bike version of the Sulcata mountain bike, that comes with uprated componentry. For 2022 this does not seem to be an option,
Why Carrera Mountain Bikes?
Just like cars, mountain bikes come in a variety of different makes and models. Some are better than others. Carrera Sulcata mountain bikes are some of the best entry-level off-roaders on the market that we've seen this year. You should seriously consider one if the following apply to you-
You want a mountain bike that you can confidently take off-road to tackle rugged UK trails
You want extremely good value for money
You want a 27.5 wheel size mountain bike
You want the extra travel of 120mm forks to allow for more aggressive riding
The main retailer for anyone looking to get hold of a Carrera mountain bike is Halfords. You can reserve a bike online and pick it up from your local Halfords high street store, and have the peace of mind knowing you have a place you can go to for advice on accessories, cleaning or any service related questions you may have.