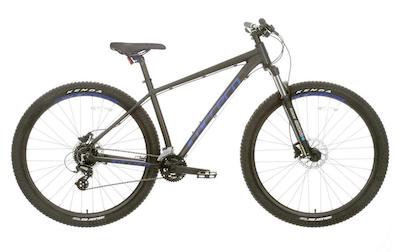 Carrera Hellcat
Weight 15.3 kg
Suspension 100mm front
Frame Aluminum
Wheel size 29″
Gears 16
Brakes Hydraulic Disc
Whether you're a seasoned rider or just starting out, the Carrera Hellcat is the mountain bike you've been waiting for. Designed with precision, packed with features, and built for adventure, this bike is set to redefine your off-road experience.
Click on these Carrera Hellcat deals to see more:
Releated Deals:Black Carrera BikeCarrera CodeCarrera FuryCarrera KarkinosCarrera KrakenCarrera SulcataCarrera TitanCarrera ValourCarrera VendettaCarrera VengeanceCarrera Vulcan Mountain Bike
Introduction
The Hellcat is a well-loved staple of the UK MTB scene. Originally introduced back in 1999, it has gone through subtle improvements and upgrades with each year that passes. This year the Hellcat is one of Carrera's 29" wheel bikes and is at the perfect price point to introduce riders of all ages to urban and off road mountain biking.
5 Reasons You'll Love This Carrera Mountain bike
Durability: With an aluminium frame and double-wall alloy rims, this bike is built to last, no matter the terrain.

Precision Handling: The Carrera riser bar, combined with comfortable handlebar grips, ensures precise control on tricky trails.

Adaptable Ride: Whether you're 14 or 40, the Carrera Hellcat is designed for all ages, ensuring a versatile and adaptable ride.

Safety First: Quick-release wheels, hydraulic disc brakes, and puncture-protect tyres ensure you're always safe on the trail.

Customizable Experience: With provisions for mudguards, pannier racks, and more, you can tailor the Hellcat to your specific needs.
Hellcat Key Features & Benefits
Gender-Specific Design: Crafted especially in men's and women's versions, ensuring a comfortable and ergonomic ride.

Lightweight Frame: With an approximate weight of just 15.3kg, the alloy frame ensures agility without compromising on strength.

Wheels Built for the Trail: The Carrera Puncture Protect by Kenda MTB tyres are designed to tackle any terrain, ensuring you're always in control.

Smooth Suspension: The Suntour XCM forks with 100mm travel provide a smooth ride, absorbing shocks and bumps with ease.

Efficient Gearing: The Shimano Altus 2x8 groupset, combined with a 16-gear system, ensures you have the right gear for every climb and descent.

Braking Power: Experience unmatched stopping power with the Clarks Clout Hydraulic disc brakes, both front and rear, ensuring safety on steep descents.

Comfortable Seating: The Carrera Memory Foam MTB saddle ensures comfort even on the longest rides.

Versatile Add-ons: With mudguard mounts and pannier mounts, you can customize your ride for commuting or long-distance adventures.
The Carrera Hellcat isn't just a mountain bike; it's an experience. Every component, from the Shimano gear shifters to the Carrera alloy seatpost, has been meticulously chosen to offer you the best ride possible. Whether you're navigating city streets or exploring rugged trails, the Hellcat promises performance, comfort, reliability and outstanding value for money.
In terms of where the Hellcat fits into the Carrera mountain bike range, it's similar to the Vengeance, but with it's bigger and wider 29" tyres the Hellcat offers even better performance on the trail with steadier handling and the ability to roll over bumps with ease.
So, gear up and get ready to conquer the wilds or the daily commute, with this mountain bike... your next adventure awaits!
Carrera Hellcat 29" Wheels
The biggest factor that makes this Carrera stand out compared to other mountain bikes in Carrera's range is that this is Carrera's 29" wheel offering. In the original days of mountain biking 26" wheels were the de-facto choice, until riders started to look for improvements in smoothing out obstacles in the trail and rolling faster over bumps. 29" wheels are more suited to long all day epics than their smaller cousins, your ride will feel easier and you'll be able to stay seated for longer. On the flip side if you're riding a lot of twisty and techincal trails, it may take you a little while to get used to the larger turning circle and lack of "twitchiness". For taller riders 29ers totally make sense, the wheel size is proportionally larger to their height. Smaller riders may struggle with the standover height of 29er bikes, the cross bar will be higher, and the bottom bracket axle offering a slightly more elavated position. If you're of an average height or taller, and want a bike that rolls fast both on road and off road, then a 29er like the Hellcat is a good option.
Why Carrera?
For over two decades, Carrera has been manufacturing high-quality and reliable bikes that stand out for their exceptional value. Available on the high street, through Halfords, one of the UK's most trusted cycling retailers, Carrera offers impressive performance without the premium price tag.
All Carrera bikes are designed to incorporate decades of engineering experience with rigorous testing ensuring that every model meets the highest standards for safety, comfort, and durability. Costs are controlled through integrated in-house manufacturing and direct sales which allows Carrera to equip their bikes with professional-grade components from leading brands rarely found at these lower price points. From road racing to mountain trails, Carrera bikes deliver pro-level performance across disciplines that competitors can't match pound for pound. With excellent customer service and lifetime maintenance guarantees, Carrera bikes represent unmatched quality for your money. If you seek true value backed by decades of expertise, Carrera is the smart choice.
Don't buy this bike if...
You're planning on riding with friends who are on fast road bikes
Do Buy This Bike If...
You want a reliable commuter

You want a comfortable bike suitable for long leisure rides

You want to confidently take on any cycle path, farm track or tow path

You want a rugged bike for a teenager out with their mates

You want to a bike to put a rack and panniers on to do local shopping

You want the backup of high street retailer support if you need it