Carrera Hellcat
/
/
/

Carrera Hellcat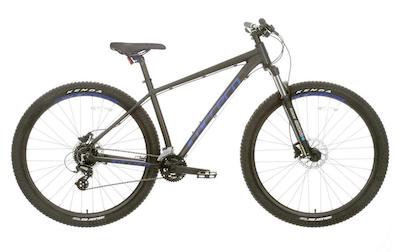 The Carrera Hellcat is a staple of the UK MTB scene. Originally introduced back in 1999, it has gone through subtle improvements and upgrades with each year that passes. This year the Hellcat is Carrera's 29" wheel offering - '29ers' in common parlance, and is at the perfect price point to introduce riders of all ages to urban and off road mountain biking.
Click on one of the models below to see more details and uncover special offers
While many Carrera Hellcat mountain bikes probably won't see much off road action, that doesn't mean they can't handle it. Up and down the country there are riders shredding their local trails on Hellcats. One upgrade we would recommend though is to the tyres. The tyres that come with the bike as standard are okay, but as they naturally wear out over time, you'll probably have developed an idea for the sort of terrain you want to ride more of, and will fit tyres that match that, rather than the general multi-purpose Kendas that come installed Check out the video below and you'll get an idea of the sort of terrain a Hellcat handles with ease.
Frameset: Alloy. Lifetime Warranty (subject to T&Cs) Gearing: 24speed - 3x8 Sram system Braking System: Disc Brakes - Mechanical Suspension: Yes - Front only, 100mm Suntour forks Wheels: 29inch wheels with multi-use puncture resistant tyres Bike Weight: Approx 15kg Order Online: Yes. Free delivery or collect in-store
*You want a bike that is stunning value for money
*You want a bike you can use for commuting as well as taking off road
*No one's ever regretted buying a good quality mountainbike!
Reviews:
Across the web reviews of the Hellcat are positive. As is often the case with entry level mountain bikes, a lot of people are buying a quality mtb for the first time so aren't always best placed to give informed feedback. If you read enthusiasts cycling forums you'll have seen plenty of comments like these recently...