Voodoo Marasa Hybrid Bike
/
/
/

Voodoo Marasa Hybrid Bike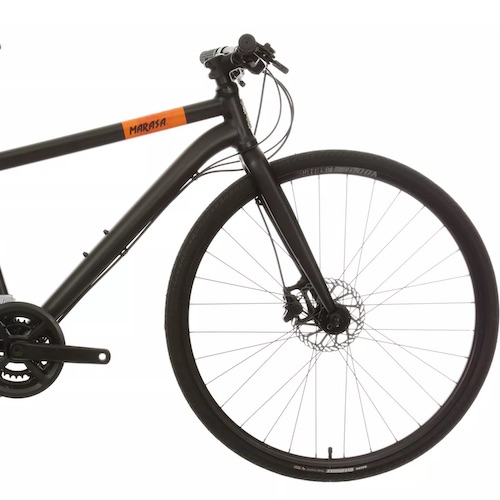 Voodoo are well known for their mountain bikes but how does this Voodoo Marasa hybrid bike match up to their high standards?
The Voodoo brand was originally founded over two decades ago with the simple goal of bringing us closer to nature through the simple enjoyment of getting out on amazingly good bikes.
This began with mountain bikes, but they've now expanded to include a selection of hybrid bikes that are suitable for everything from riding to work, to canal path Sunday meanders to longer more adventurous trips. Every Voodoo bike is built to be practical and comfortable, so you can focus on enjoying your ride and making the most of your outdoor time.
Cheapest Prices Seen for Voodoo Marasa Hybrid Bike:
Benefits:
This is a FAST hybrid. Not as fast as an out and out drop handlebar racing bike, but probably quicker than you are used to if you've previously come from a mountain bike or cheaper hybrid. It's also comfortable, the upright position will be easier on the neck and shoulders than a drop bar machine, and the more upright riding position gives a better vantage point in traffic than a sporting position.
The tyres roll well while being robust enough to deal with park and gravel tracks, and the hydraulic disc brakes bring the feel of a high end mountain bike to this remarkably good value for money price point. There's no suspension on this bike, and to be honest you wouldn't want any. This is a fast responsive hybrid bike that doesn't need a soft front end, and the money saved on a complicated fork has gone towards providing improved components like the gears and brakes.
This bike is perfect for riding to work in normal clothes, taking down mucky country lanes at the weekend and you'll even see them tackling long charity rides like the Ride London 100. With fixings for a water bottle for longer rides, and a rack for carrying shopping on the back, this lightweight aluminium frame bike really can do it all.
Specs at a glance:
Drivetrain: Dependable Shimano Altus 2x9 giving a wide spread of gears to get you up the steepest inclines
Brakes: Comes with hydraulic disc brakes
Fork: Mountain bike inspired comfort geometry
Tyres: Maxxis Overdrive perfect for mixed terrain paths
Tyre Size: 700 x 38c
Cassette range: Shimano CS-HG200, 9-speed, 11-36T