In summer 2013 the Cycling for libraries unconference took librarianship on the move for the third time. The group of 100 participants rode from Amsterdam to Brussels, two iconic jewels among European cities!
Cycling for libraries is a very special, exciting opportunity to network and make friends with international, truly dedicated colleagues, spar innovations, hear about the best ideas, workshop, visit libraries and meet local colleagues. And get a lot of fresh air too.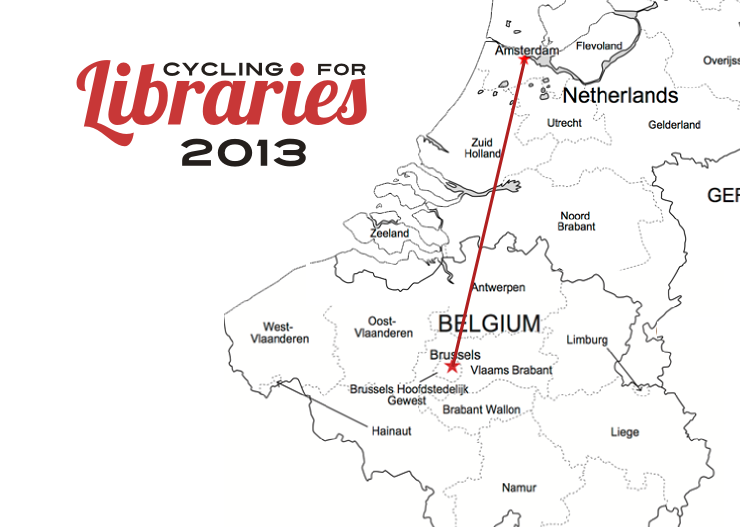 Join the cause!
The resources that libraries offer citizens are changing at an ever increasing pace towards electronic form. At the same time legal matters affect library work more and more. Finally there is a fear that this development can endanger the entire role of libraries and their previously issued legal obligations to society. If this issue is not given the necessary attention, there are strong indications that the ongoing shift in publishing threatens to deteriorate the abilities of libraries to offer public access to information and the subsequent increase in licensing fees will put that material beyond the reach of libraries. This is not in the interest of libraries, their partners, and most significantly the public. It is difficult for libraries to discharge their responsibilities without adequate access to information and tools.
Public libraries are vital to the well-being and balanced development of society. They are an important guarantor of social equality by their ability to reduce social exclusion and increase digital inclusion. Libraries are not fixed and forever the same, but they should develop with the society. Who will take care that libraries can fulfill this task to guarantee equal opportunities for all citizens to grow and develop?
Cycling for Libraries is concerned about the threats that libraries face. Because of this, it wants to offer its full support for libraries to exercise their mandate in the future by organizing the third Cycling for Libraries unconference in June 2013 for 100 librarians and library lovers. The tour will start from Amsterdam and end in Brussels. We are still in the process of negotiating the final dates of the tour. Our destination will be the European Union's Parliament where we want to meet MEPs and directly deliver our concern for the future of public libraries and their services.
We are proud of the efforts that numerous European authorities and bodies have done to buttress the work of public libraries by supporting the cause with our public campaign.