The Best Beginner Bikes For cycling during the Covid-19 lockdown
We've been overjoyed to see so many people out enjoying cycling during these uncertain times.
Whether its more key workers using the bike to commute while avoiding the risks of public transport, or families re-discovering the joys of cycling on quiet roads to get their daily exercise, the numbers of riders on UK roads definitely seems to have increased during the pandemic.
If you've been thinking about getting a bike and joining them, then read on, and welcome to the Bikesy guide to starting cycling during the lockdown…
What your bike needs to do…
When you're starting out you generally want a bike that's comfortable to ride, with a more upright leisurely position to give you the ability to look all around you easily in case you have to ride in traffic.
You want a bike that is robust enough to handle UK roads and potholes but not so heavy as to be hard work pedalling.
You want a bike that isn't going to break the bank, but is still responsive and a pleasure to ride. If you're just starting out, now is probably not the time to splash out on an extreme downhill racing mountain bike or Tour de France level road bike – a general bike that lets you enjoy travelling on it is perfect, and any future upgrades can be done at a later date when you have more experience in the area you want to move towards.
You want a bike that fits. This is really important.
You want a bike that is reliable, with somewhere to get help if it doesn't feel quite right or if you want it checking over after a month or so. This probably discounts buying a second hand bike unless it is from a trusted friend who will be there later on if you have any questions.
Generally, the vast majority of our website visitors are experienced sports cyclists, so we can make recommendations to buy discounted exotic bargains from mail order bike shops from far flung reaches of the British Isles, but we recognise that isn't the best advice for someone who needs a reliable set of wheels right now that meets the criteria above, so that means picking a good bike from a trusted high street outlet.
Best Beginner's Bike Brands We Recommend in 2020…
Our preferred price point for a reliable commuter or leisure bike is a RRP of around £250 – £450.
You can get cheaper bikes than this but maintenance can be an issue further down the line. You can get more expensive bikes than this but they are overkill for local commuting and family rides – from the perspective of a beginner you can start getting into diminishing returns if you increase the budget drastically.
As a beginner, you also want a bike that isn't going to take a lot of assembly on your part to get up and running, so we are looking primarily at retailers who have a current store presence, or who supply bikes by courier that are easily prepared for use.
Carrera Hybrid Bikes
Carrera are Halfords own brand, and probably the most popular range of bikes in the UK. You get good value for money, backed up with a high street presence in the unlikely event that you get a problem. Order online, make sure you select the option for them to assemble the bike for you, and then collect in your nearest store where you can make sure you've got everything you need and are happy with it. Currently Halfords are the only big nationwide high street retailer where you can collect a bike rather than have it shipped to you.
We recommend the Subway, Gryphon and Axle models
Click here to see the full Carrera Hybrid Range
You'll notice none of the bikes above have suspension forks. At this price, and for commuting, we don't really recommend suspension – it adds extra weight, complexity and cost, for something you don't really need for local journeys, but if you do want something a bit more rugged, check out the Carrera Mountain Bike range as well.
Pinnacle Hybrid Bikes
Pinnacle are Evans Cycles in-house brand of bikes, and if you're lucky enough to have an Evans Cycles near you, they are currently open for collection and servicing so you don't have to wait in for a courier or do any tweaking or bike fine tuning yourself – their staff can take care of all of it.
I've personally been using a Pinnacle Hybrid for the last 18 months and cannot fault it.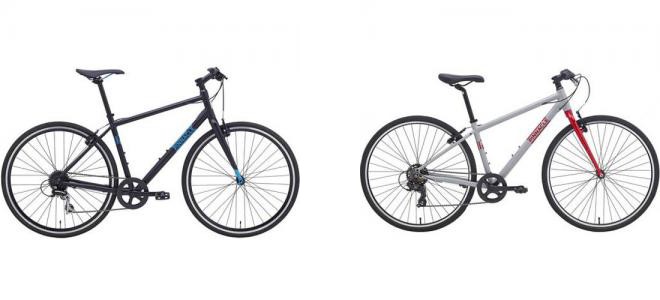 Calibre Mountain Bikes
Another firm favourite of ours are Calibre bikes – originally only available from Go Outdoors chains, more of the range is now appearing in Millets and Ultimate Outdoors as well. The Calibre Rail mountain bike is well made for the money, for someone who wants something a bit more rugged for both on road and off road use.
If you're looking for something a bit faster and more sporty, while still offering all of the benefits of a hybrid over an out and out race style bike, then the Calibre Stitch is definitely worth a look. It's at the higher end of our preferred budget, but the specification makes it an enticing prospect
CARRERA Mountain BIKES
If you love the look of the Carrera Hybrid bikes, but want something a little bit more rugged to take off road or in the local woods, then the range of Carrera Mountainbikes with their wide range of gears and grippy off road tyres will be more suitable. They are also a good option if you want a bike that is ready assembled but aren't having any luck finding Carrera Hybrids in stock near you.
We love the Carrera Vengeance – with its suspension forks, 16 gears, disc brakes and lifetime warrantied frame, this is a lot of bike for the £325 RRP.
Voodoo Bikes
For anyone that loves the look of a sporty road bike, but still wants the freedom to venture off road on tracks and paths then the Voodoo Men's Limba adventure bike ticks all of the boxes – A mix of a cyclocross and road bike, it can easily be ridden on road, towpath and farm tracks due to its nimble frame, disk brakes and 16 speed Shimano gears. With a RRP of £450 this is at the upper end of our recommended limit but you get an awful lot of multi-use bike for your money.
Honourable Mention
We've got to give recognition to the outstanding quality of Boardman Bikes at this point. They are a little over budget, generally starting at the £500 RRP mark, but if you can find one discounted, or if you don't mind paying for the premium features that they come with, then they are definitely worth a look.
Other Stuff That Will Be Useful To Know…
If you're commuting to work
Probably the hardest part of switching to cycling to work for many is finding a cycle friendly route that you really enjoy taking. Generally speaking I try to avoid busy main road in favour of quiet backstreets, but I'll also look for routes with dedicated cycle lanes or shared use paths.
The first step to planning a cycle route is to use Google Maps – enter your start and end destination and choose 'cycle' as the mode of transport. Google will often show you cycle friendly routes first.
Secondly, I'd check Komoot to see if other people have uploaded a route with inside knowledge that Google isn't aware of
If possible, it can also be a good idea if there is an experienced cyclist from your workplace or household who can do the initial rides with you. You never know what you can learn from following someone who is experienced.
Sometimes there are unavoidably uncomfortable sections of roads and junctions, unfortunately its part of the UK transport planning. This isn't going to please the hardcore regular cyclists, but I off an walk anything I don't feel safe on. Sometimes it's dodgy junctions, other times it's roundabouts where I don't trust that all cars will do the right thing and stop. Get off, find a safe crossing point if you need to and walk across, or push on the pavement for a bit to get that part of the journey out of the way. It's better to be safe than sorry. If there's anything you don't feel comfortable riding along, I'd advocate doing the same.
Also, I never go fast on my commute.
You never know who's going to pull out, or open a car door, or run out from between parked cars. I never take chances, I don't do a manoeuvre that leaves me hoping for the best, and I always assume the motorist approaching a junction up ahead hasn't seen me, and ride accordingly until I can be convinced that they have. If you choose to ride the same way, it might add a couple of minutes onto your journey, but you'll enjoy it more. It can sound daunting, but if you can choose a good traffic free route and ride accordingly then your commute to work can suddenly become a great too for improving your general fitness and mental health.
Security
Unless you can bring your bike indoors with you to keep in an office, you'll also need a lock. The reality of bike thefts is no lock is unbreakable – thieves use portable angle grinders that can cut through anything, a better lock just means it takes longer to cut through. Always lock your bike somewhere that will preferably discourage a thief from getting an angle grinder out, and get a lock that will take longer to cut through.
We generally recommend U-locks (or D-locks as they are also known) over cable locks.
My personal preference for locking my own bike is one U-lock for the rear wheel and frame, and a chain lock for the front wheel and frame, but you'll want to weigh up the level of risk at your workplace. Remember, the convenience of having a bike with quick release wheels for you is also convenient for a thief who is going to steal an unlocked wheel. All bike shops tend to sell decent locks, so it's probably easiest to order one at the same time that you order your bike. If not, click here to browse through a large selection of locks.
Insurance
There are two types of insurance you might want – 3rd party insurance for you incase you cause an accident while out on your bike, and regular cycle insurance incase your bike gets stolen.
Neither are legally mandatory, but we would strongly recommend the former, and advise you get the latter if you are worried about your bike getting stolen.
3rd party insurance
In the unfortunale event that you cause an accident and have a pedestrian or car driver claim against you, you want to be covered. You may find your house insurance, or other insurance policies you have already cover you for this, but if not the easiest way of getting cover is to join one of the national cycling organisations and get their blanket coverage as a membership benefit.
Popular ones include British Cycling, London Cycling Campaign, and my own favourite – Cycling UK. If you're an NHS worker, both British Cycling and Cycling UK are doing special FREE three month promotions that you may want to take advantage of.
Bike Insurance
If you're worried about your bike getting stolen, you'll probably want to get it insured. There are plenty of companies offering general cycling insurance, and you may be able to add locking your bike at your place of work to your household contents quite easily, but if not then I quite like Yellow Jersey dedicated bike insurance – its simple and geared solely for the needs of cyclists.