Is This The World's Most Expensive Cycling Jersey?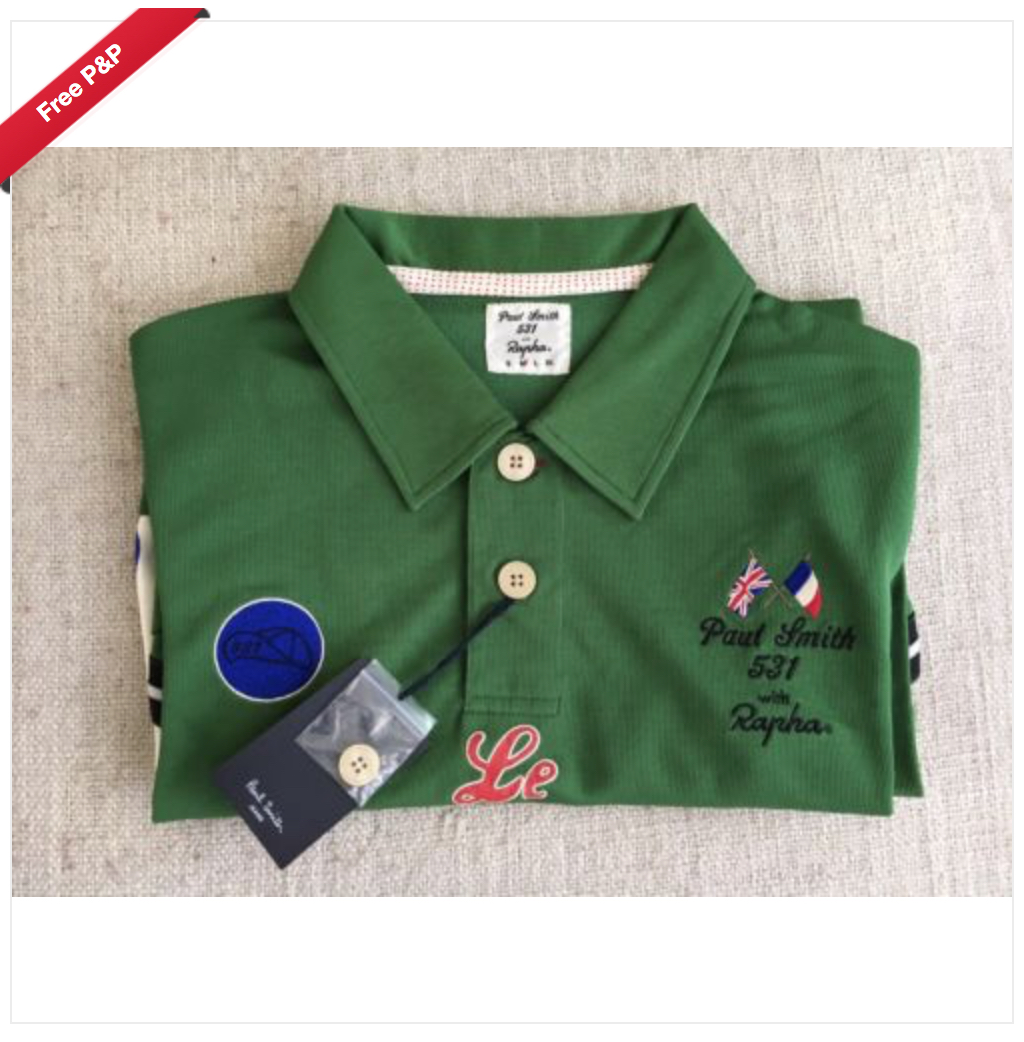 It takes a lot to shock us here at Bikesy. We've seen a Bugatti Bicycle for £39,000 and we've seen a Trek Bikes painted by Damien Hirst sell for half a million dollars but here at Bikesy Towers where the ethos is helping people save money, we think this Rapha jersey takes the biscuit!

Now, let's be clear here – this isn't the renowned designer Paul Smith trying to make a fast buck.
Paul originally made this jersey in conjunction with British cycle clothing brand Rapha to celebrate the Tour de France Grand Depart coming to London in 2007.
At the time the merino wool jersey retailed for £175, still a tidy sum and beyond the budget of many a club cyclist but for anyone who could afford one the classic collared designs reflecting the heady days of old showing the dual Tricoleur and Union flag with the words Grand Depart emblazoned across its centre panel it turned out to be a wise investment.
How wise? Well one of these jerseys is currently for sale at £10,000.
Yes, you read that right. Ten grand for a cycle shirt…
Offered as "The mother of all cycling jerseys" this bagged and tagged example in size medium is for sale on eBay by user 19joe80
From the product listing-
The mother of all cycling jerseys.
A collaboration between Paul Smith and Rapha saw this limited edition produced for the 2007 Grand Depart of the Tour de France from London.
Size: Medium
This has been stored in an airtight bag in the dark since it was purchased.

A piece of cycling history.
Helpfully, it comes with free postage and packing.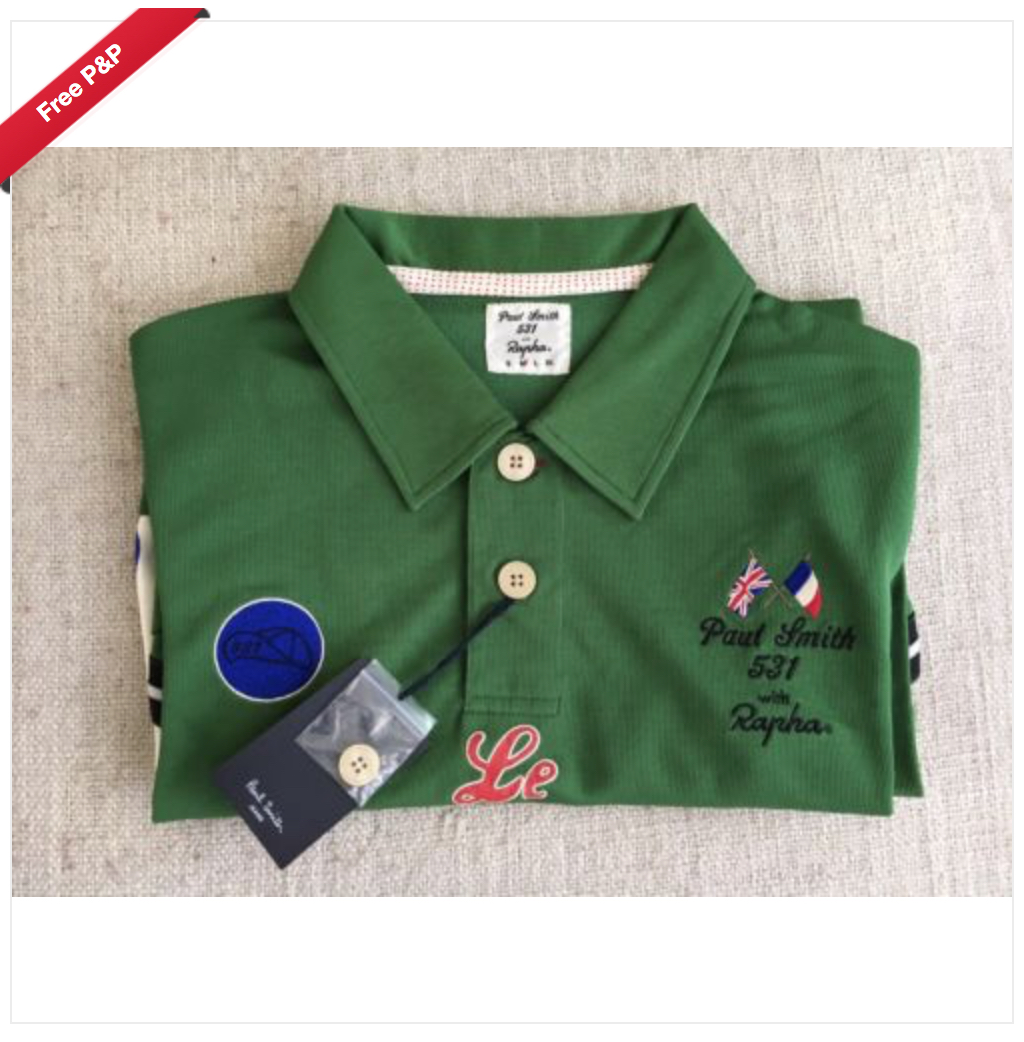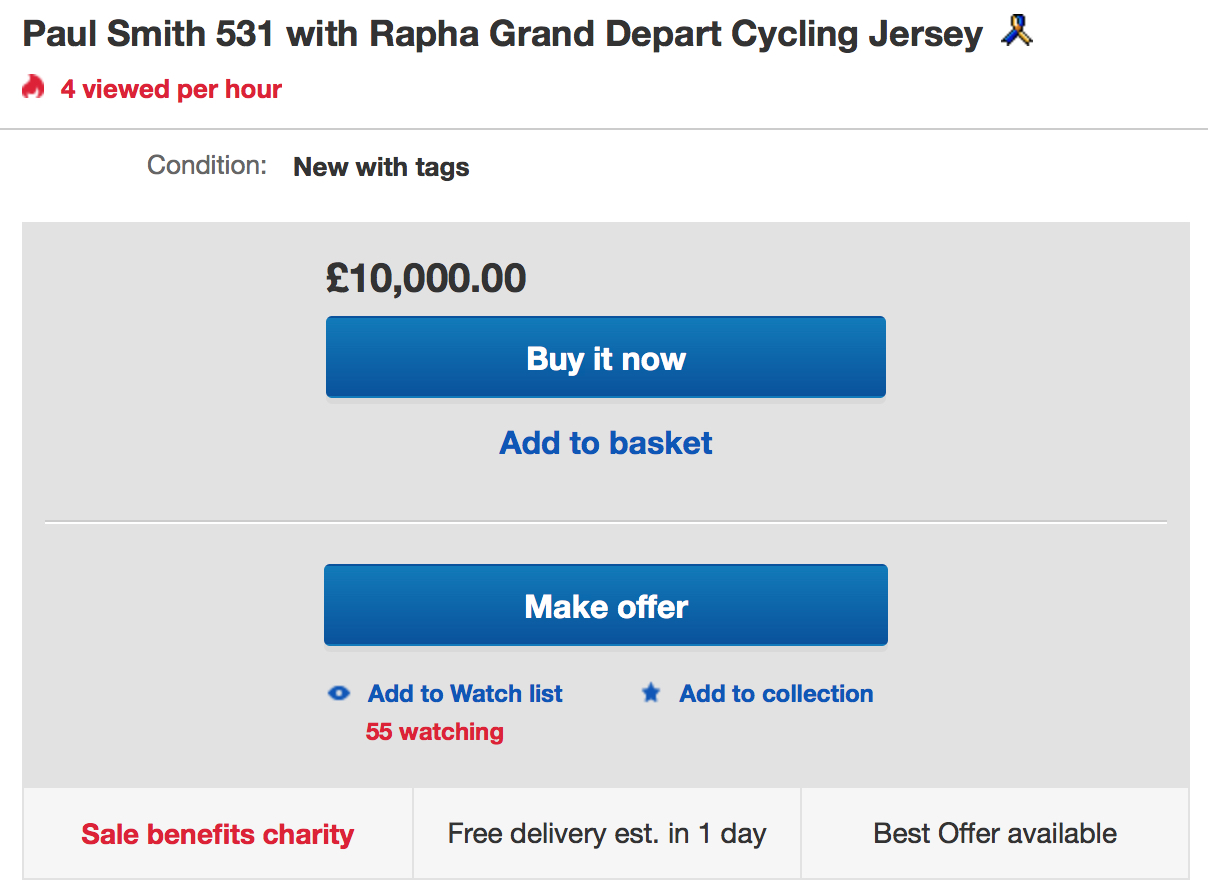 So, if you've got that type of rider in your club with more money than they know how to spend, and they absolutely LOVE bikes and cycling, you know what to tell them to get next!
British Junior Men's Road Series winners – the definitive list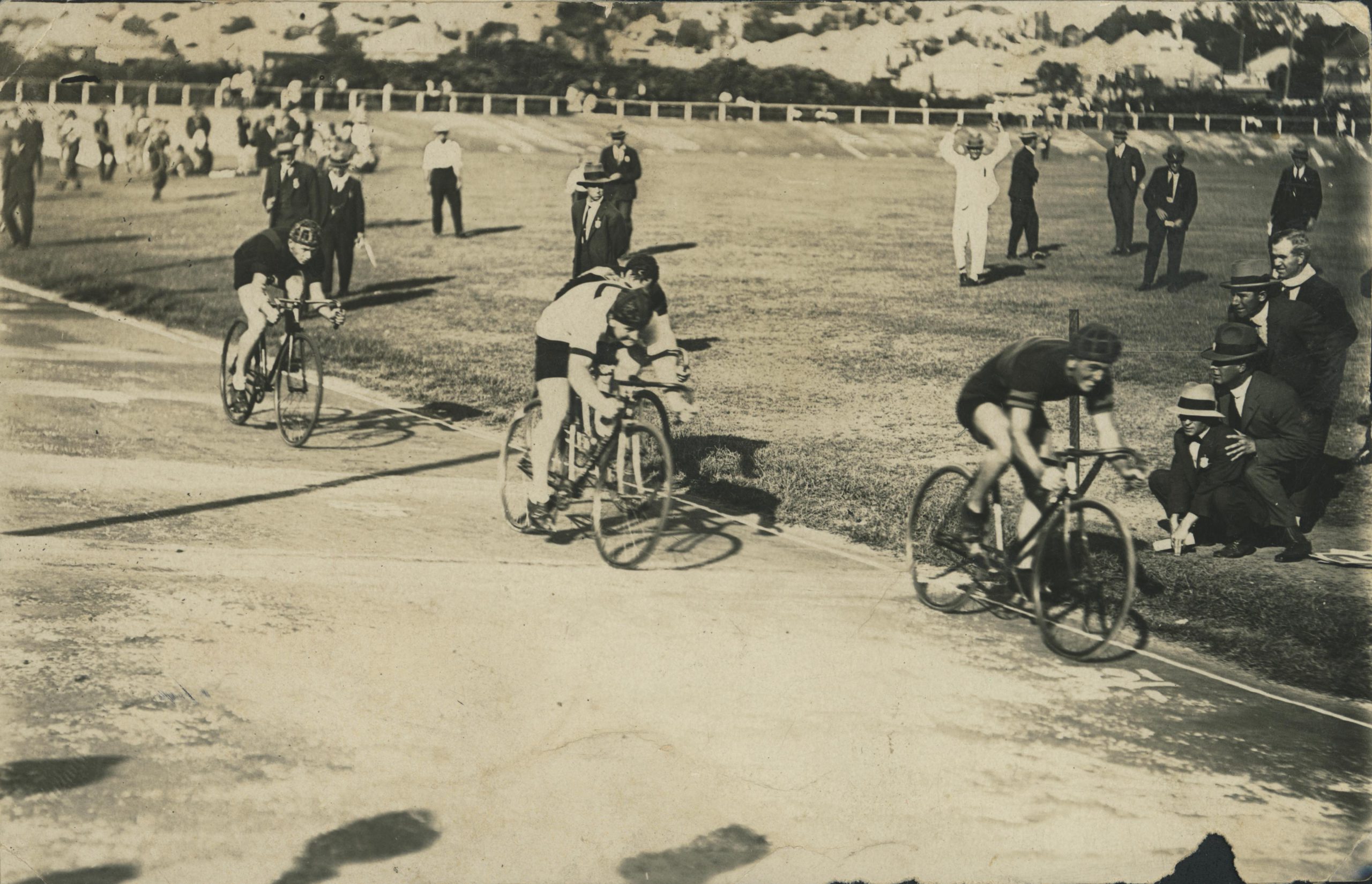 As well as the national junior road race championships, contested over one day, the top junior male cyclists in the UK also get to compete in a season long competition that aims to find the most consistent young riders in the UK.
Racing for the prestigious Peter Buckley trophy, named in honour of a promising Manx champion cyclist who died aged only 24, this series sees the best Juniors from around the country competing on anything from 5 to 12 events depending on logistics. In recent years the competitors also do battle over the multi day Junior Tour of Wales, allowing the calibre of the country's future international stage race winners to shine through.
We've gone through our archives to build what proves to be an interesting list of the cream of the UK's top young riders. We've highlighted which ones went on to ride in the Tour de France, which ones became senior world champions, which ones are in cycling families, which ones ended up riding for Team Sky and which ones set world records.
We've had some incredible riders break through on the world stage in recent years. We can only wonder what would have happened to more of the youngsters of the 70s and 80s had their been the support their is now.
Anyway, let's enjoy their achievements and wonder what success the current crop of youngsters will win for GB on the world stage.
YEAR
WINNER
SECOND
THIRD
1971
Tony Davies
Jeff Morris
Mike Heathcock
1972
Stu Morris
Peter Hall
Steve Fleetwood
1973
Dave Penketh
John Harrison
Dave Baronowski
1974
Les Fleetwood
Mike Williams
Alaric Gayfer

1975
Jon Kettell
Glen Mltchell
Jim Parry
1976
Glenn Mitchell
Tony Doyle

John Kettell
1977
Steve Joughin
Shaun Fenwick
Nigel Bloor
1978
Mark Bell

Neil Martin

Simon Thomas
1979
Mike Doyle
John Wainwright
Malcolm Elliott
1980
Darryl Webster

John Wainwright
Craig Stevens
1981
Keith Reynolds
Rob Kennison
Kevin Davis
1982
Chris Walker
Kevin Byers
Rob Kennison
1983
Chris Walker

Deno Davie
Chris Lillywhite
1984
Chris Lillywhite
Simon Cope
Will Mansfield
1985
Stuart Coles
Glen Sword
Paul Brown
1986
Lester Clarke
David Cook
Alex Webster

1987
Simeon Hempsall
Simon Lillistone
Dylan Williams
1988
Matt Stephens
Gareth Gimson
Ian Wright
1989
Mark Dawes
Ian Bryant
Toby Pinn
1990
Victor Slinn
Julian Ramsbottom
Paul Spencer
1991
Mark Dolan
Will Wright
Scott Bennett
1992
Tim Griffin
Richard Bruce
Jeremy Hunt

1993
Danny Axford
Hugh Fairgrieve
Anthony Malarcyzk
1994
James Taylor
Huw Pritchard
Paul Manning

1995
Gavin Sellen
David George
Russell Downing

1996
Charlie Wegelius

Russell Downing

James Griffiths & Graham Hughes
1997
Bradley Wiggins

Martin Lonie
Stephen Joseph
1998
Richard Heath & Jamie Alberts
Joint 1st Place
Sam Collins
1999
Mark Baker
Stephen Cummings

& Tom Southam
Joint 2nd Place
2000
Andrew Allan
James Bell
Alex Coutts
2001
Alex Coutts
Chris Penketh

Ross Adams
2002
Adam Illingworth
Andrew Murphy
Christian Varley
2003
Tim Wallis
Ryan Bonser
Matt Brammeier
2004
Geraint Thomas

Ian Field
Andrew Hill
2005
Alex Dowsett

Russell Hampton
Alex Atkins
2006
Andrew Griffrths
Mark McNally
Simon Holt
2007
Peter Kennaugh

Luke Rowe

Mark McNally
2008
Erick Rowsell

Luke Rowe

David Nichols
2009
Joe Perrett
Tim Kennaugh

David Nichols
2010
Simon Yates

Tom Moses
Joshua Edmondson
2011
Alistair Slater
Luke Grivell-Mellor
Brennan Townshend
2012
Alex Peters
Harry Tanfield
Tao Geoghegan Hart
2013
Jake Kelly
Scott Davies
Gabriel Cullaigh
2014
Matthew Gibson
James Shaw
Alexander Braybrooke
2015
Etienne Georgi

Joey Walker

Robert Scott
2016
Charlie Meredith
Robert Scott
Peter Kibble
2017
Oscar Mingay
Harry Hardcastle
Daniel Coombe
2018
Mason Hollyman
Samuel Watson
Lewis Askey
Key:

Strong cycling family

Became a senior world champion

Won Olympic medals

Set a UCI World Record

Rode the Tour de France
You might have noticed some surprising names missing from the list. No Robert Millar, Chris Boardman, Mark Cavendish, Mark Walsham, Ed Clancy, Rob Hayles, Roger Hammond or Dean Downing.
Some developed their endurance later on, others concentrated on track or time trialling and for some travelling the length of the country as a teenager just wasn't viable. But that's a feature for another day.
Want more old school cycling knowledge? Check out our pages on the legendary cycling commentator David Duffield
London's Bank Junction closed to cars and open to people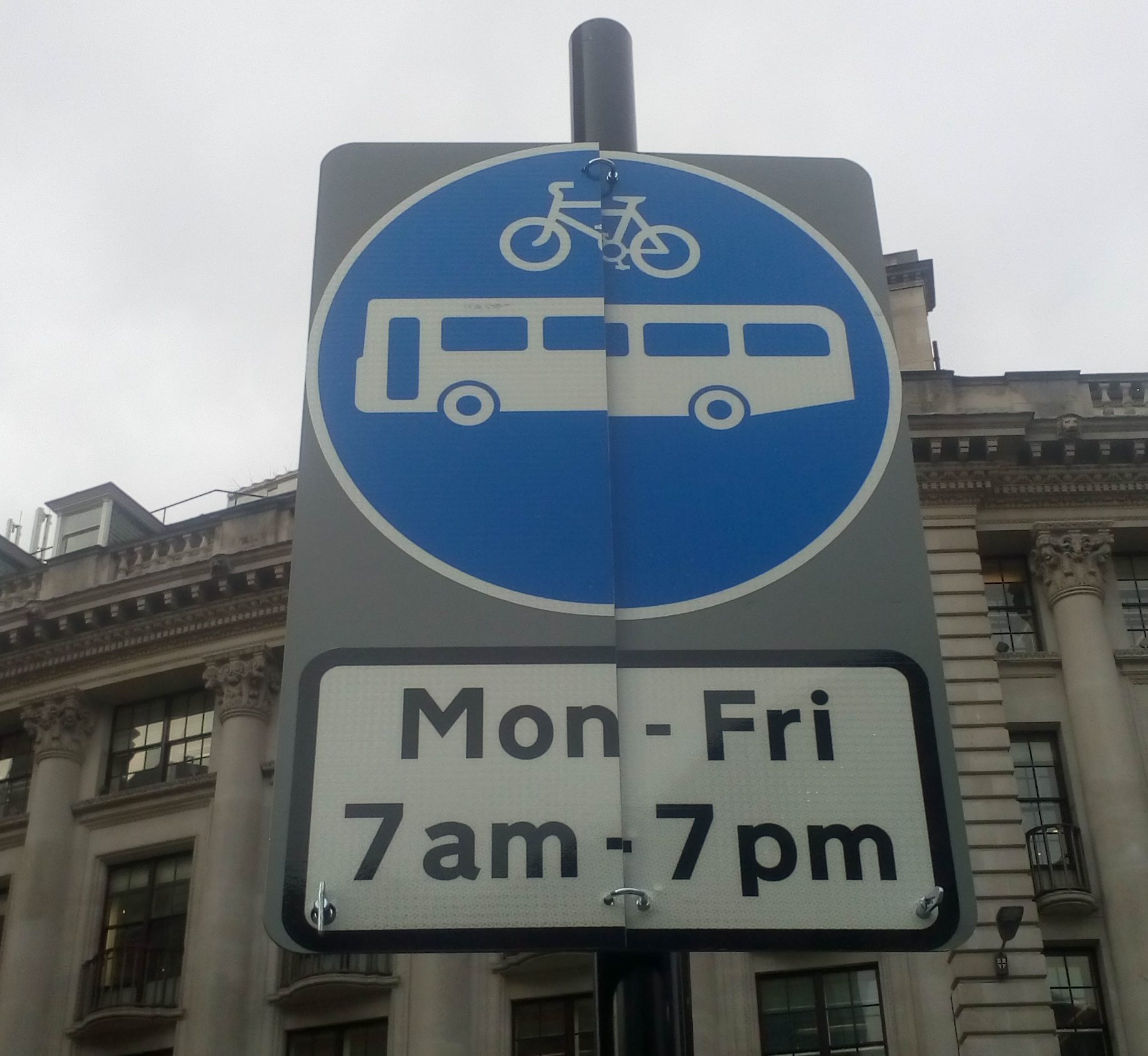 Today saw a major transport shift in the City of London as Bank Junction was finally closed to motorised traffic.
Bought in by the City of London Corporation the ban, between 7am to 7pm, Monday to Friday, only cyclists and buses will be allowed into the junction for a trial period which will last 18 months.
Authorities brought in the changes following a series of traffic collisions in the area which injured and killed pedestrians and cyclists.
Cycling safety campaigners Stop Killing Cyclists were there to celebrate the changes, commenting that it was their first 'Live In' demonstration, compared to the number of 'Die Ins' that the group is known for
Bikesy were also there celebrating this change in transport thinking in the financial heart of the UK
Images are free to use and share provided you include an HTTP link back to this page or to the main bikesy site
[Best_Wordpress_Gallery id="6″ gal_title="Bank Junction"]
You won't believe how much this 1980s carbon bike is selling for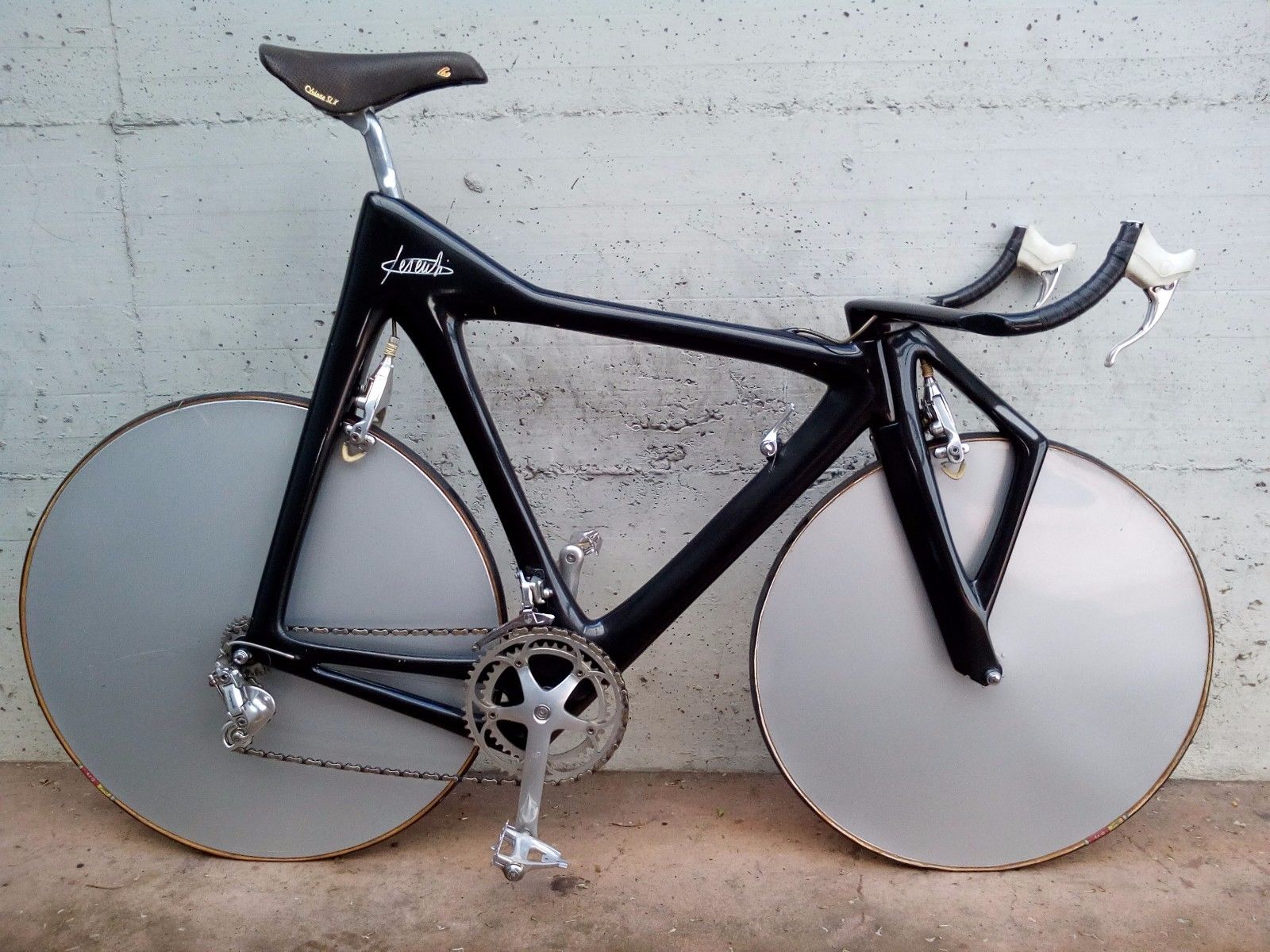 You probably won't ever see one of these for sale again.
This is a genuine Pesenti Modulare Uno from 1987 and it's as rare as hen's teeth.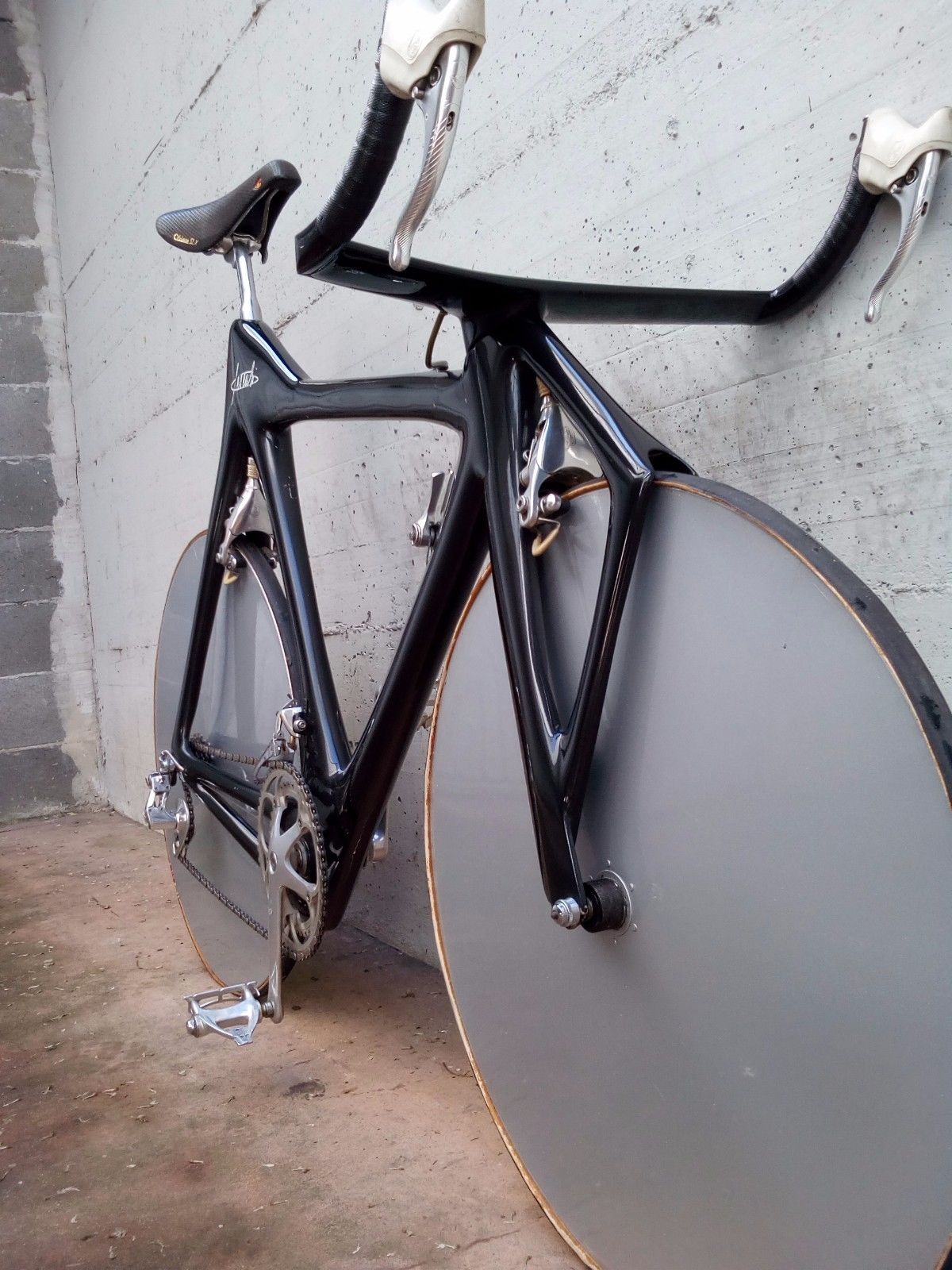 The price for someone who wants to own such a unique, radical, iconic design? A cool £15,500 ($20,0000 USD).
Equipped with Campagnolo's Croce d'Aune groupset with Delta brakes and some of the first Cinelli disc wheels this bike was first unveiled to the world at the Milan Bike Show in 1987 by its designer Andrea Pesenti.
Pesenti was the driving force behind the classic Cinelli Laser design of bikes, during an era when cycle design could be as bold as the materials would allow, unhindered by overly stringent regulations. The Modular Uno is his carbon follow up design, nne of the first bikes manufactured in carbon fiber monocoque. Featuring a distinctive aerodynamic fork shape and a one piece handlebar it was already being dreamt up by Pesenti in the early 80s.
"In 1983 I started to design it" – Andrea Pesenti has confirmed – "but it was still a sketch on a piece of paper".
"It wasn't easy to make a fork like that back then – still – that was one of the first that did not break!"
The Modular Uno design also featured swapable rear drop outs meaning the bike could be ridden on the track or on the road.
Sadly, whoever buys this bike won't be able to race it as this bike has a crack in the bottom bracket shell, a common flaw in early prototype carbon frames from the 80s, so will have to take pride of place mounted on a wall or in a museum. But whoever gets it will know they've got a fantastic example of a bike made at the height of futuristic cycle design.
Want to make an offer? It's available on eBay here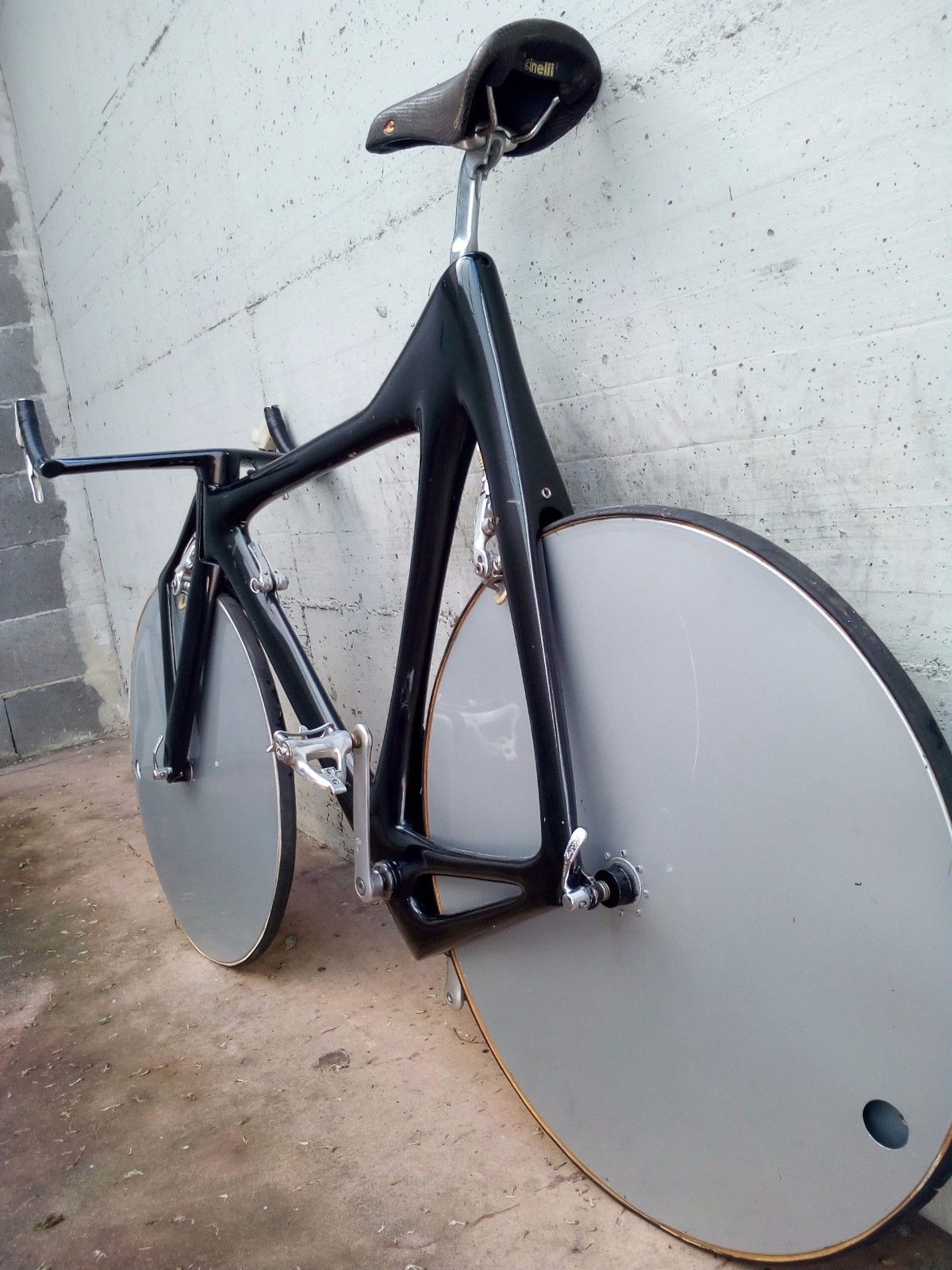 Pisenti Modular Uno Bike rear view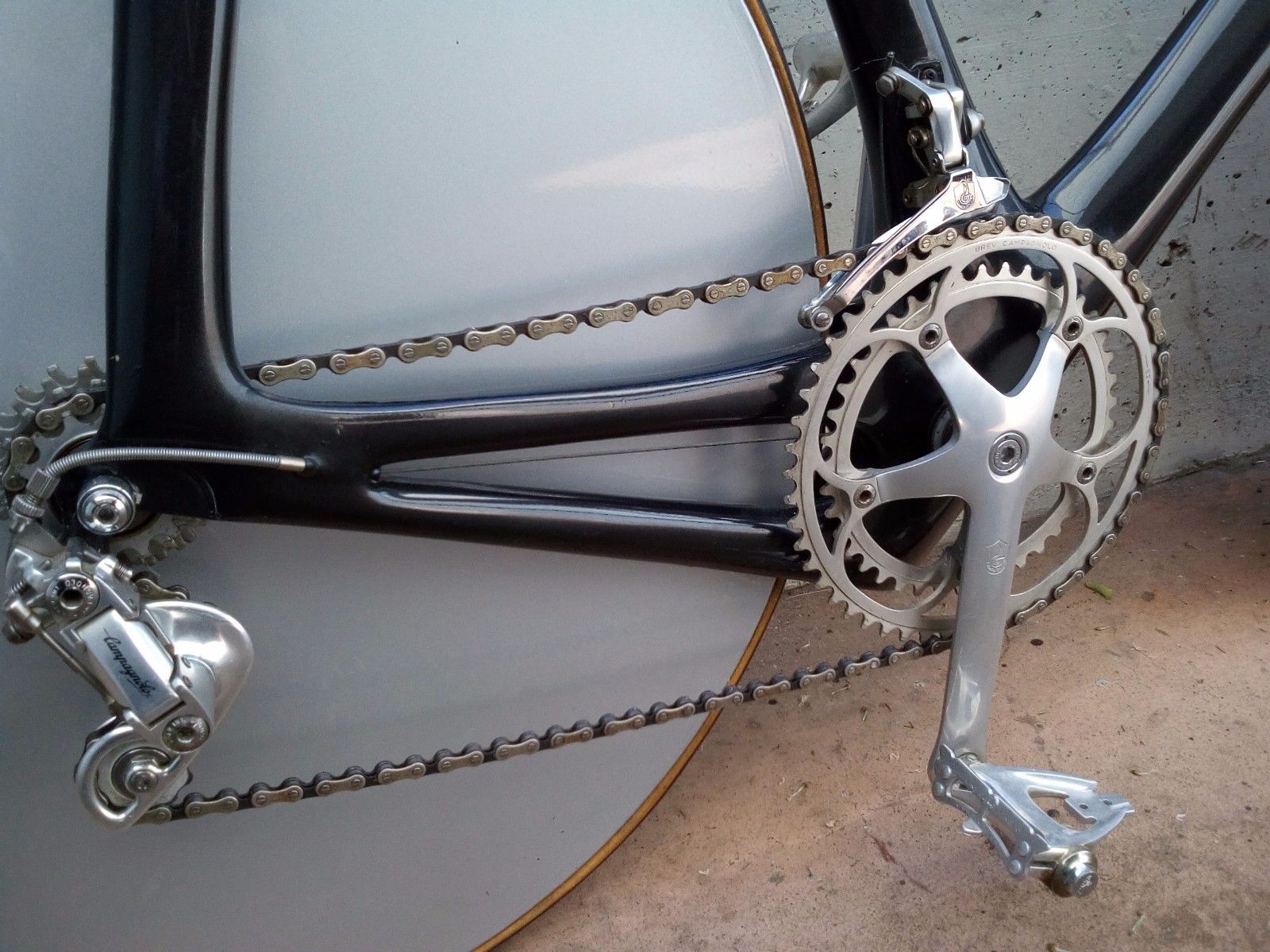 Pisenti Modular Uno Bike drivetrain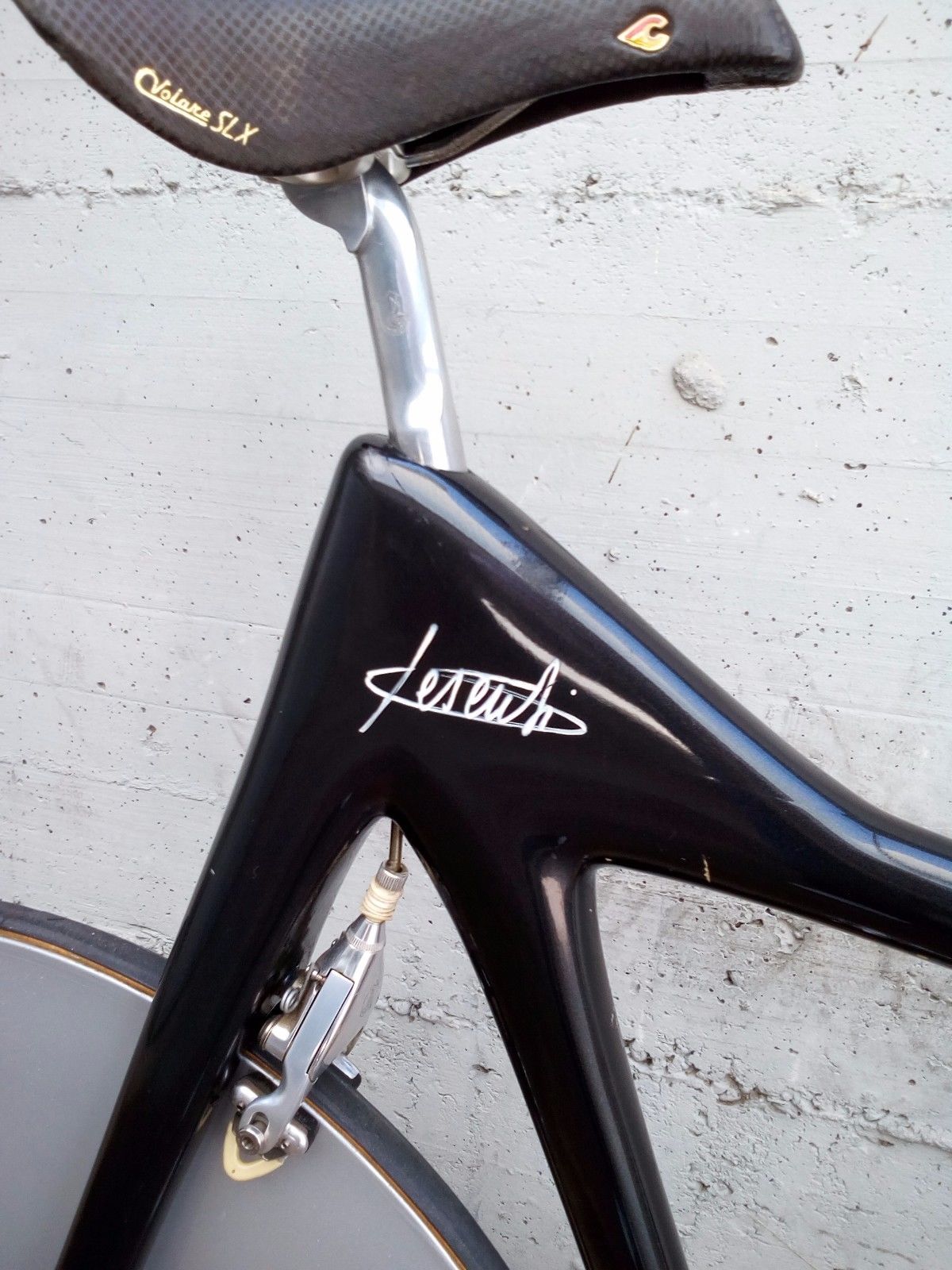 Pisenti Modular Uno Bike with Cinelli Volate saddle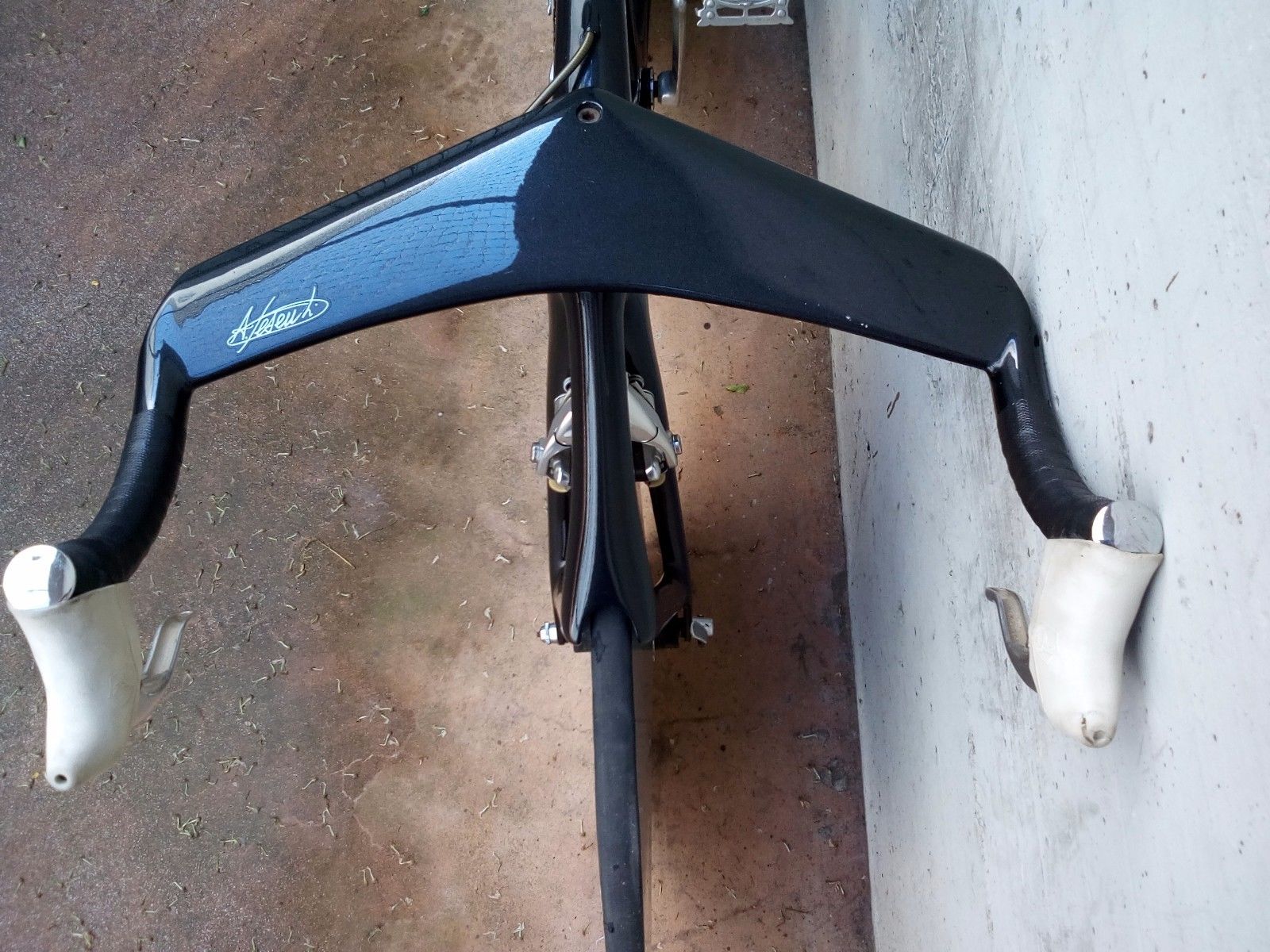 Pisenti Modular Uno Bike signed handlebars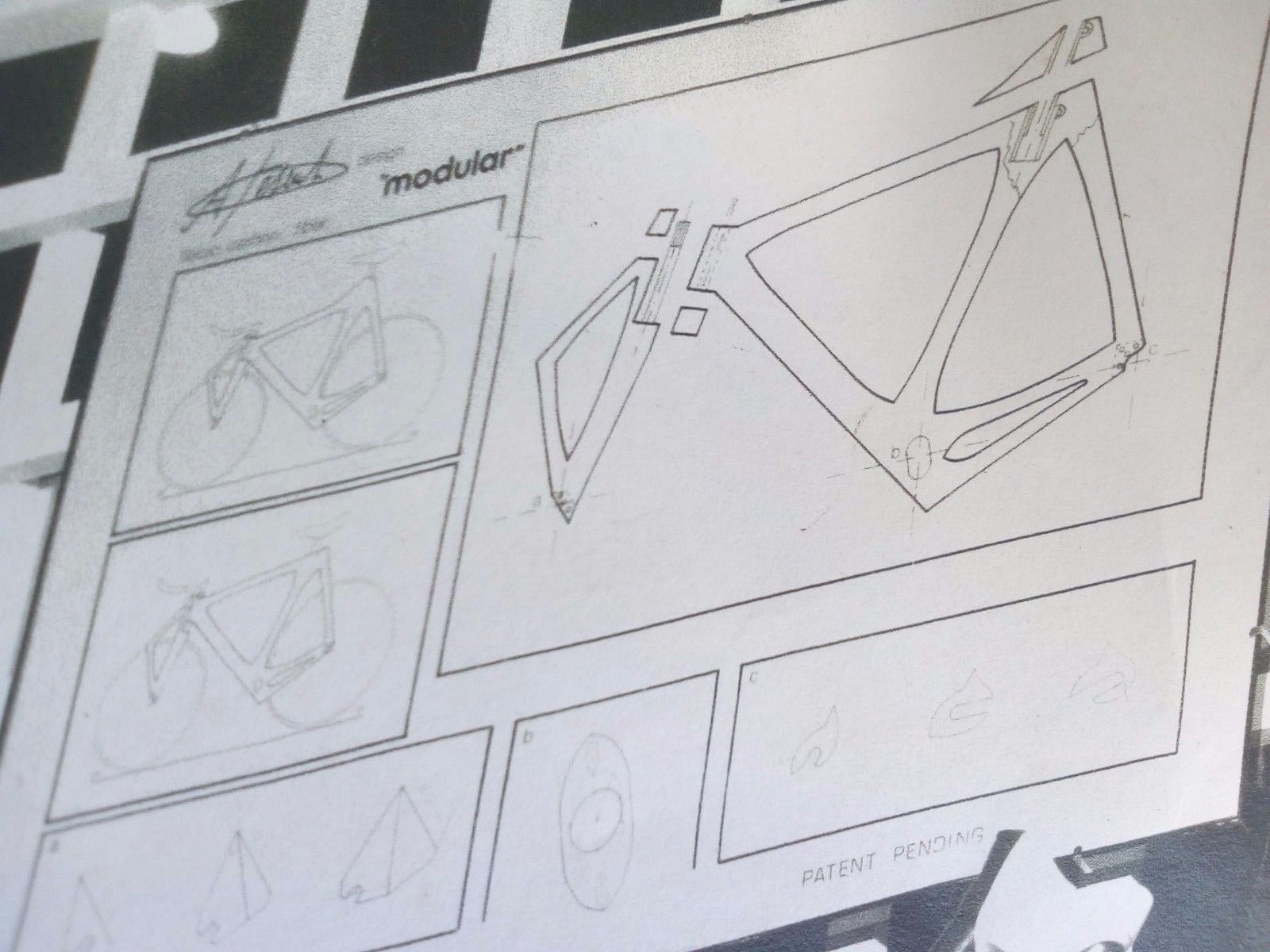 Pisenti Modular Uno Bike original designs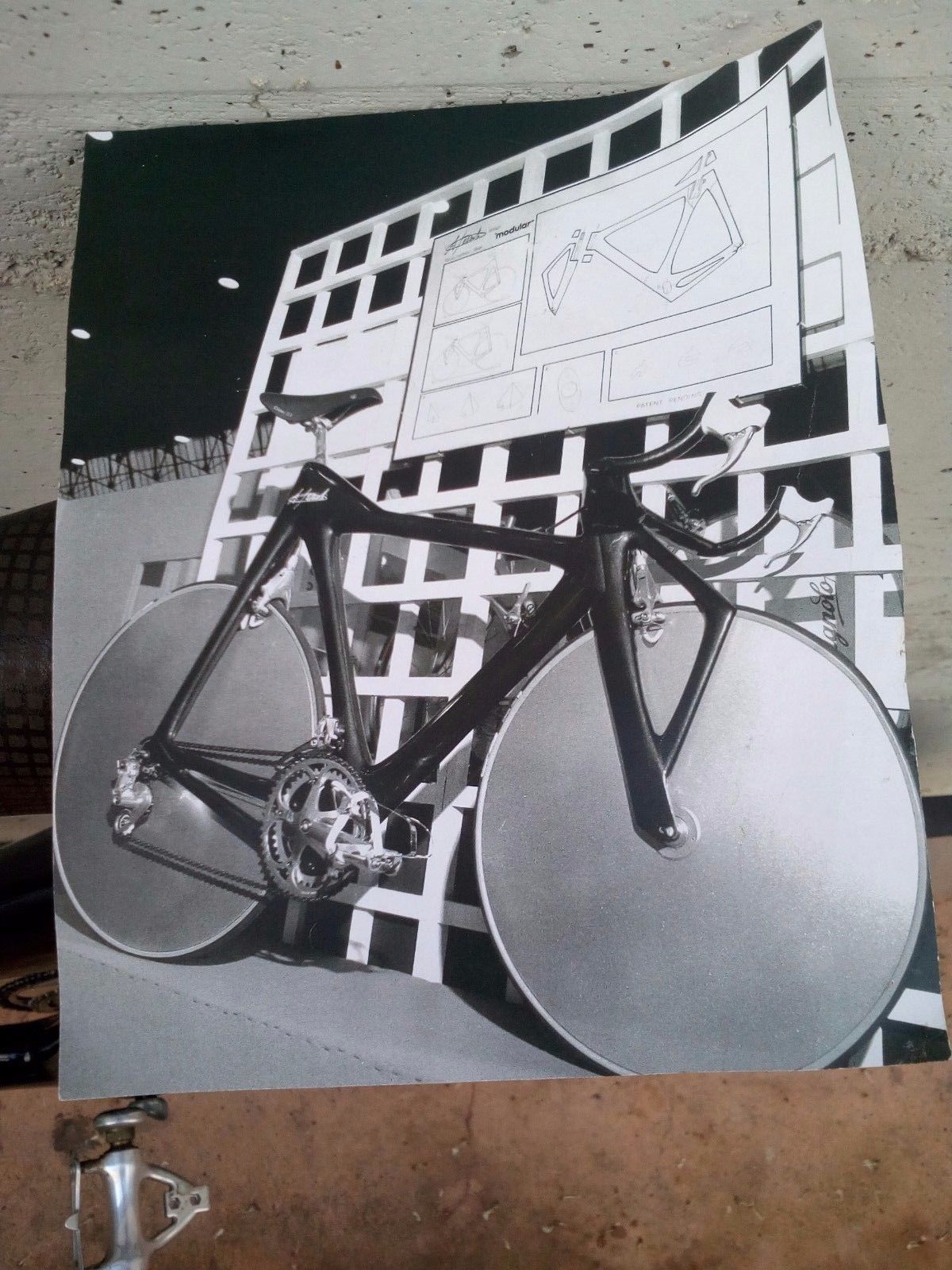 Pisenti Modular Uno Bike at Milan Bike Show