It's all well and good having the best of the UK tracks and trails on our doorstep but sometimes we all start longing for a change of scene. If you're you good at maintaining and fixing road bikes and ready for a serious change of scene then a dream job could be awaiting you in the cycling paradise of the Spanish Canary Islands.
Club La Santa, the go to destination for cyclists, triathletes and fitness athletes the world over, are looking to recruit a cycle mechanic to support their clientele while at the resort. If you've had enough of the talk of UK lockdowns potentially returning, sitting in pub gardens never knowing if it's going to be t-shirts or two coats and a brolly and you're ready to take things up a gear, this could be the right position, at exactly the right time, for you.
If you've got experience in cycle mechanics or retail, and want to work surrounded by committed athletes, in a warm, sunny, cycling friendly environment (who wouldn't??!) then read the spec below and check out the application process here . Although salary isn't specified, it does say that subsidised accommodation is provided, and to be honest, I'm so keen to get out of the UK right now and ride somewhere a)warm, b)different and c)away from the local South London boy racers, that I think I'm going to apply myself on the strength of the Saturday job I had at London's On Your Bike when I was a teenager and the way I can handle a 10mm socket set these days.
Anyway, if you're more qualified or experienced than me, check out the spec below: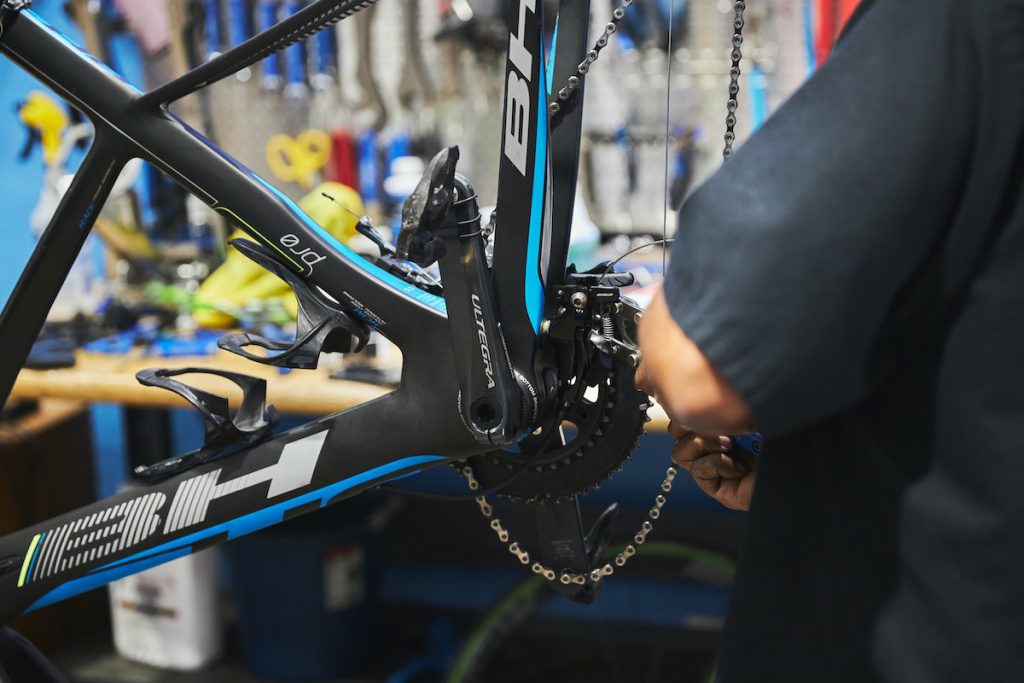 Bike Mechanic



Club La Santa is the world's largest active holiday paradise, built on exercise, health, sports, wellness, and plenty of social activities, in the warm climate of Lanzarote, Spain. The combination of excellent facilities, professional training and instruction from our dedicated Green Team not only gives our guests the opportunity to be immersed in 80 different sporting activities, but to also improve their performance and techniques in their desired sports. We want to provide our guests with the best active holiday experience in the world, built around sport, a healthy and active lifestyle and social activities. As well as providing a first-class service to our guests, you will also have the chance to experience the buzz of several annual events such as the IRONMAN Lanzarote and IRONMAN 70.3 Lanzarote, 4 Stage Mountain Bike, Volcano Triathlon & International Running Week.

If you are interested, this is a fantastic opportunity for an experienced bike mechanic to join the Green Team here at Club La Santa, Lanzarote. Working within the bike center team as a bike mechanic at Club La Santa you will be responsible for the daily maintains of our bikes, as well as deliver the very best experience to Club La Santa guests. The minimum period of employment for this job is 9 months, and we are always looking forward to receiving applications from interested applicants.

Required Skills

Cytech Level 2 qualification; City & Guilds Cycle maintenance; Graduation Certificate from Herningsholm College Denmark; or equivalent experience

Minimum 3 years' experience working within the cycling retail environment

Work to uncompromising standards with the principle aim to always find solutions

Fluent in English

Exceptional customer service skills

Flexible


Benefits Package Includes


Competitive salary

Subsidised accommodation within Club La Santa resort

Full use of world class sporting facilities at Club La Santa

Spanish Residency allowing for discounted travel within the Canary Islands and mainland Spain

Ongoing training and Continuous Personal Development (CPD)
Fancy it? Check out the application process here