David Duffield Reader Submissions Part 10 2004 Update
We Love David Duffield 2004
We got so many emails about DD over the summer that it all got a bit overwhelming. Here they all are as a labour of love towards our great friend.
From: Tim Y
Subject: Howdy from the States
Howdy from the States,
Please keep up the good work. I'm a Duffield fan from way back – via – shall we say – begged, borrowed and stolen – Eurosport coverage. As an avid racing cyclist, my friends and I take every opportunity to work Duffield-speak into our vocabulary. My riding friends who don't know who he is, and what a unique brand of commentary he provides, over the many years, are really missing something.
Thanks from a fan for compiling this homage to him. I've listened to many hours of his commentary, and do enjoy it. Even the British-bits which I may not understand. Even my 13-14 trips to the UK over the last 3 years haven't completely acclimated me to some of his jargon.
Just a note of thanks, He's way cool. tim
From: Tim Y
Subject: RE: Howdy from the States
Oh, just a follow up –
I thought of a quote I didn't see on your site – and one interpretation of what I think it means:
When often referring to a veteran or experienced, very strong rider, David will say –
…"He's see his fair share of hedge-rows…."
I take it to mean either: 1.) he's logged many miles, in reference to the hedge-rows he must pass which line many British and European roads -or- 2.) he's ridden many tough miles, including several nasty crashes into hedge-rows
??? Your call may vary???
thanks, Just a quote for your list! tim
From: Julie Italy
Subject: David Duffield
Do u know where he has gone. The Tour just isn't the same without him?
Julie
From: Derek
Subject: from Margaret & Derek – Spain
Please tell us what has happened to David Duffield – he is not commentating on the Tour de France on Eurosport – Thank you. Yours sincerely, Margaret & Derek , Spain
From: RJ
Subject: Duffield
Thank you for your write up on David. Do you know why he is not commenting on the Tour de France this year please? R.J. (who is six years older than David !)
From: Carol
Subject: David Duffield
could someone tell me where is david duffield,why is he not doing the commentry on the tour de france ,we miss him so much , it is not the same without him. please reply if you know where he is. regards carol.
From: Dave C
Subject: David Duffield
Have I missed something? Tour de France has started and no DD. I don't think he was at the Tour of Italy either. What has happened? Dave C
From: Colin C
Subject: Duffield
I've been watching as much of le tour de France as I possibly can but as yet have not heard David. Is he still with Eurosport ?
I do miss his own type of commentary on the tour.
Regards
Col.
From: Jon
Subject: David Duffield
Why has David Duffield not been commentating on the tour this year? He was instrumental in arousing my interest in the great race and I suspect many others too. I have vented my feelings at Eurosport via email, perhaps your members could do the same and we will get the great man back in his rightful place. The tour is just not the same without his knowledge of all things cycling and his passion for the event, i will remain optimistic for an early return. Many thanks.
John G TDF fan
From: Ken M
Subject: David – The Man – Duffield
Fantastic!!!! I was wondering why David isn't on Le Tour this year – did a Google – and came up with your great tribute pages. Loving them.
Any idea why David isn't commentating??? Is he ill?? Heard him on the phone from home today – he sounded ok.
I really miss his comentary
Ken
From: Chris
Subject: D.D.
I came a bit late into the listening audience but at about 64-I'm now 72- I decided to watch the Tour on Eurosport and became fascinated by the most unusual commentary I've ever heard. I thought the programme was about cycle racing but instead I learnt a lot about churches, castles,local cooking, and how long it took that day to get to the finish point. There was of course an occasional reference to a live race,but overall I was sucked in to the most gripping commentary I'd known and thereafter looked forward to the next year. It was to my great suprise and disapointment to find this year that the commentary had been taken over by a succesor. Good, detailed, and very informative but I guess David's act was impossible to follow. I, for one, will miss him. I don't like cycling either! Chris B..
From: Chris A
Subject:
Hullo!
Please can you tell me why Duffo isn't doing the TdF this year? Is he ill? Has he retired?
Many thanks,
Chris A
(Camberley Wheelers, 1964-1966)
From: Richard
Subject: Duffield
Why is he not commentating this year? – like yourselves my wife and I look forward to his efforts every day. Richard and Jennie Ross-on-Wye
From: Dennis R
Subject: The Great Man
Help.
What has happened to Euro sport No David on the microphone…
Dennis
From: Patsy
Subject: Tour 2004
my husband and self look forward to the cycling tours, although not now cyclists ourselves. myself in particular surprised when you were not commentating on the great tour itself, have you been usurped by mike smith? why are you not the lead commentator, we really enjoy the comments about the food and wine and all the other anecdotes and your obvious great pleasure and enthusiam. you have done so much to promote the sport itself and wish you well for the future ~~~~ patsy r
From: jane
Subject:
why is David not commenting Le Tour this year ?
From: Alan
Subject: Where's David
Can you help please, I watch the Tour on Eurosport and the commentators don`t seem to include David Duffield this year…Sean Kelly, Mike Smith, Christie etc so whats happened to him
Best wishes Alan J (ps- not British Eurosport..)
From: Steve
Subject: Duffield
Do u know what has happened to David Duffield on Eurosport??
Thks
Steve
From: jackie
Subject: David Duffield
While watching TdF and missing DD I gogled his name and cme up ith your site. Just wondered, do you know why he isn't on duty – much missed that he is?
thanks for your help
jackie
From: Tim D
Subject: Duffield
Great site, but you do need to keep it up to date. Duffers disappearance had been troubling me deeply and as the premier site devoted to his work, you need to keep people up to date. Feel free to use the following. It is taken from a reply I sent to a friend who asked me about the great man's whereabouts this year.
At first I thought that he might have gone to the great commentary box in the sky – he is now of advanced years. But a search of newspaper obits turned up nothing. So, in desperation, I phoned Eurosport's press office.
They explained that this year the station had elaborate plans for a studio section to their Tour coverage. Dave was all set up to front this up, leaving the live commentary to Mike 'the voice of hospital radio' Smith and Sean 'Flubber Yubber' Kelly.
For reasons on which Eurosport declined to elaborate, their plans for a studio went awry shortly before the prologue. This left them with a commentary team already set up and Duffield adrift. They have addressed this now by having a daily commentary from Dave at some point each day and occasional interjections from him during the commentary.
As Duffers had commentated on the Tour since the time of Henri Desgranges, I can't imagine that he was ever happy with any of these arrangements, but until he speaks himself, we won't know. Eurosport do assure me that he will be back in the main chair for the Veulta.
And here is an old Dave story you have missed.
In 1978, when Duffers was head of marketing at Halfords', he received an odd request. The rock band Queen was making a video to promoted their single Fat Bottomed Girls and wanted to borrow a couple of hundred bicycles. Duffers agreed and turned up at an athletics track to find as many naked porn models as he had bicycles. Girls and bikes did a couple of turns around the track in the all together for the cameras in what was surely Freddy Mercury's most elaborate ruse to persuade fans that he was hetro to his fingertips. Most of the girls, unsurprisingly, complained bitterly about the saddles. And Duffers, in an interview conducted on the day of the stunt, was incapable of stringing a sentence together. It was perhaps as a result of this that he missed the marketing opportunity of a lifetime. The bicycles were simply returned to Halfords' stock and sold at their recommended retail price with not a word said about their brush with glamour.
In truth we need a campaign for Duffers, and you are the people to lead it. Start bombarding Eurosport with emails now!
Aye yours
Tim D
From: Tony C
Subject:
I have been an avid fan of the tour de france for approx 42 years,I have been up many of the cols in the alps and pyrenees the race has used, with my wife in the car,and have been in awe at the lenght ,gradient and altitude of them.Having suffered on a cycle and running marathons my admiration of any tour rider is second to none.My admiration is also the same for Mr David Duffield,if he can make watching the tour de france pleasurable for my wife to watch he is amazing.His style is supurb,to keep commentating when there are no breakaways and nothing in general is happening is unique.He can give the viewer plenty of information about the riders,about the region the cyclists are travelling through,what wine and where it came from that he had for lunch the previous evening,in fact nothing he says will start boring the viewer.As for commentary on the race itself it keeps the viewer interested and enthralled,and the emotions surface as well,eg, when the photographer stepped out in front of the leader close to the fnish line.So where is David Duffield,I just could not believe he was not commentating,nothing against Phil Ligget or Paul Sherwen they are very good,but I now have to tape the race and watch it when my wife is out,she has lost interest.Could you please tell me why he was not chosen and if he is over in France watching the race. Many Thanks, Tony C
From: Dave W
Subject: The Missing Duffers
Can you tell me what's happened to Dear David. With him The Tour is, as regards commentary, a bit boring. Commentators, tho' well informed/experienced but no enthusiasm. No culture. (food, towns, terrain) No mini Murray-Walkers. (Cock-ups)
NO COLOUR.
Regards and best wheeling wishes. David W Ex Horwich CC. ( Ex by about 45 years, but treasured memories.)
From: Eamon
Subject: David Duffield
Do you know why he isn't on the TDF this year? Eurosport aren't saying.
Yours in desperation
Eamon
From: Julian
Subject: What's happened to David on Eurosport ?
Hi
I've just got back from holiday having missed most of this years Tour de France, only to find that all of this years commentary is being done by Mr Snooker Mike Smith !
Do you guys know where David is ?
Regards
Julian C
From: Jim
Subject: Duffield, Kelly, Smith.
I just trawled though your excellent Duffield pages hoping to find an accurate version of my favourite Duffism. It's not there, so until someone can supply a verbatim account you will have to rely on my shaky memory.
In a recent Tour De France (probably 2002) during a mountain stage David was commenting on the vast crowds who turn out to see the riders. He rambled on and on about how it was all for free and how peaceful and friendly the spectators were. He compared the good behaviour of the hundreds of thousands who turn out for cycling with the hooligan antics of football fans who gather in a stadiums of only 40 to 50 thousand. At that moment a spectator in fancy dress started leaping and hopping in the road in front of one of the leading riders almost causing him to fall off. David, instantly forgetting his previous comments, launched into a furious rant along the lines of " this is disgraceful, we are all sick and tired of this kind of thing, when will somebody take action to stop this sort of behaviour, these people should be locked up etc." I have often related this tale and would love to hear the original again. It was the same year he did his embarrasing rendition of a psalm from the bible when the Peloton passed by Tom Simpson's memorial.
Nobody has mentioned David's constant references to 'Thumping great climbs', 'Thumping great mountains' ' Thumping big meals' etc.
Wth reference to this years Tour. It was great fun to listen to Mike Smith's evident anxiety when getting used to the wonderfully dour Sean Kelly as his commentary companion. Mike would ask Sean to comment on a particular aspect and Sean would wait for his customary 30 seconds before answering. Whereas David Duffield was obviously used to this and would answer his own question or patiently wait out the long silence before Sean responded, Mike obviously began to panic and on a number of occasions has prompted Sean with repetitions or rephrasing of the original question. However, things have settled down now and Sean is able to take his time to answer as is his way. I read somewhere that Sean Kelly once responded to a question in a radio interview by simply nodding. My friend Anthony (a recent Tour convert) has noticed how Sean can not bring himself to say Peloton, always referring to "d' bonnch" (the bunch).
see you
jim
From: Jon R
Subject: where was david on this years tour
I tuned in every day to The Tour but NO DAVID!!! All I got was mike smith who knows about as much on the tour as I do about climbing L,alp duez. Was he on eurosport europe rather than eurosport uk. Missed THE MAN terribly. It was'nt the same Tour. Where is he. Is he coming back to the uk broadcasts?
jon r
From: Bryan L
Subject: David Duffield
Hullo there.
I found your site this morning, while trying to find out the situation with David Duffield. It wasn't until he was eased out of the Tour that I realised who it was who made watching the cycling so interesting. He has not been treated well by Eurosport. I will still try and watch the Vuelta when I'm off work, but it won't be the same. Cheers.
Bryan L
From: Alan W
Subject: The Great Man
Hello,
Where is David Duffield? The Tour de France wasn't the same without him. Is he ill? Has he been Sacked?
Please reply if you have any information.
Thanks
A Fan.
From: Alan N
Subject: The Great Man
Hi is the great man o.k? he seems a bit "under the weather" at the moment has he been ill?? not being nosey just concern from an OLD blrc (tootingb.c.) man — used to ride alongside the likes of alfie angers and co. — mass starts at crystal palace!!! give my regards to the lad and wish him well! alan n.
From: Elaine
Subject: Emailing: London Sept 04 024
Hi
Thought you might like this picture of me with the great Mr Duffield – a personal hero! It was taken on 5th September this year. He had just finished commentating on the final stage of the Tour of Britain and was about to rush off to catch a flight to Spain to cover La Vuelta.
[img]duffieldsep2004.jpg[/img]
Elaine 🙂
[insert_php]
duffield();
[/insert_php]
David Duffield Brought BMX To The UK – Early Video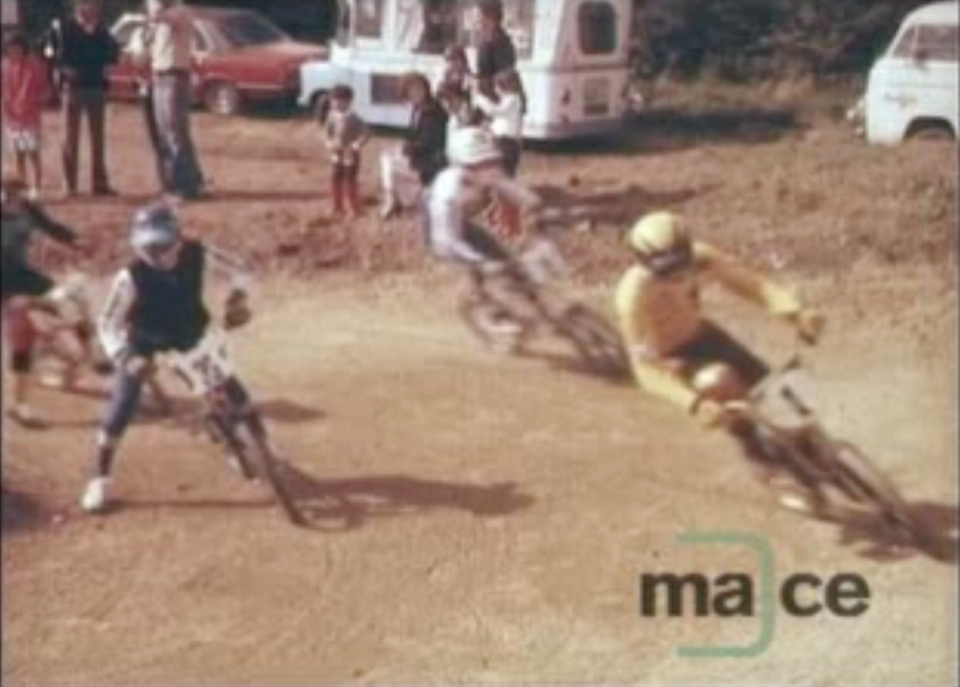 Not a lot of people know but David Duffield was one of the pioneers of BMX in the UK.
While working as the marketing manager at Halfords Head Office in Redditch, David played a big part in building the first BMX Track opposite Halfords HQ at Icknield Street Drive, Redditch.
The first official BMX race in the UK took place on 30th August 1980, at the track David Duffield set up.
This track also went on to host the International Anglo American races of 1981 and 1982, when BMX suddenly was booming.
In 2010 Redditch Premiers BMX club members got in touch with David to invite him to the Redditch BMX Tracks opening ceremony some 30 years later. David even left some of his precious memorabilia from that era in the Club house for the members.
David Duffield didn't just talk about cycling. He was cycling!
There are still a lot of people who for whatever reason haven't had the pleasure of listening to David. With that in mind we want to collect some of his more famous sayings together on this website. To help us achieve this all you have to do is send up some mp3 sound files of DD in full flight.
Topics we are particularly keen to get hold of include:
Cheese
Wine
Nurses
Little diddy men
Rabbits called sixpence
and others…
To do it you could either hook up your video player to your computer via a special scart lead or via a microphone next to the TV speaker.
Alternatively you could record all future webcommentary at www.eurosport.co.uk either to a tape recorder or if you are very technically minded you might explore how to use a bit of software like http://streamgen.ipfox.com to do it for you.
Remember if you've never heard DD yet then the best way to get cycling in the UK and Europe is to get www.eurosport.com either on Analogue satellite (my favourite because they show the most cycling and its all free) or via cable or a sky digital package.
Whatever you manage to get send it through and we will see what we can do!
[insert_php]
duffield();
[/insert_php]
My dream finally came true! At the London bike show Cycle2002 I finally met David Duffield and thankfully he was exactly how I expected him to be!
I managed to get to the show in Islington at 10.30am on the Saturday as I had heard David would be there along with some other cycling commentators before shooting off to his London studio to provide the commentary for that afternoon's Tour of Spain. I found the Eurosport Cafe just in time to see DD being interviewed by one of the newer Eurosport commentators who does a bit of track commentary and in the corner I noticed Phil Liggett and Paul Sherwen who provide the terrestrial Tour de France commentary as well as the newer OLN commentary for the emerging US viewers. After a quick "Hello", handshake and a "I really like all the work you do" type chat with Phil and Paul I noticed DDs interview had ended and I was able to get straight in:
DD Left and new bloke from Eurosport (Sorry I forget your name, especially after we said hello during the great comentary you did at the Herne Hill Good Friday track meet!). Before anyone emails in suggestions I already know it is not Phil/Paul/Gary. Its not Adonis Russell Williams and it doesn't look like he parts his hair with a chamois leather so its not Mike 'Dungeon' Smith.
And its not Christy Anderson either!
"Hello, I'm Marco"
"Oh hello I met some of you lot the other day"
"Yeah, I do the web pages about you though. I hope you don't mind!"
At this point the excitement was making me dizzy so I forget the exact words of our conversation but it was something like:
No I really like them thanks for all the work you put in
Not at all its my pleasure, thanks for all the commentary you do, we really love it, it makes it so much more interesting and you wouldn't believe how many fans you have got out there who are prepared to write in extolling your virtues. Infact I don't really have to do anything except put all their great contributions together.
Oh Thanks, I understand you have some pictures from a friend of mine in Australia?
Yes Nisa sent some great shots in and I also get a lot of emails from lots of your friends all over the world including a recent one from Shaun Wallace (great British trackie) and also a 70s World Champion Sprinter from Australia.
If ever you have any problems with anything we write about you please don't hesitate to get in touch with Eddy M (RRA boss who it turns out is a mutual friend) and we'll amend it for you…
No, No don't worry.
We've also got some stuff from when you were racing up on the site now – a picture of you being different in the National Cyclo Cross Championships and also two accounts of your tricycle record breaking rides including 'the wrong way to end to ender'. We got them from old Sporting Cyclist magazines and I'm not sure about copyright issues.
Well Sporting Cyclist isn't around anymore and all of those were done by Jock Wadley who unfortunately isn't here either. I'm sure wherever he is he would be pleased they were being read again!
Do you think you'll do anything more on the trike?
No those days are long gone! You know the village where I live had a scarecrow competition! I made one up using my old trike that I used to race on, a Greg Lemond jersey and pair of black tights! You know, made the scarecrow and everything. IT WON FIRST PRIZE!!! Out of 47 scarecrows it won first prize!
You'll probably be getting an invite to our club dinner this January, do you think you can you make it?
Unfortunately I'll be in Australia for the Tour Down Under before heading off to Malaysia for the Tour of Langkawi. Thanks for the signed menu from last year though, sorry I couldn't make it (DD was ill last year so the hundred or so people at our dinner wrote happy messages on the menu and another card which got sent to him. Its an Addiscombe tradition to do that for friends who miss a dinner through ill health).
One other thing…You aren't planning on retiring soon are you?
Well, I'm going to keep going to Athens 2004 if I can then I'll cut it down a bit. I'll still do the big races like the major tours and the classics but I'll knock some of the other smaller ones on the head. Some months I'm hardly ever at home…
Are you going to Zolder (for the World Road Championships)?
Ooh yes I'll definitely be there for those.
Do you think Cipo can do it or will the Italians self implode?
Well I don't think he will be able to do it. I think they'll self implode!
Do you ever chat much with Cipo? I reckon he'd be a real character? (I imagine both he and DD are quite eccentric and would appreciate each others wit)
Unfortunately he only speaks Italian and French and I don't speak Italian and my French is very rusty. He says hello but I'm afraid that's about as far as we get. I'd love to see him win though.
Did you see much of the recent track champs (Britain won 3 golds)?
Yes its been great. Russell's been doing a great job with Mike Smith. When I was commentating at the Olympics I nearly fell off my chair when Queally won the Gold. You know I carry a union jack around with me and get it out whenever a Brit wins. The other commentators think I'm mad but when Queally won I was waving it all around!
<there's a="" queue="" forming="" at="" this="" point=""></there's>
Ok thanks very much, remember if there's anything you don't like please get in touch. Oh and by the way here is one of our Addiscombe posters – it has the new web address on it which is a bit easier to remember.
Oh good that last one was a bit of a mouthful. Thanks for doing it all and keep up the good work!
Me (marco) left with DD. Note Paul Sherwin being interviewed far right and also well known domestic race photographer (with beard) behind me Paul J Wright
DD with one of his many female fans. He was genuinely keen to find out about everyone and in this case offered all sorts of advice about Sustrans paths and the national byeway scheme to get people out enjoying riding their bikes away from main roads.
I managed to keep within earshot as his fans came up to him and these were the snippets that I caught:
I don't commentate for the cycling expert – they know what's going on in a race. I commentate for everyone else and try to point out what's going on.
Lance is very friendly with me but now has so much security around him that he's hard to get to. He still waves or says hello as he passes and I often ask him how his cat Chemo is!
Sean Kelly is absolutely amazing at reading a race and points things out you would never notice.
My cat isn't very well and is on its last legs. I'll try and spend as much time with it as possible.
I have a dachshund so getting a new cat might be problematic (he said the dog's name and it was on a par with Sixpence the Rabbit but I forget what it was exactly!)
I was ill last Christmas and thought I had DVT but in the end it was ….
Russell Williams nearly fell off his chair when Hoy beat Tournant by one thousandth of a second at the World Champs!
When I was 8 years old I can remember constantly chatting in class and getting hit with a ruler by the master who shouted at me "Duffield, you are an old washerwoman!"
A veritable feast of cycling heros! Sean kelly being interviewed
I managed to say hello to Sean and also give him an Addiscombe poster with the web address on as well as telling him a little about the Duffield appreciation site. Who knows, maybe he will email in with a couple of stories for us!?
Phil Liggett and Paul Sherwen were also there and seemed equally friendly. Paul even rolled his trousers up to show some of his fans the scabs and scars on his leg that accompany being a racing cyclist!
DD had a pretty good long chat with top bike designer Mike Burrows (Boardman superbike, Giant etc). Suspension, Minis, Moultons, strong cheese? Who knows what they were talking about????!
At this point you realise just how lucky we are in the UK and Ireland to have so much cycling talent around. Mike Burrows the top designer, Sean Kelly the hardman of the 80s and Phil, Paul and Dave… the three top English speaking cyclesport commentators in the world.
DD and Phil Liggett discussing the commentary plans for the penultimate day of the Vuelta.