AKA How To Ride Snowdon Overnight
If you're like me it doesn't take much to start dreaming of a reason to escape the 9 to 5 for a couple of days to sneak an epic adventure in given an excuse, and one of my favourite excuses is the annual Summer Solstice sunrise.
This day, usually occurring on June 21st, celebrated by many cultures around the world, happens when the earth is tilted at its closest towards the sun, resulting in the shortest night of the year and the longest day.
One of my most memorable Solstice adventures was watching the sun come up at Stonehenge, staying up throughout the night with a throng of people squashed between the stone circle eagerly awaiting the sunrise.
As a keen cyclist, I'd always wanted to do something involving my bicycle so another celebration saw a mass night ride through central London with 100 other riders culminating in a stop on top of London's Primrose Hill Park to greet the sun rising above London's built-up skyline in the distance.
Sometimes though, you just want to go BIG! And what can be bigger than a nighttime ascent of one of the highest peaks in the UK, Mount Snowdon, on a bike to take in the best sunrise you'll probably ever see?
Situated in the northwest corner of Wales, Snowdon easily fits the bill and growing up hearing cyclists' folklore tales of an hour-long continuous descent, it has long been on my MTB bucket list.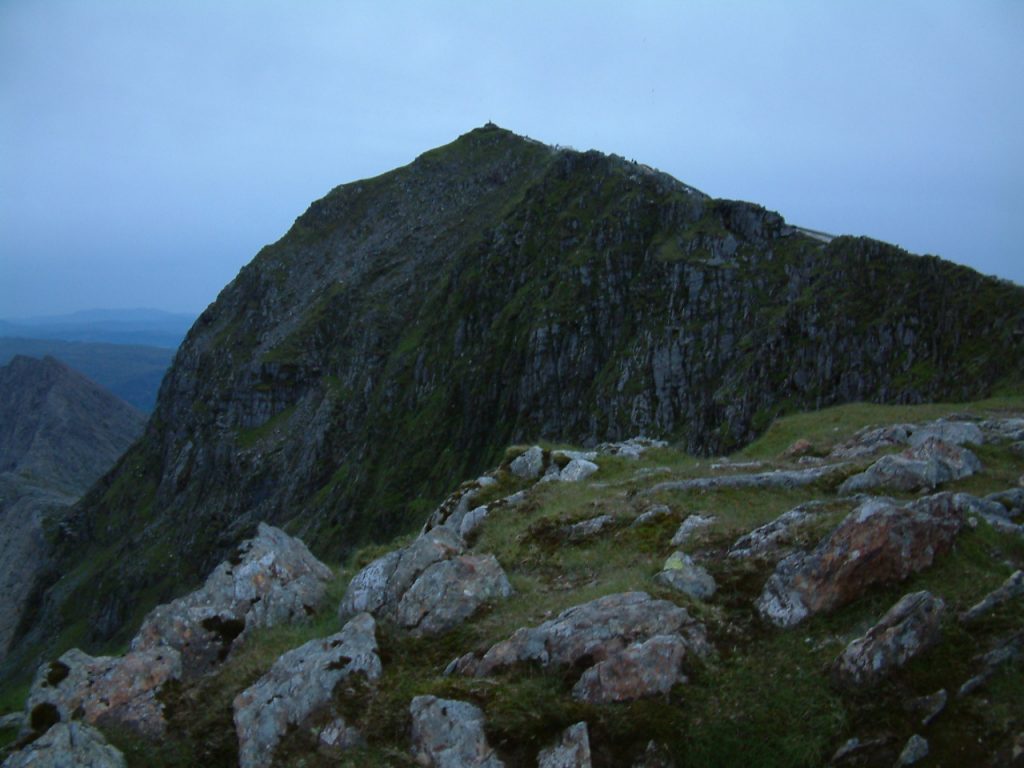 At 1085 meters tall, getting a bike to the top of Snowdon isn't easy, especially given the voluntary cycling ban that operates throughout the summer months where cycling is forbidden between the hours of 10 am and 5 pm, making it even more of a challenge.
Then there's the weather. One kilometre up in the skies the elements become very changeable. Plenty of people have been caught out on the mountain and the results can be fatal, so riding up in the months when the cycling ban isn't operating requires both experience and the right equipment.
That's not to say it's all plain sailing in the summer – there are a multitude of things that can wrong up there, so if you're going to attempt this you need a good level of general fitness and an understanding of how to protect yourself on a high peak if things suddenly take a turn for the worse.
So, read on if you're feeling adventurous…
Obligatory legal reminder: Wild camping in England and Wales is illegal without the landowner's permission.
How To Cycle Up Snowdon Overnight
The Ascent
Set off with your bike and kit from Llanberis Village at about 10pm
This should give you time to make the journey to Llanberris after work from many places in England and Wales that are within a five-hour radius by motorway.
There are a few different routes up to the summit of Snowdon and the Llanberis path is widely accepted as the most straightforward way to make the ascent. The other routes are more technical for walkers and climbers, but trying to carry a bike up them, in the dark, would be an incredibly bad idea!
You'll probably be able to ride about a third of the ascent, the rest is so steep and arduous that you'll be pushing and occasionally carrying. Even the fittest mountain goat climbers are going to struggle to ride their bikes the whole way given the rock-strewn nature of the path and rough granite slabs around the midpoint.
The climb should take you about 3 to 4 hours, so if you set off at 10 PM you'll summit between 1-2 AM.
You'll start to notice that you're not the only one hoping to catch the sunrise in a few hour's time – your eyes will start to pick out bivvy bags, a small alpine tent here and there and even some climbers huddled against the rocks in expedition sleeping bag suits.
You'll also notice how cold it is now you're sitting still! Any shelter that the mountain was providing from the strong winds blowing in from the direction of the Irish sea has now gone, and the sweat you'd built up from ascending 1000 meters carrying a bike is now cold and clammy. Make sure you've got something to keep warm and sheltered (see kit list below).
The Sunrise
You'll start to notice a slight tinge in the sky around 4am. Whether you choose to focus on this or how cold you suddenly are is up to you! The official sunrise time is 04:49 but you'll want to be awake and looking eastwards long before this.
If it has been a cold clear night I guarantee what you will see next will take your breath away.
I'm not going to try to describe it as words will only do it a disservice. All I can say is if you're fit enough to make a nighttime ascent, I am very excited for you, as I know, weather permitting, you're about to experience one of the best views in the British Isles.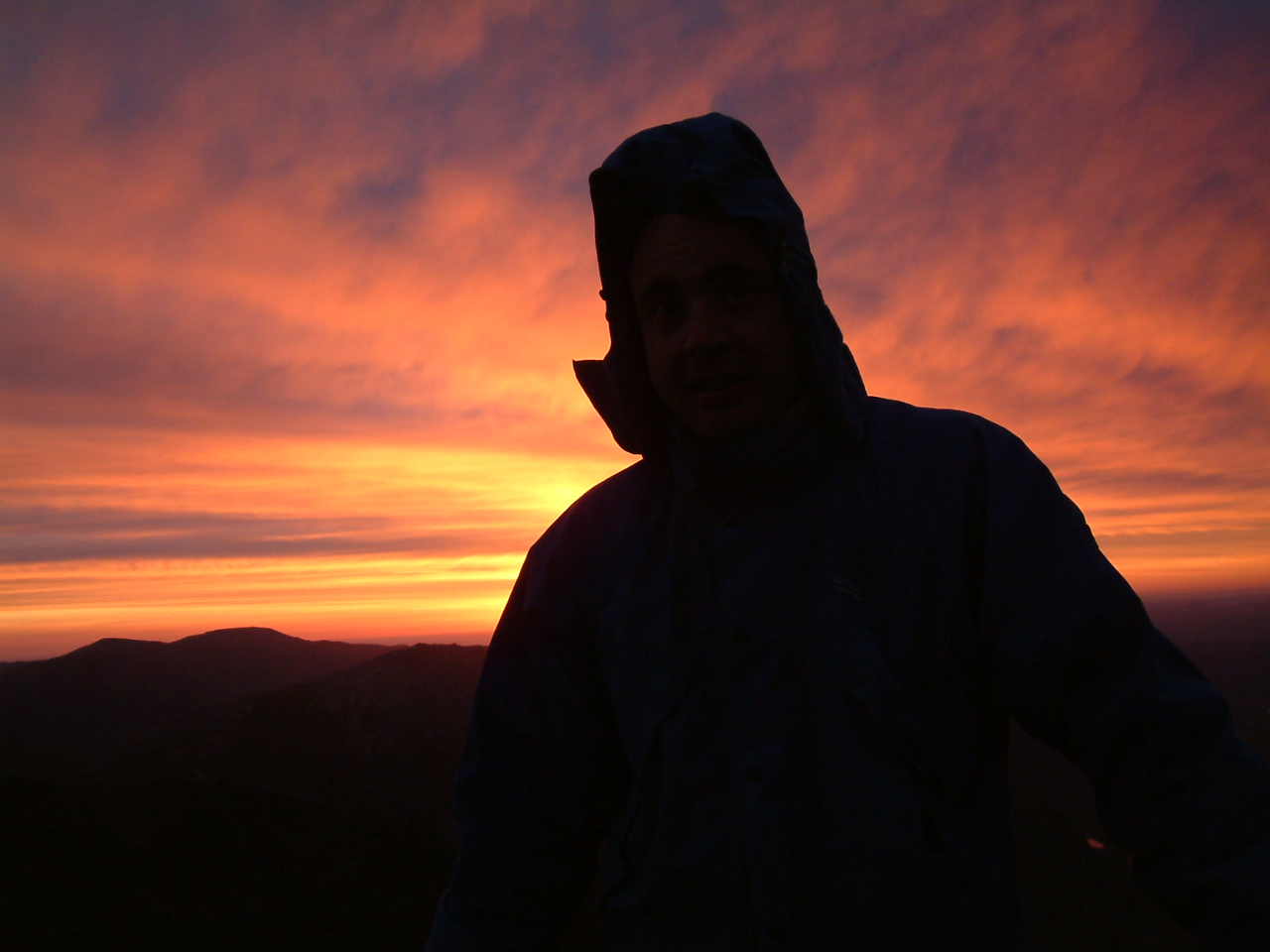 For me, the whole sunrise experience was so mesmerising that I didn't want to leave. I stayed on top of the mountain as the colours changed from black, to glints of golden black, to orange and then bright blue skies.
Looking into the horizon it will be possible to see the four neighbouring countries of England, Scotland, Ireland and the Isle of Man. As you look out towards the mountain peaks poking up from Scotland, you can't help but wonder who your fellow Scottish adventurer is who has mirrored your experience with a night out on a summit north of the border and is now looking back at you.
At some point, you're going to have to leave the summit.
The Descent
Check your bike. Check your helmet and other safety equipment. Get changed out of your hiking boots into your SPDs if you need to. Make sure your bag is zipped up because if anything can fall out, with this bumpy, rocky descent, it WILL fall out.
You're going to come down the same Llanberis path that you came up. Yes, there are other routes down, but the Llanberis path shouldn't hold any sudden surprises, given that you've already come up it.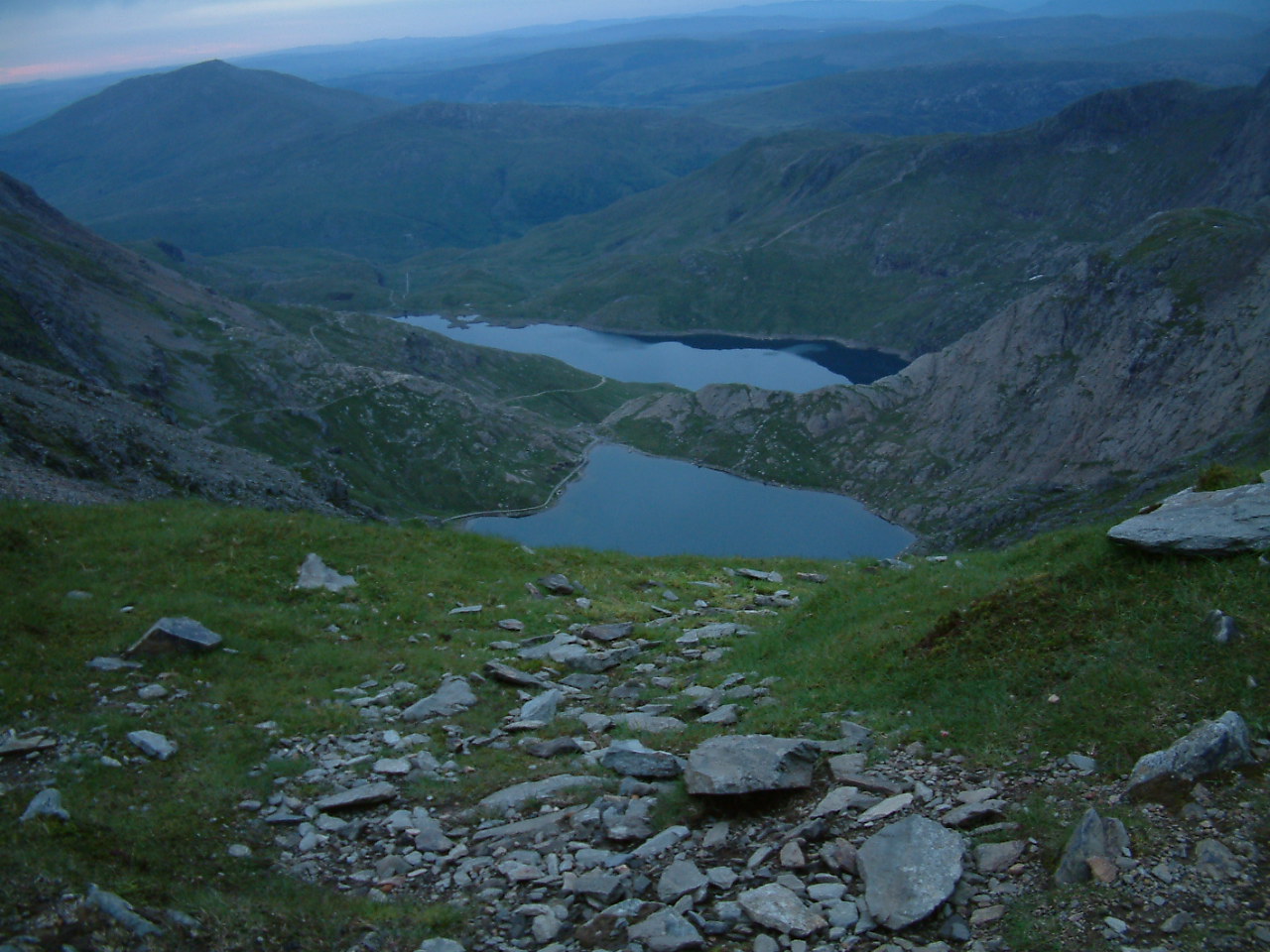 That's not to say that this is an easy descent. It definitely isn't. There are rocks to catch you out, and smooth sections that will give you a false sense of confidence as you let your speed increase. At some point, they'll probably shake you up and give you quite a scare.
The descent is typically about thirty minutes of solid descending. Your arms will be barely able to steer the bars, your fingers will be desperately trying to control the brakes every time a new rock garden jumps into view. Your quads will be pounded from the constant weight shifting. If you're a confident descender you'll love it. If you're timid you'll hate it. It's unrelenting and there's no way to go but down.
You'll suddenly realise that this is somewhere you really don't want to have an accident. Halfway down a mountain at six in the morning with no walkers or other riders about to come to your aid is not a good predicament to be in. If things go wrong here, they can go very very wrong.
Post Ride
You'll probably be back in Llanberris quite early, which means for those living and working within a couple of hours from here, you could even get back in time to get to work without using up a day's holiday. The ultimate micro-adventure! For anyone else, there's only one place to head to, and that's the cafe in town called Pete's Eats. Famous in mountaineering circles far and wide, you'll suddenly understand why when you see the size of the plates that come out!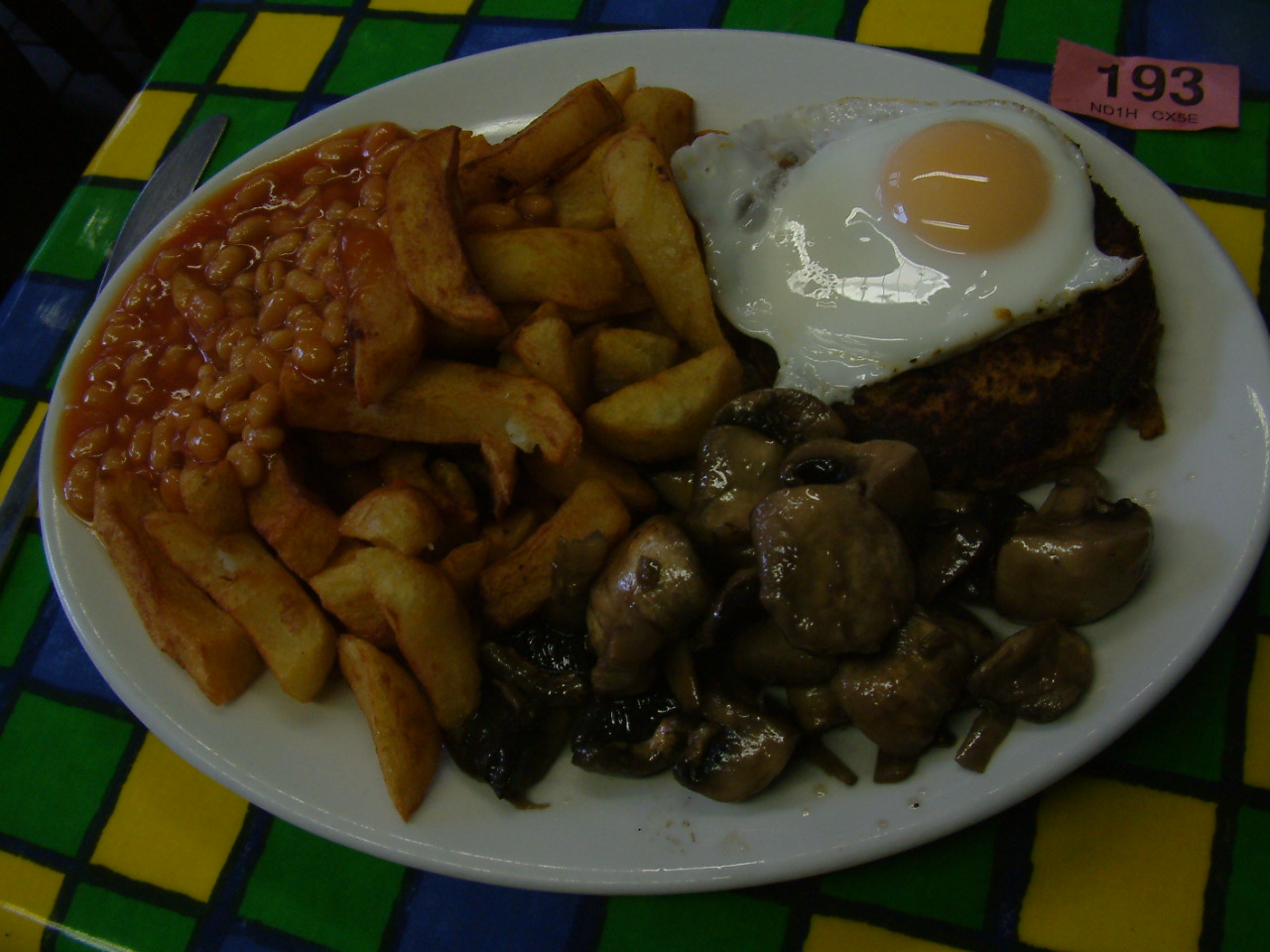 For the rest of the day, just enjoy the longest day. And try to find somewhere to catch a good sunset when the evening rolls around!
My Kit To Ride Up Snowdon Overnight
Hiking boots for the ascent
Helmet
Emergency bike tools
Inner tubes x 2 – Impact punctures are a real thing on the rocks
Insulating tape – there's a lot that can be fixed with a roll
Duct tape – the ultimate get out of trouble toolkit addition
Sleeping bag – to keep warm
Survival bag – should always carry one on a high mountain
Whistle – Small and useful in bad situations
Compass – strong fog is always a possibility, using a compass can aid with getting safely off the mountain
Paper OS map – reliable
Water
Food
Optional cycling shoes for the decent – if normally using SPDs, they'll help combat the bouncing off the pedals on the way down
Gloves – the weather can still drop to nearly freezing on the summit overnight
Headtorch
Bike Choice to Ride Up and Down Snowdon
A Mountain bike is best
If it's got full suspension that is even better, you'll appreciate the travel on the way down
Using a gravel bike is a possibility for a good rider who understands weight shifting on a steep descent, and has the arm and quad stength to cope with the relentless rocks.
A dropper post or quick release to lower the seat is very handy on the steeper downhill sections for a little more peace of mind.
Warning
This is a dangerous activity to undertake. Ensure you are adequately trained in UK mountain craft and survival skills and have a high level of fitness and competency. Base your activities on your instructor's professional advice, not what you read on this website.
Disclaimer
Bikesy recognises that mountaineering, mountain sports and outdoor activities in general have a risk of personal injury or death. Participants in these activities should be aware of and accept these risks and be responsible for their own actions and involvement.
Any person reading these pages should be responsible for getting the proper instruction in the techniques and equipment necessary for hillwalking, climbing , off-road cycling and mountaineering and assume all responsibility for injuries incurred to themselves or to third parties.
Bikesy tries to provide the most accurate information possible, but some information contained in this website may not be accurate. While content is provided with the best of intentions you should not assume that information you read is an adequate substitute for instruction or experience.
Bikesy does not recognise any liability for injury or damage caused to, or by, walkers, climbers, cyclists, third parties, or property arising from such persons seeking reliance on this information as an assurance for their own safety.
Information is provided for personal use and although every effort is made to ensure that the information within this website is correct and up-to-date, neither Bikesy, nor its contributors can be held responsible for any errors or omissions.
Bikesy recognises that climbing, hill walking, off-road cycling and mountaineering are activities with a danger of personal injury or death. Participants in these activities should be aware of and accept these risks and be responsible for their own actions.
Neither the author nor Bikesy nor any company associated with this website recommends you attempt this activity. It has the potential to be extremely dangerous. Always seek real-world professional advice from in-person qualified instructors before considering any mountain activities.