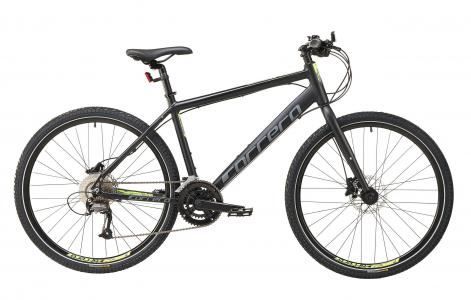 Carrera Subway 2
Weight: 13.7 kg
Suspension: Rigid
Frame: Aluminum
Wheel Size: 27.5′′
Gears: 18
Brakes: Hydraulic Disc
Our Verdict: A versatile urban bike for commutes, fitness and leisure - the Subway 2 upgrades key components on the Subway 1 bring the same fun but with maximized everyday performance. A good upgrade if you can stretch to it.
Click on these Carrera Subway 2 deals to see more:
Releated Deals:Black Carrera BikeCarrera AxleCarrera Crossfire 1Carrera Crossfire 2Carrera Crossfire 3Carrera EndeavourCarrera ParvaCarrera Subway 1Carrera Subway All Weather Edition
7 Reasons You'll Love the Carrera Subway 2
Lightweight Alloy Frame - Provides an efficient and durable riding platform.
Hydraulic Disc Brakes - All-weather stopping power you can modulate and trust.
2x9 Drivetrain - A wide range of gears optimized for urban terrain.
Upright Position - Puts you in control navigating city streets.
Stable Handling - Inspired by mountain bikes for steady control at all speeds.
Puncture Protection - Kevlar-belted tires significantly reduce flats.
Tuned for Comfort - From the saddle to the grips, dialed for daily riding.
Subway 2 Key Features & Benefits
Lightweight Alloy Frame – An efficient and durable urban platform.
Hydraulic Disc Brakes – All-weather stopping power and control.
2x9 Drivetrain – Wide range gearing optimized for the city.
Upright Positioning – Visibility and control around town.
Stable Handling – Inspired by mountain bikes for confidence.
Puncture Protection – Reduces flats from debris.
Comfort Points – Made for all-day city cruising.
Why Carrera?
For over two decades, Carrera has been manufacturing high-quality and reliable bikes that stand out for their exceptional value. Available on the high street, through Halfords, one of the UK's most trusted cycling retailers, Carrera offers impressive performance without the premium price tag.
All Carrera bikes are designed to incorporate decades of engineering experience with rigorous testing ensuring that every model meets the highest standards for safety, comfort, and durability. Costs are controlled through integrated in-house manufacturing and direct sales which allows Carrera to equip their bikes with professional-grade components from leading brands rarely found at these lower price points. From road racing to mountain trails, Carrera bikes deliver pro-level performance across disciplines that competitors can't match pound for pound. With excellent customer service and lifetime maintenance guarantees, Carrera bikes represent unmatched quality for your money. If you seek true value backed by decades of expertise, Carrera is the smart choice.
Don't Buy This Bike If...
You want to go fast and prioritize speed over comfort - Like the Subway 1, this is a stable, comfortable ride.
You need to tackle very steep hills regularly - gearing favors flatter urban terrain.
Do Buy This Bike If...
You want one reliable bike for daily commuting and around town.
You appreciate practical touches like mudguard mounts.
You need a comfortable, upright bike for varied city streets.
You want quality components without paying for expensive brands.
With its smooth-rolling wheels, dialed ergonomics, trusted components and versatile performance, the Carrera Subway 2 is the two-wheeled companion for all your urban adventures. It's a bike made for the demands of real-world city riding. Take the Subway 2 out for a spin around town and experience the Carrera difference.