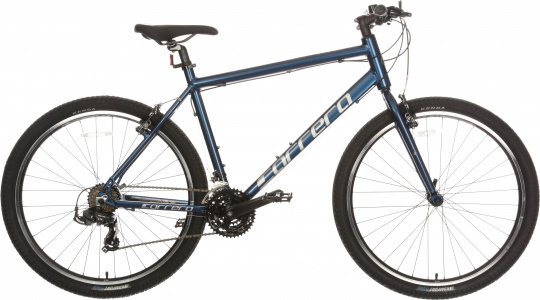 Carrera Axle
Weight: 13.5kg
Suspension: Rigid
Frame: Aluminum
Wheel Size: 27.5′′
Gears: 21
Brakes: V-Brake Our Verdict: The Axle is an ace choice for relaxed rides around town or leisurely weekend jaunts along backroads and towpaths.
Click on these Carrera Axle deals to see more:
Releated Deals:Black Carrera BikeCarrera Crossfire 1Carrera Crossfire 2Carrera Crossfire 3Carrera EndeavourCarrera ParvaCarrera Subway 1Carrera Subway 2Carrera Subway All Weather Edition
7 Reasons You'll Dig the Carrera Axle
Butter-Smooth Alloy Frame - A lightweight alloy frame glides effortlessly whether you're cruising the neighborhood or exploring the countryside.
Dialed Riding Position - An upright geometry lets you survey the scene ahead while the ergo grips and saddle keep things plush.
21-Speed Shimano Drivetrain - Shimano Tourney gears offer a wide range of ratios to devour both climbs and descents with ease.
Sure-Stopping V-Brakes - Linear-pull V-brakes quickly and smoothly scrub off speed when needed.
27.5" Wheels - Mid-size hoops strike a sweet spot between acceleration and stability.
Kenda K1047 Tires - With puncture protection to ward off flats from road debris and glass so you can just ride without worry.
Chainguard - Keeps grease off your strides so you can pedal to work in your Sunday best.
Carrera Axle Key Features & Benefits
Alloy Frame – Smooth-rolling foundation for effortless cruising.
Shimano Tourney Drivetrain – Buttery shifting across 21 gears.
Linear-Pull V-Brakes – Powerful stopping in dry conditions.
27.5" Wheels – Nimble with a hint of stability.
Upright Geometry – A comfortable cruising position.
Kenda K1047 Rubber – Puncture protection keeps the good times rolling.
Lifetime Frame Guarantee – Built to last mile after mile.
Why Carrera?
For over two decades, Carrera has been churning out quality and reliable rigs that punch above their weight in performance without socking your wallet. Available at Halfords shops across the UK, Carrera offers pro-worthy rides without the price tag.
Every Carrera rolls out of the factory with decades of engineering chops and rigorous testing under its belt, ensuring it can stand up to real-world riding in comfort and safety. By keeping manufacturing and sales in-house, Carrera can kit out its bikes with high-end parts from top brands that competitors can't match for the price. Whether you're on tarmac or trails, Carrera delivers podium-level performance across disciplines for a fraction of the cost. With top-notch customer service and lifetime guarantees, Carrera bikes are simply unbeatable value. If you seek more bike for your buck, Carrera is the savvy choice.
Don't Buy the Axle If...
You're hammering the local club ride - this cruiser favours chill out days over racing.
You need to navigate steep singletrack - its gearing is optimized for flatter terrain.
Do Buy the Axle If...
You want a comfortable ride for neighborhood cruising or towpath exploring.
You appreciate practical details like fender mounts and chainguard.
You need a stable bike for relaxed riding on mixed surfaces.
You want quality without blowing your budget on expensive brands.
With its relaxed geometry, durable wheels, plush touchpoints and versatile performance, the Axle delivers comfort and control to all your laid-back riding needs. Take this two-wheeled partner out for a leisurely spin and experience the Carrera difference.