Orbea Rise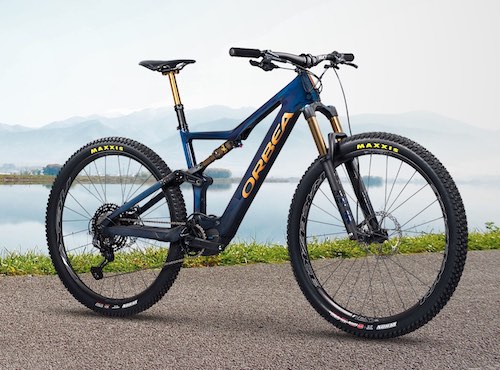 The Orbea Rise is an electric mountain bike that sets itself apart from the rest.
This full suspension e-mtb is based around 140/150mm front travel and 140mm rear travel and is aimed at advanced riders who want an authentic riding experience rather than a constant high power delivery.
Orbea have managed to create a very light electric mountain bike that comes in at just 16.5kg for the top-of-the-range Rise M LTD model and 17.5kg for the M-Team model.
To achieve this Orbea have built a full carbon frame - the Orbea Monocoque Race - and added a 360 Wh battery which comes in with a substantially lower weight than the standard 500 and 625Wh ones used elsewhere.
Orbea's goal was to build an electric mountain bike that had a similar riding style to that of a regular mountain bike. At first glance, most people probably wouldn't even realise that the Orbea Rise was an e-bike.
Click on some of these Orbea Rise deals to see more:
Where to begin with the improvements that Orbea have brought in with the launch of the Rise 2023 range? Well for starters, Shimano's most recent electric mountain bike motor, the EP801 RS, is integrated into the 2023 Rise carbon bikes. RS stands for Rider Synergy. It is a normal Shimano EP801 motor, but Orbea has modified the firmware to restrict maximum torque to 60 Nm and to tailor a more natural feel at optimal cadences of 75 to 90 rpm. This range of cadences provides the best performance.
Orbea have also developed a brand new battery, which is a substantial new improvement, which they assert that the utilisation of 21,700 cells results in improved charge and discharge ratios, in addition to improved heat control. In addition to being 300g lighter than the previous Rise battery, the new 360Wh battery also features a design that is more compact.
Shimano's EP6 RS motor is used in the aluminium Rise models. This motor has the same amount of power, functionality, and connectivity as Shimano's EP801 RS motor, which is used in the carbon Rise models. On the other hand, these motors have an aluminium housing rather than a magnesium one, and the overall weight of the system is about 300 grammes more. Still a good light bike, but making it more affordable than the carbon model.
Finally, according to Orbea, the frame anchor points are integrated into the body of the battery, which results in a few gramme weight savings and a modest improvement in the frame's weight distribution for when you're hucking down challenging trails.
Orbea Rise Suggested Size Guide:
| | |
| --- | --- |
| Rider Height (in) | Frame Size |
| 4'10" - 5'2" | XS |
| 5'2" - 5'6" | S |
| 5'6" - 5' 10" | M |
| 5'10" - 6'1" | L |
| 6'1" - 6'4" | XL |
| 6'4" - 6'6" | XXL |