The Complete Beginner's Guide To Track Cycling
Track cycling is one of the fastest growing disciplines in UK cycling right now and definitely accessible to all. We'll take you through getting started on the track, getting kitted out, and how to progress to racing. You never know, with the fantastic British system in place, you might even make it to Team GB!
So What Exactly is Track Cycling?
Track cycling is the familiar term for riding on a velodrome, the oval shaped bowls made familiar during the Olympics.
A velodrome usually consists of two long straights and two steeply banked corners at either end to complete the circle. They are designed for speed and the banked corners are necessary for maintaining the speed of the bike as the rider negotiates the turns, allowing them to hold contact with as much of the surface as possible.
If you think about it, you can imagine riding a bike fast around a running track, but when you get to the turns, you would either have to brake hard to slow down, or lean your bike to impossible angles (much like motorbike riders when they put their knee to the ground). The velodrome's steep banks permit you to maintain a fluid speed and realistic riding angle. And we all know, more speed equals more fun!
Such a specific arena requires a specific bike. Apart from at the occasional beginner sessions, a velodrome is ridden on a track bike. Fixed-wheel, no gears, no breaks and dropped handlebars, might sound a little scary but they really are the ideal (and safest) bike for the job. The bikes give you individual freedom to ride fast and find a rhythmic pace or bursts of speed, as well as the safety of riding in a group (or peloton) with the knowledge that nobody will suddenly touch their brakes and cause unexpected movements.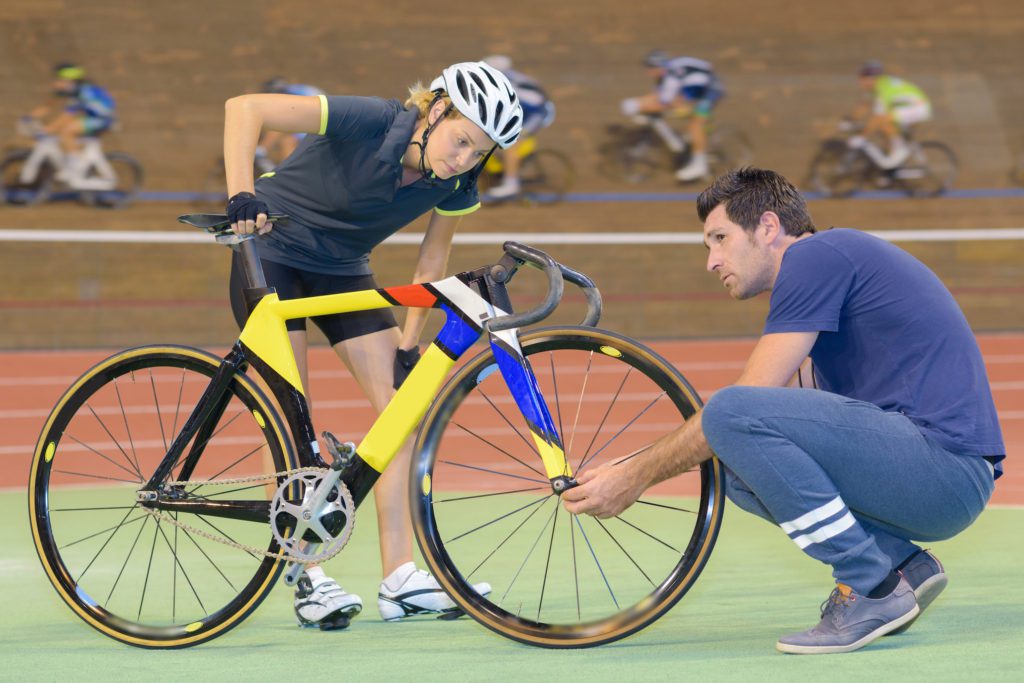 It's still a niche discipline within the overall world of cycling as a whole and over the decades it has seen peaks and troughs of popularity. Right now, track cycling is entering a new wave of popularity, although it is still marginal compared to it's heyday in the early 20th Century. The 2008 Olympics in China saw Team GB bring home eleven medals from the velodrome alone and nine medals on home soil in 2012 at the purpose built London Velopark.
Such success and euphoria put the spotlight on track cycling and saw a surge in revamped old tracks and fully booked beginner sessions. The infrastructure, community and resources surrounding track cycling in the UK is now at a professional and well-organised standard that is bringing the sport to the masses.
But simply having more people being aware that track cycling actually exists and is available to have a go is not a recipe for popularity. Let's delve into why it has captured the imagination and hearts of so many new people in recent years.
About Velodromes
Velodromes are an extremely safe, fun and controlled environment. There are no cars to worry about and every activity is conducted under supervision with a known set of rules. Imagine the freedom of riding your bike as fast as you can in a totally traffic-free arena! It's special and you can feel like a child again, whizzing around and around on two-wheels. It's extremely fun for adults and children alike, and as such there is a huge number of kids clubs nationwide.
There aren't many (if any) tracks that you can just rock up to and start riding, most riding time is in designated sessions that are structured to specific groups and ability. So kids clubs will be full of games and lighthearted races, mind you, not that much different to adult sessions to be fair!
Beginners sessions will obviously be dedicated to teaching the basics, which once you've mastered you can move on to training and race sessions.
Training sessions focus as much on skills and etiquette as they do on fitness and women's sessions are designed to break down the old-fashioned boys-club of cycling and cultivate friendships and involvement.
Race series are categorised into level and ability. So in a nutshell, what's not to like? Fun, fast, safe, controlled and dedicated, track cycling is literally for anyone who enjoys the thrill of turning two wheels.
Despite certain universal traits (circular shaped with banked corners), velodromes actually come in all shapes and sizes. Depending on what you happen to have locally is likely to be what you ride first, but experiences of track riding can be vastly different.
Take Preston Park for example, it's a huge outdoor velodrome near Brighton, the oldest in the UK (built in 1877) and barely even legitimate to call oval shaped to be honest. It's tarmac banks are shallow and would feel nothing like riding indoors at Calshott Velodrome, the smallest and steepest in the UK, with a wooden surface. Riding at Preston Park would give you a huge sense of history, riding in an arena that used to attract 10,000 spectators in the 1950's, compared with riding at the shiny new London Velopark, which has also seen it's share of spectators in recent years with the 2012 Olympics, World championships, International 6-day and is where Bradley Wiggins set his Hour Record, and is kitted out with all the latest mod-cons.
Track enthusiasts, or "trackies" as they're affectionately known, will travel to different tracks for races and learn to adapt in radically different environments. Certain tracks will suit certain people and call for a choice of gear selection and evolving race craft and technique to suit the specific track. As hinted at, not only does every track have it's riding differences, it also has it's own atmosphere, history and community. Where you fit in best may just be a matter of geography, or you may want to seek out a track that clicks with your riding style and sense of social belonging.
Indoor and outdoor tracks have their own blend of variety, too. Many tracks now, such as the Herne Hill Velodrome have been surfaced to be ridden in "all weathers"; so long as it's not blowing a gale or pouring with heavy rain you can get a ride in (if you want to, well that's a different matter!). Some tracks are even floodlit to allow evening riding throughout the winter months. Indoor tracks are temperature controlled and obviously, unaffected by the weather and tend to be a little more expensive to ride.
Use the map below to zoom in and find your nearest track

Your First Go On A Track
So, now you've decided that track riding sounds awesome and of course you want to give it a go, how can you get started yourself? Well, it's easier and easier these days with the cycling world making a concerted push to welcome more members. Google is your friend, so have a nose around and find out which track is closest or most appealing to you. In general, there are certain things you can expect from the majority of tracks (although it is worth checking before you head on down).
How to ride your first track session
1) Find your nearest track from the map above
2) Find out when their introduction sessions are
3) Turn up with the required kit
4) Keep pedalling and keep checking over your shoulder.
5) Have fun!
Track cycling is it's own art and has techniques and rules that you will not have experienced anywhere else in the cycling world, so you need to get to grips with these before being let loose in open sessions.
Taster sessions are the first port of call, even if you're an experienced cyclists. Perhaps you already ride a fixed-wheel bike, but you need to be aware that past cycling experience although helpful, does not translate to immediately being able to leapfrog the learning sessions.
Most velodromes offer hire bikes, sometimes for a small fee on top of the session. Turn up early (or book on in advance if available) because sessions are hugely popular and you don't want to be left disappointed before you even get a chance to ride!
Sometimes, you can bring your own track bike if it meets the requirements. Each track is different but usually you need to at least ensure you have removed any brakes, fitted dropped handlebars and removed any tri-bars, computers or bolt-ons. This means you can't bring your standard road bike though.
If you are hiring you might want to bring your own pedals. You will be expected to be clipped in, so flat pedals are a no-go. But clipless or clips-and-straps are the standard. Most places don't hire out shoes (this isn't bowling!) so bring your own and matching pedals that you are comfortable with. If you don't have any of your own, just bring some sensible trainers, make sure the laces are tied up and tucked away and you'll be shown how to use clips-and-straps.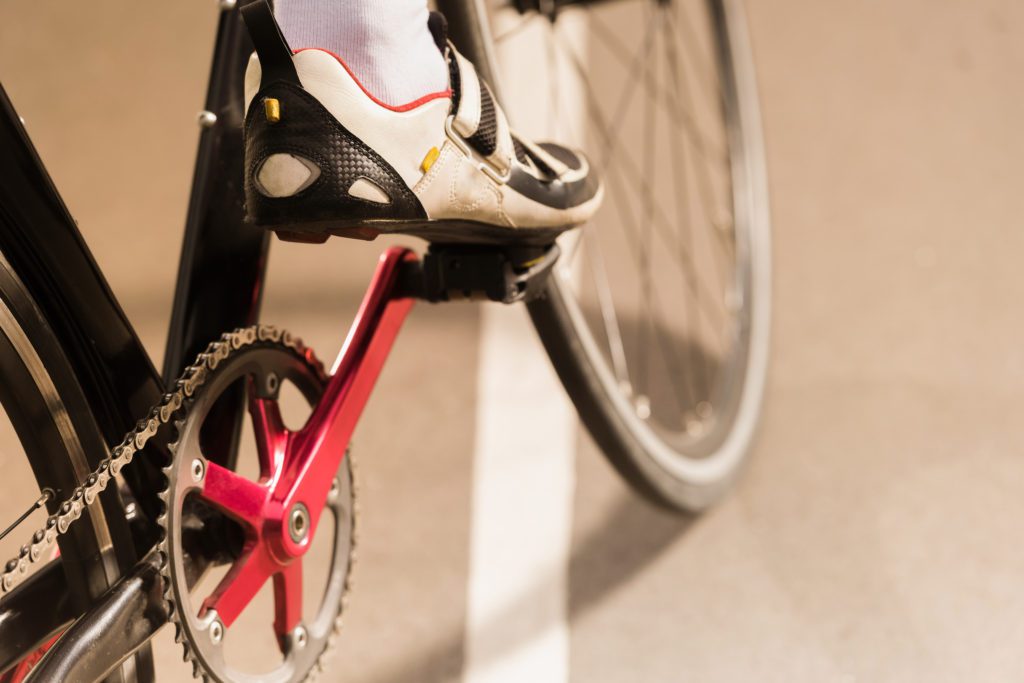 For taster sessions you don't even need specific cycle clothing. I've seen many beginners riding in leggings or joggers, it's less comfortable in my opinion but so long as your shoulders are covered and anything loose or flapping is secured you'll be good to go.
Anyone can turn up. Truly anybody, from corporate days out, to kids, sportive riders and anything in-between, track cycling is truly inclusive. You don't need to be a member of British Cycling or any governing body. Just you, your free-will and a love of cycling is enough for you to be welcomed on-board and get going.
Things to take to your first track session

1) Helmet
2) Jersey and base layer (two layers are recommended in many indoor velodromes
3) Cycling mitts if you have them
4) Cycling shoes if you have them
5) Pedals if you want to use your specific shoes
Follow Up Accreditation
After a taster session and you've most likely fallen in love, it is time to go on an induction course and get accredited. There are certain skills that you need to demonstrate that you've mastered before you can get a pass to join in with training and race sessions. So, lets have a look at what you will be learning.
As we've mentioned, track bikes are fixed wheel; this means you can Never.Stop.Pedalling.
You'll be taught how to get started safely and ease your way onto the track either from the top or the bottom and from that moment, until you stop, you need to keep your legs turning. It's very natural and easy but whilst you are learning, this truth will be drummed into you and reminded constantly until it becomes second nature. You control the speed of the bike with your pedalling, so you will be taught how to slow yourself down and come to a smooth, controlled stop at the edge of the track.
Whilst you are riding on the velodrome there is a strict etiquette for your safety and the safety of other riders. You will hear "hold your line" repeatedly and it means that you cannot just change your position on the track without checking it's safe to do so. You'll need to be able to look over your shoulder whilst riding and check what is happening behind you before you choose to leave a group or change your position. You will also be shown how to re-enter a group by moderating your speed and seamlessly joining in with the slipstream.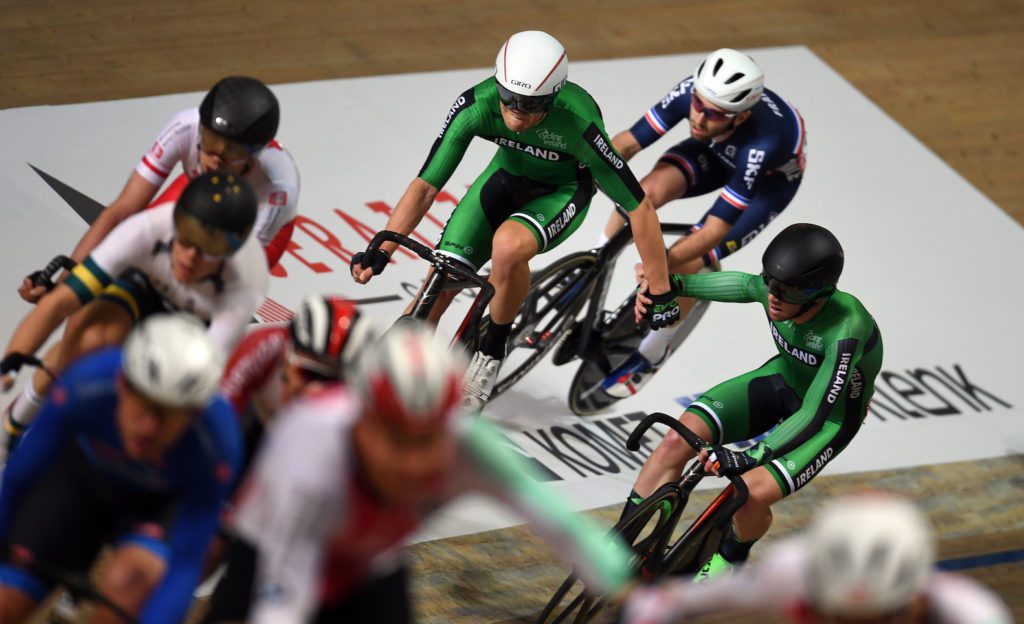 The most biggest importance underlying every skill taught in the accreditation process is safety. Track cycling is essentially safe when everyone knows what they are doing and playing by the rules. Much like being out on the streets, the danger comes when someone isn't concentrating or makes sudden and unexpected movements. No matter how good you are at cycling already, it is essential that you learn the specific rules of the track before you are given the independence to join in with more advanced groups.
One of the greatest things about track riding is that it is guaranteed to make you a better bike rider in anything that you do. Your bike handling skills will improve exponentially and you will find that you develop a smoother pedalstroke on your road bike. The most adaptable road riders tend to be those who have experience riding on a velodrome too, the quick reactions and rider awareness skills you pick up will benefit you in any on-road situation. You will also become fitter with regular sessions and find that you are better able to throw out quick bursts of speed.
Once you are accredited and up to scratch with riding on a track (no pun intended – the trackies here will get it!) you can start going to training sessions at most tracks. The majority of training sessions are actually really fun and focus on warming up, practicing certain skills and lots of mini races. Weekend sessions are really popular and once you become a regular you'll make a ton of friends and integrate yourself into the routine. Professional coaches lead the sessions and tend to keep things varied, controlled and of course, safe.
Ready To Race?
Track riding really is a race-oriented discipline, the point of it is to go fast, develop skills and use them in a competitive environment. So naturally, most people who stick the course and end up going to weekend training sessions will feel tempted to join in some racing.
You're basically racing at every session anyway, so it is a natural progression for many to join a race league. How seriously you take this is totally up to you, but there is prize money up for grabs and clubs/teams start to congregate together and create tactics and tribes.
You don't need to be part of a club to race (although you will need to pay for a race licence) but many people choose to affiliate themselves with the local track club. If you're already part of a road club, that's fine too, you can race in your club kit and your club affiliation should cover race insurance (although you should check first).
Racing is structured in local leagues, with a weekly meet-up giving you the chance to accumulate points throughout the season. There is no commitment that you have to turn up to race on any given day, it is totally up to you how much you want to join in. You can also find regional and national track meets (as race days are called) and get info about that from your local track as you build up.
Everyone has to start somewhere. We all know the big track names such as Sir Chris Hoy, Chris Boardman and Victoria Pendleton but did you know that many of our GB road stars also harp back to earlier track racing days? Sir Bradley Wiggins grew up racing at Herne Hill Velodrome.
Whatever your ambition, to be the next Olympic gold medallist or simply to improve your cycling fitness and skill track cycling is open and accessible.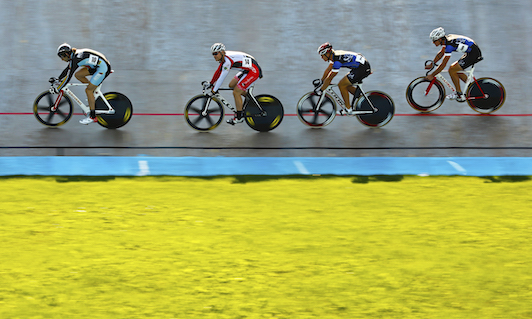 Want to find out more?
Check out this interview with British Cycling's National Cycle Centre coach Peter Deary
https://www.britishcycling.org.uk/knowledge/article/izn20150827-Track-Get-into–Track-Cycling-0
Read Michelle Arthurs-Brennan's account of riding track induction sessions
The good people at Sportive Cyclist also share how their first ventures onto the track progressed https://www.sportivecyclist.com/derby-velodrome-taster-session/
If you're looking for deals on track bikes check out the selection we've found here – Remember though, for velodrome use you'll want one with drop handlebars and no brakes. If you're looking at getting into cycling in general and have a friend or partner who isn't quite as fit or adventurous as you then take a look at various e-bike options they may enjoy without putting in quite as much hard work as you and you can still enjoy getting riding together.