Your Safety - Mountain biking is a potentially hazardous activity carrying a significant risk. It should only be undertaken with a full understanding of all the inherent risks. The guidelines found here must always be used in conjunction with the exercise of your own experience, intuition and careful judgement. Remember routes may change owing to tree felling and other forest operations.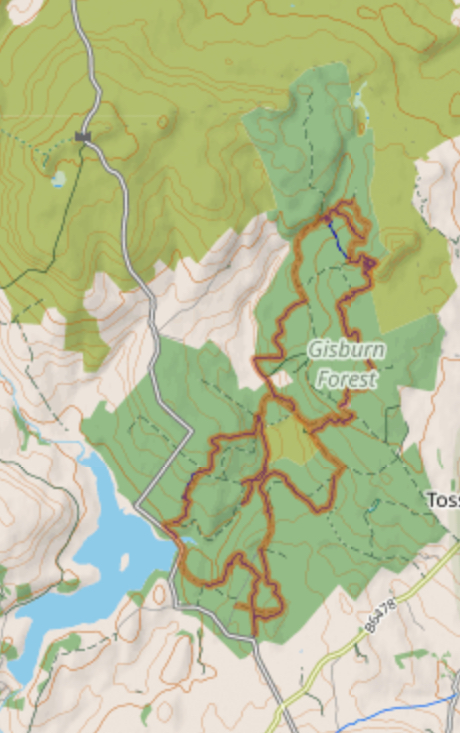 © OpenStreetMap contributors
The 8
Red Grade • Difficult • 18km
Black Severe (optional features and sections)
Laid out in a figure of eight. Highlights include the volunteer built trail of Home Baked, the arduous Whelpstone Crag, the elevated north shore inspired Simon's Swamp and the roller coaster ride of Hully Gully – as close as you can get to experiencing strong G-forces on a bike. The trail includes forest road and red & blue grade single-track. There are optional black grade sections and features on the way for expert level riders.
Bottom's Beck
Blue Grade • Moderate • 9.5km
This is a shorter trail for an easier ride. Great for novices and younger riders. Drop down to the causeway over Stocks reservoir and roll along Eggberry Road. A chilled out section of green grade trail follows an old rail line beside Bottoms Beck. Enjoy yourself along the funky blue single-track of Park Wood, before swooping down from the top of Cocklet Hill. Park Wood can be by-passed if you need to by keeping on the forest road.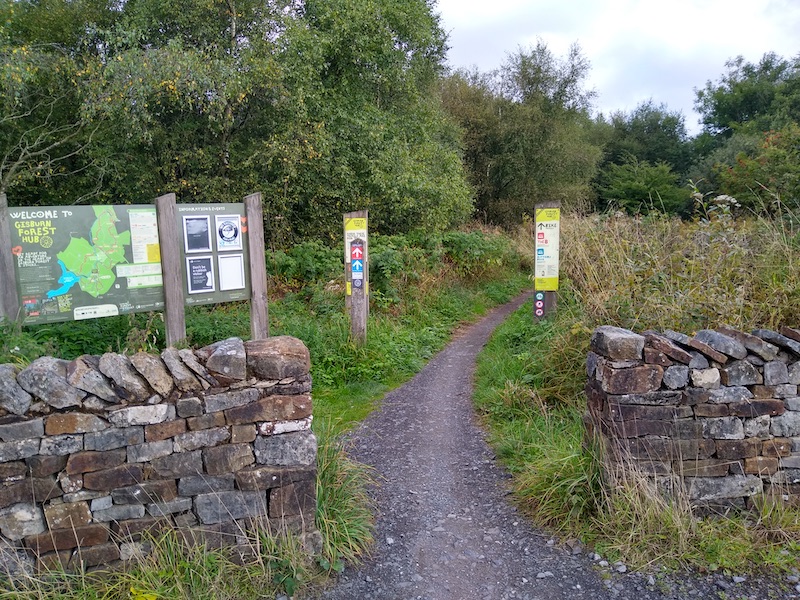 Start point for the red and blue routes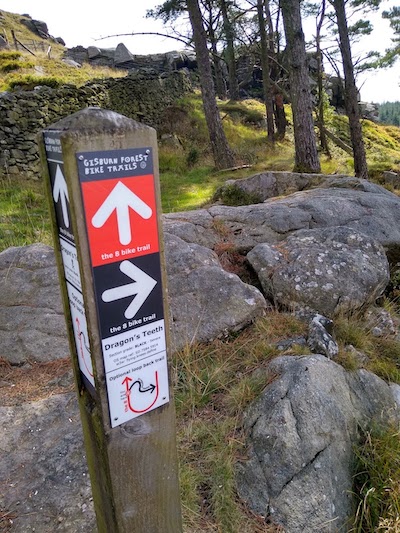 Sign post showing optional black route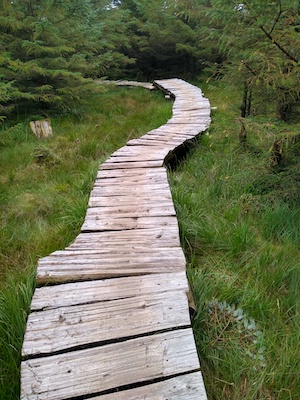 Simons Swamp on the red route, with an alternative route bypassing it
Blue
Suitable for: Riders in good health, basic off road skills. Basic mountain bikes.
Trail: Some single track, root & rock obstacles.
Red
Suitable for: Proficient mountain bikers with good off road riding skills and fitness. Good mountain bikes.
Trail: Challenging climbs, tricky descents & technical features such as drop-offs & large rocks.
Black
Suitable for: Expert mountain bikers with high level of fitness. Quality off-road mountain bikes.
Trail: Greater challenge & difficulty. Expect large & unavoidable features.
Bike choice: Consider an entry level hardtail like a Specialized mountain bike or Cannondale mountain bike
Bike choice: Look for a high end hardtail like a Trek mountain bike or or a mid-range full suspension bike like a Whyte mountain bike
Bike choice: You'll definitely want something more enduro based like a full suspension Orbea mountain bike.
Head out on either of the trails and you'll soon notice a lot of riders are using e-bikes. These are a great way for everyone to enjoy the trails. Look for something like a Specialized Turbo Levo Comp if you really want to make light work of the climbs.