As you've probably read elsewhere over the last couple of days the Belgian European U23 champion Women's champion, Femke Van den Driessche, was found a bike with an electric motor in the seat tube. She claims it isn't hers, but was borrowed from a friend. Incidentally, her brother, Niels Van Den Driessche, is reported as being suspended from bike racing for EPO usage. Nice.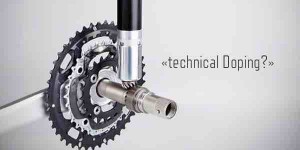 Whatever the circumstances around Femke being in possession of a motorised Wilier cyclo cross bike there are bigger questions to ask.
Are Wilier involved in this? They say they aren't, and that they are looking at legal action presumably against the athlete. What grounds they have to proceed will be interesting, although you can assume the terms of sponsorship deals with Belgian squad riders will probably come under scrutiny shortly.
How much does this cost to set up?
There have been figures bandied around of hundreds of thousands of Euros but we reckon this is overkill for this type of electronic system. A custom made battery, standard motor and a machined bottom bracket spindle. Plus some simple electronics to engage and disengage the system as needed. Experts we've spoken to in the e-bike world reckon 5K max, with most of the cost going on the battery, which only needs to run for the flat out sections of a 1 hour race.
How Comes a teenage girl has ended up with one of these?
For the good of the sport of cycling, this really is the million dollar question. If she's telling the truth, why on earth would a friend drop off a bike with a motor in it to the course? How come's Femke didn't notice the extra weight (we reckon 1.5KGs) in a super light carbon fibre bicycle, or the subtle change in riding position that always comes with riding a friend's bike? Why didn't she say anything to her team coach, the well respectedl Rudy De Bie? We don't know, although if we are to assume that mechanised bikes have made it to teenage girls racing cyclo cross then we have got one more very important question to ask…
Does that mean the pros were doing it ages ago?
There's long been questions asked of superhuman performances in the pro-peloton and with improved drug testing programmes bike doping could be a new edge to gain that all important completive advantage.
Tom Boonen made some uncomfortable statements following his loss to Fabian Cancellara in The Tour of Flanders back in 2010. Want to see why? Watch the ease with which Cancellara takes Boonen apart.
Many armchair fans have asked questions of Cancellara's dominant performances in previous editions of the Paris Roubaix as well.
We've got to admit we were sceptical but when you see the best American cyclist ever demonstrate how easy it is to construct such a mechanised bike it certainly adds food for thought.
If you ditch the bottle battery for a more sophisticated model that fits inside the seat tube it would be totally undetectable to the average fan. The pedals would just turn on their own but no one looking from the outside would be any the wiser.
Although they would surely ask questions in the event of a crash.
Even though in this case you can clearly see that the pedals DON'T turn, an environment is created where fans distrust the slightest anomaly, which is an unfortunate state of affairs for the sport.
The Italian press have been hot on the subject of mechanised bikes for a while now. RAI commentator, and former pro racer, Davide Casani even featured them on a day's summing up at the Giro back in 2010
Fast forward to 2016 and we've got 19 year old girls using bottom bracket drive motors in the world championships. But what could a professional in the men's peloton be using if they were determined to cheat? According to Italian newspaper La Gazetta Dello Sport it's all about horrendously expensive rear wheels with electromagnetic filaments powering them forwards. http://www.gazzetta.it/Ciclismo/01-02-2016/bicicletta-motore-ruota-sistema-nuovo-vecchio-grafico-zolder-van-den-driessche-140501305543.shtml
Are there any positives to come out of this?
YOU BET!
For those who want to see cycling as a more mainstream transportation method the advancements of this technology is actually great news. The top technology always trickles down from competition, even if it's prohibited at the highest levels. In this case we can hope to see more mums doing the school run on an electrically assisted bike, people with health problems getting out for easy bike rides knowing the bike can take the strain on the hills and commuters that want to get into town a bit quicker but without the expense of a car or a motorbike. It's all bikes and it's all good, if used in the right way.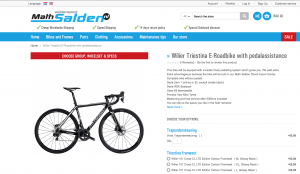 UPDATE 01/02/2016 20:00GMT
Want to buy one of these bikes?
https://www.salden.nl/en/wilier-triestina-e-cycl-ocrosser-met-trapondersteuning.html are selling them.
UPDATE 01/02/2016 22:30GMT
Check the very last second of this video. Do you think the movement of the thumb   is a motor being switched off at the end of the race or something more innocuous?
And here at 57:38, again after crossing the finish line. Is a switch under the brake hood feasible?
ARVE Error: Not a valid thumbnail URL or Media ID given