Cycling Presentation by London Deputy Mayor For Transport Val Shawcross
On the 3rd August 2016 at the NLA CycleSummit Deputy Mayor for Transport, Val Shawcross set out the direction that Mayor Sadiq Khan's cycling strategy will take London. Detailed strategy will be published in November 2016. (See below for Val Shawcross Slidedeck)
Highlights from the talk included TfL's Nigel Hardy confirming that progress is being made on planning more Cycle Superhighways: "The political will is absolutely there."
Val Shawcross explaining that "it should be our mission to help people get more active travel into their daily routine" and a confirmation that the "intention is to increase" budget for cycling from ~£150m a year spent previously." and this is "not just for cyclists" – it makes the environment better for everyone. Less noise, pollution etc."
She also went on to explain the cycling is not just about movement, it's also about driving down air pollution across our city, although no figures or proposed measures for outlining car reduction.
There was encouraging news for other parts of the country as well as Ruth Cadbury, Labour MP for Brentford explained that "The govt encouraged London to be a test bed, now we need to roll it out across the UK" although she also confirmed what most of us already knew: "It's difficult to express the level of ambivalence we find in parliament to cycling. We have a long way to go".
Slide Deck for Val Shawcross Presentation to #CycleSummit16
MAYOR OF LONDON
---
The future of cycling in London
Valerie Shawcross CBE
Deputy Mayor for Transport
3 August 2016
MAYOR OF LONDON
---
Our approach must deliver for London
Fairer for all
Better air quality
Safer and healthier roads
Improved walking experience
Active people
MAYOR OF LONDON
---
 A new vision for London…
Healthy Streets to cycle, walk and enjoy
Cleaner air; greener streets
Reducing the impact of motor traffic
Coordinating improvements for walking and cycling
MAYOR OF LONDON
---
The Mayor's manifesto pledges
Make London a World-Class Cycling City…
Increase the proportion of TfL's budget spent on cycling
Continue the Cycle Superhighway Programme
Prioritise Quietways
Safer, cleaner lorries
Safer Junctions
More cycle parking
"My aim is to make London
a byword for cycling around
the world – with a plan to
make cycling and walking
safer and easier in the
capital."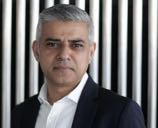 Sadiq Khan,
Mayor of
London
MAYOR OF LONDON
---
Cycling is good for London
Major mover of people
Cuts traffic emissions and noise pollution
Less motor traffic means a better quality of life for all
Improves health
Supports and attracts business
MAYOR OF LONDON
---
Moving more people
Cycling is a major mover of people – in 2014, there were 645,000 cycling trips a day – that's 20% of all Tube trips
Victoria Embankment and Blackfriars Road corridors are now moving many more people per hour than they did before the cycle tracks were built
At the busiest times, bikes make up 70% of all traffic on Blackfriars Bridge.
MAYOR OF LONDON
---
Building on whats worked well
30km of Superhighways now open
Mini-Holland projects making good progress
50 million cycle hire trips now completed
First Quietway now open
24,000 children trained to cycle safely last year
Cycling is safer than ever
…but we need to do a lot more
MAYOR OF LONDON
---
MAYOR OF LONDON
---
MAYOR OF LONDON
---
MAYOR OF LONDON
---
Learn the lessons of earlier schemes
We need to:
Better coordinate roadworks and mitigate their impact
Consider more evening working
Mitigate the impact of schemes on buses
Listen more to the public – reducing the 'bikelash' for cycling schemes
Integrate cycling into wider transport improvements
MAYOR OF LONDON
---
We will deliver Healthy Streets by…
Appointing a new Walking and Cycling Commissioner
Publishing a new Healthy Streets Vision in the autumn
Delivering more high-quality Cycle
Superhighways and Quietways & Safer Junctions
Transforming Oxford Street
Town centre active travel schemes
Setting a new Direct Vision standard for Lorries
Setting out a new approach to road safety
We Went On A Bike Demo In London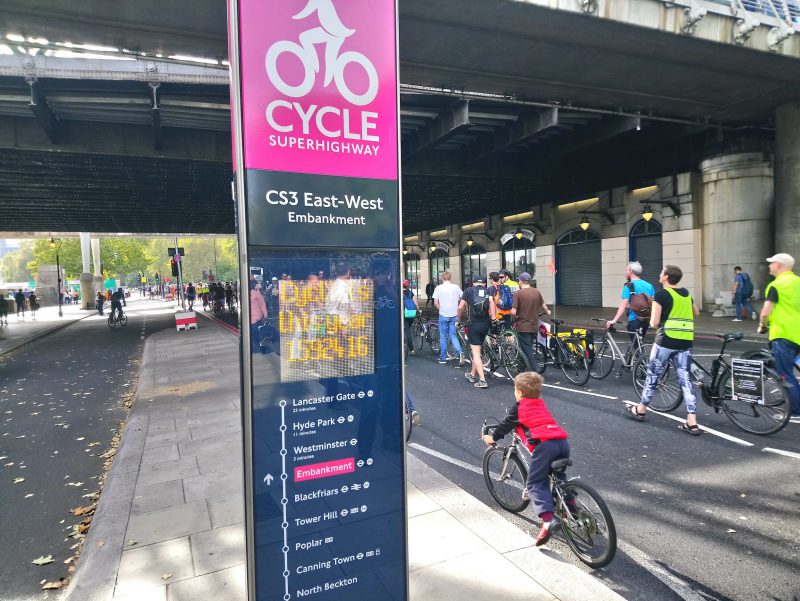 Their name might be shocking, but the Stop Killing Cyclists campaign group certainly know how to capture attention.
The London based campaign group take their initiative from the Dutch movement of the 70s called 'Stop de kindermoord' (stop the child murder). It's certainly a direct approach to campaigning but their peaceful protests get results that we all benefit from.
We heard that they were organising a "National Funeral for the Unknown Cyclist" and given the recent spate of tragic cycling accidents that have happened in London, we completely agree with their calls for the government to set aside £3Billion build a national protected cycle-lane network. That may sound a lot but bear in mind that the new East London car tunnel under the Thames in Silvertown will cost £1Bn to increase congestion in another part of London and you realise that spending £3Bn to get the UK more active will save fortunes in the long run with cleaner air and a more healthy population.
We set off for the meeting point at Holborn's Lincolns Inn Fields and were amazed to see how many other cyclists had given up their Saturday afternoon to come out and make their voice heard.
The organisers had certainly pulled out all of the stops – at the front of the parade there was a horse drawn funeral carriage complete with a coffin. Following it was the loudest cycling sound system I've ever heard playing some sort of bagpipe lament.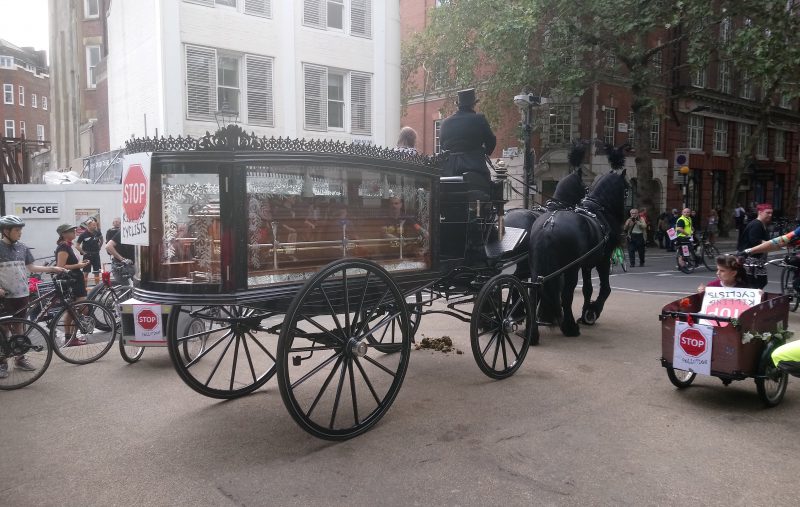 The procession set off at a walking pace and we made our way down to the Embankment and on to Parliament.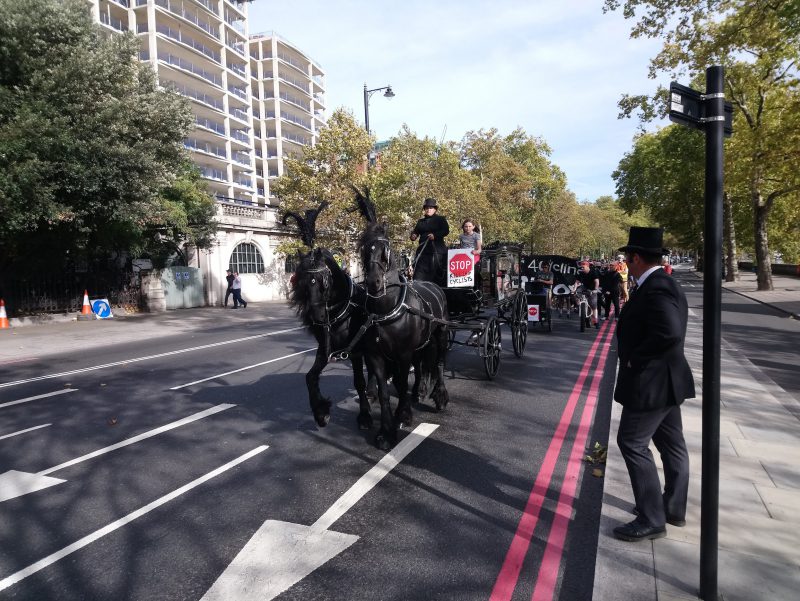 The procession makes its way down the Embankment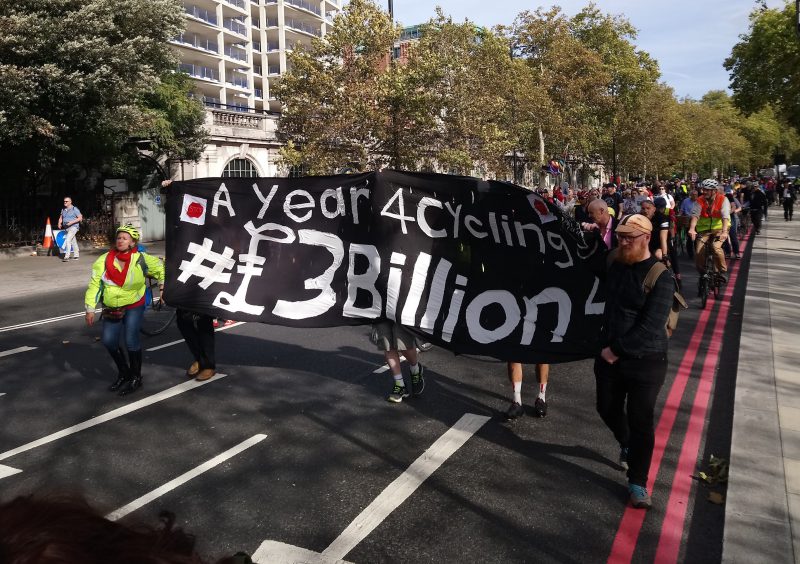 £3Billion is not a lot of money when you realise the cost savings to the NHS from having a more active population.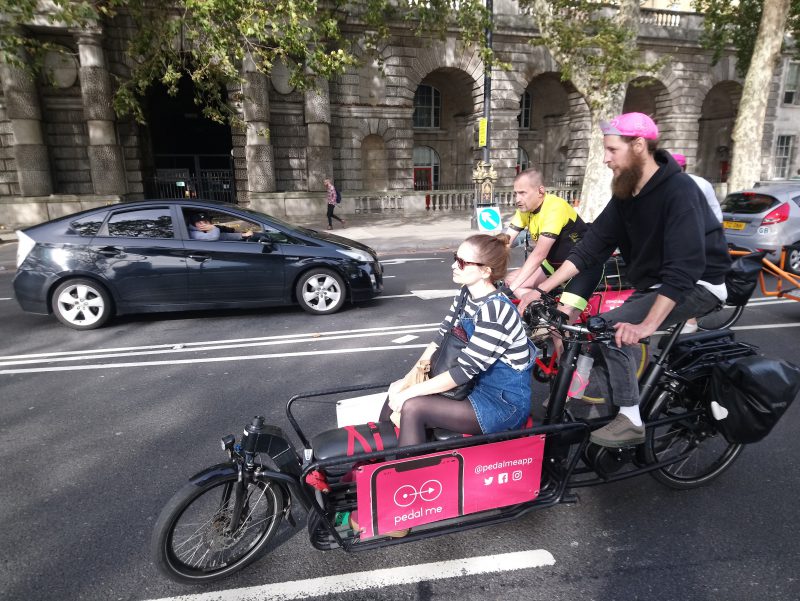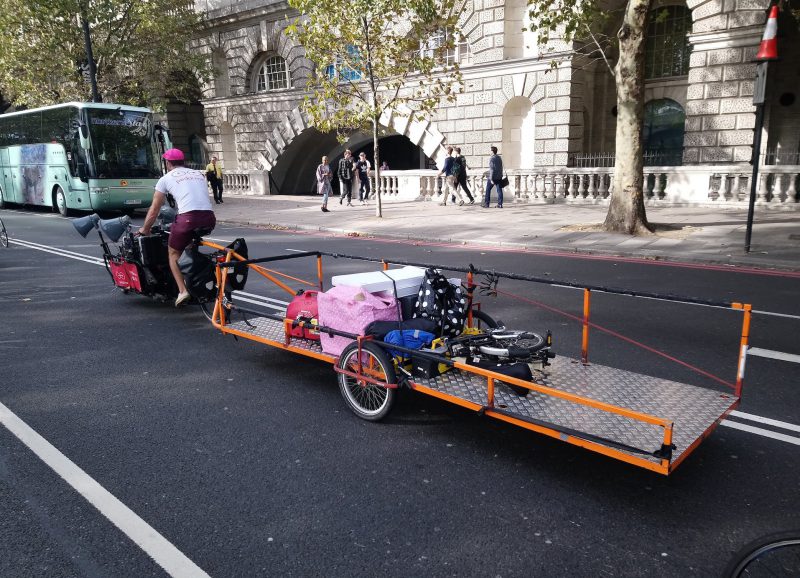 The Pedal Me bike taxis and delivery service were out supporting. I hadn't seen a cycle trailer as large as this before.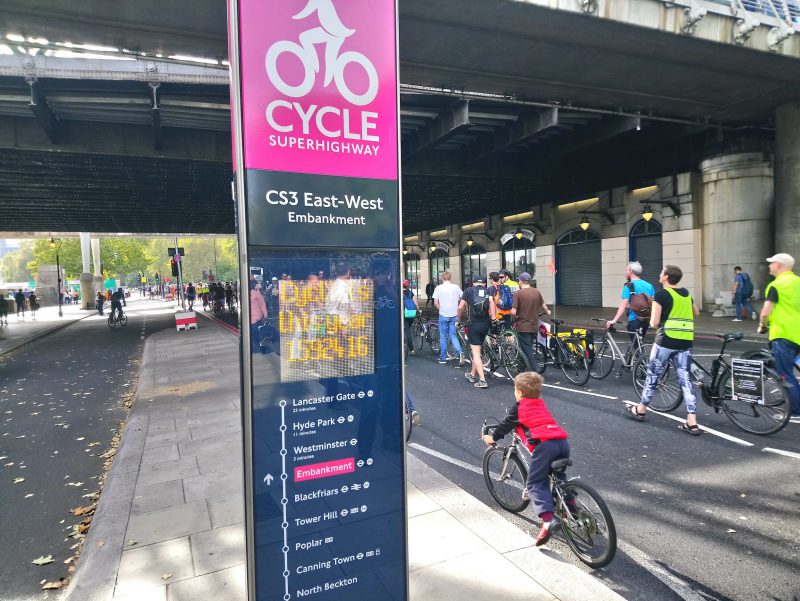 Seeing young kids on the ride made you realise how many roads in London aren't safe for kids to safely use cycles on.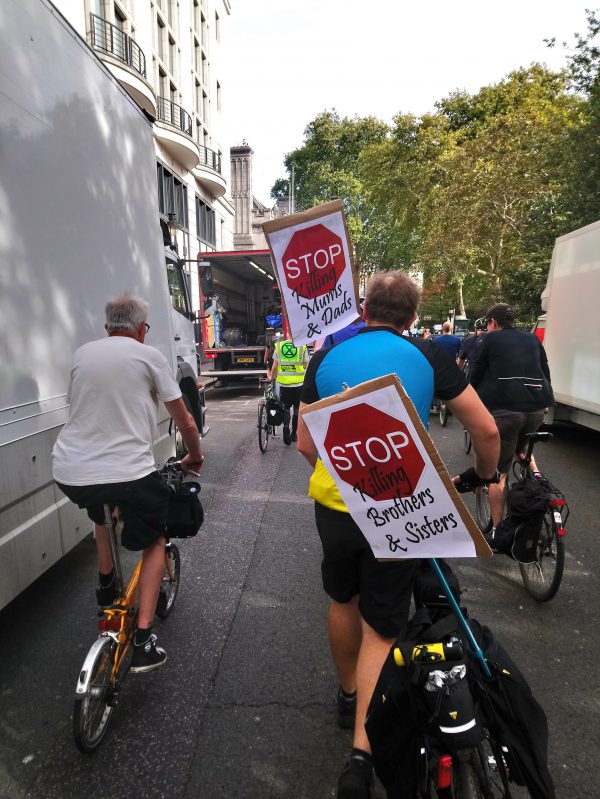 People had been creative with their signs. Some of them really made you stop and think.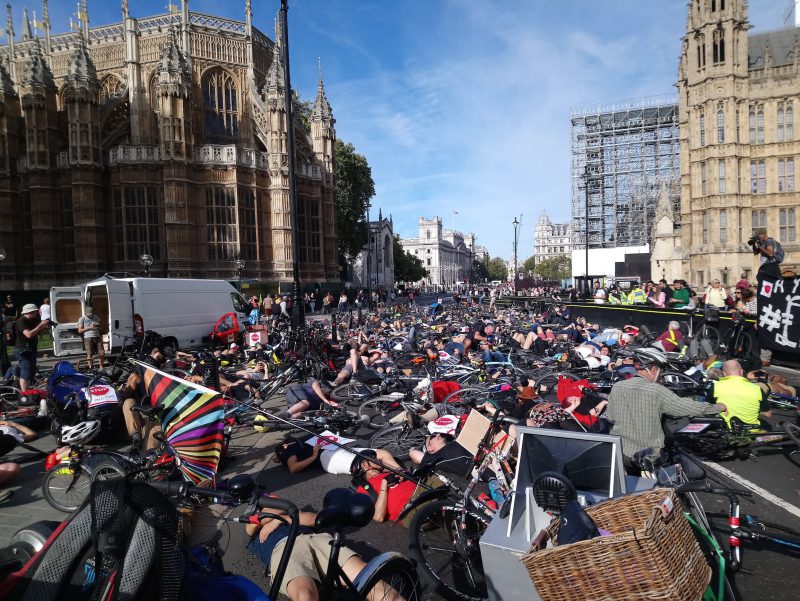 Outside Parliament the procession stopped and every one laid in silence on the ground for ten minutes in the form of a 'die-in'. In a city as busy as London it is a disarming sensation to witness so many bodies laying in the main roads. The quietness is noticeable as well, without the constant roar of traffic, and with hushed voices of those passing in respect to the funeral scene, you get to hear, well… peace and quiet. Which in London is rare.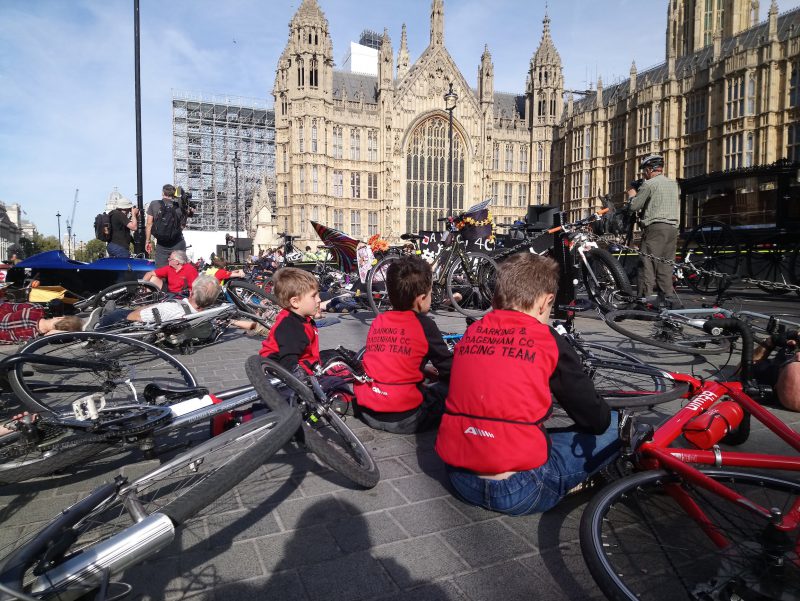 We really want safe roads for kids like these to ride their bikes on.
The ride proceeded to St John's Smith Square for a minutes silence, laying of flowers and then speeches.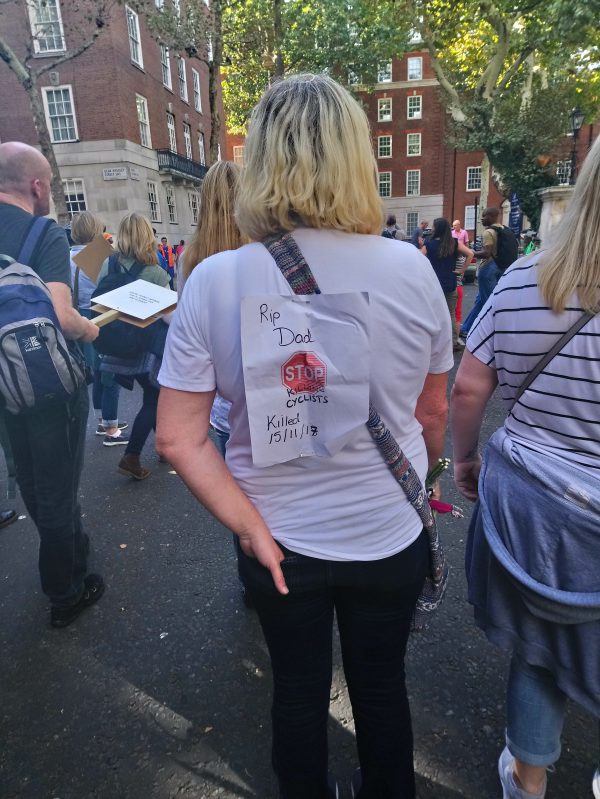 The flower ceremony was carried out by family members of those lost to road accidents in London and needless to say was very moving.
It's important to note that despite the somewhat macabre name of the campaign group, this is still very much a celebration of cycling. A celebration of the freedom that cycling gives us, a celebration of the health benefits we get from cycling and a celebration of the fact that cycling is the greenest and most eco-friendly way we can all travel.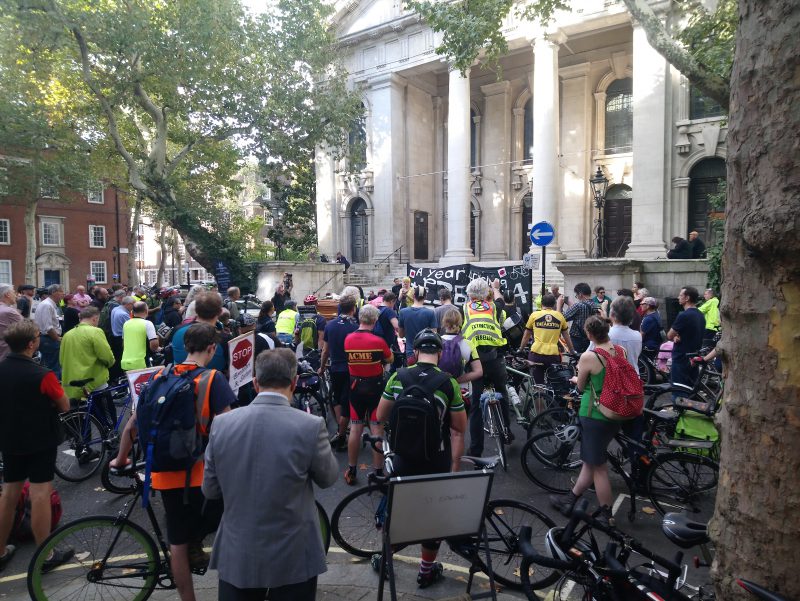 Following the speeches which were very informative and moving, we went to the pub. All in all a very worthwhile afternoon spent on the bike in London.
Addendum:
It was interesting to see that the two times we could hear emergency vehicles trying to get by, how quickly cycles can clear the road. I don't think the ambulance on the Embankment has ever been able to travel up it so quickly, nor the fire engine that was able to whizz between the parting cyclists.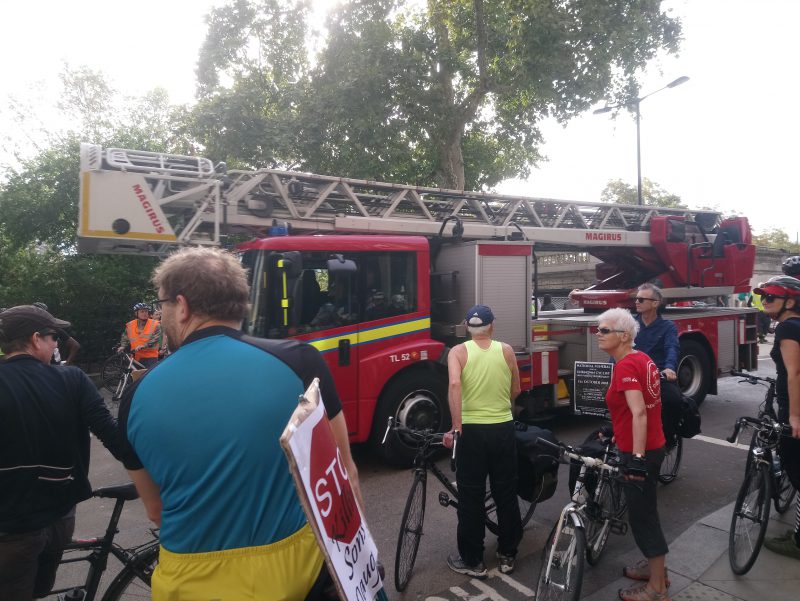 London's Bank Junction closed to cars and open to people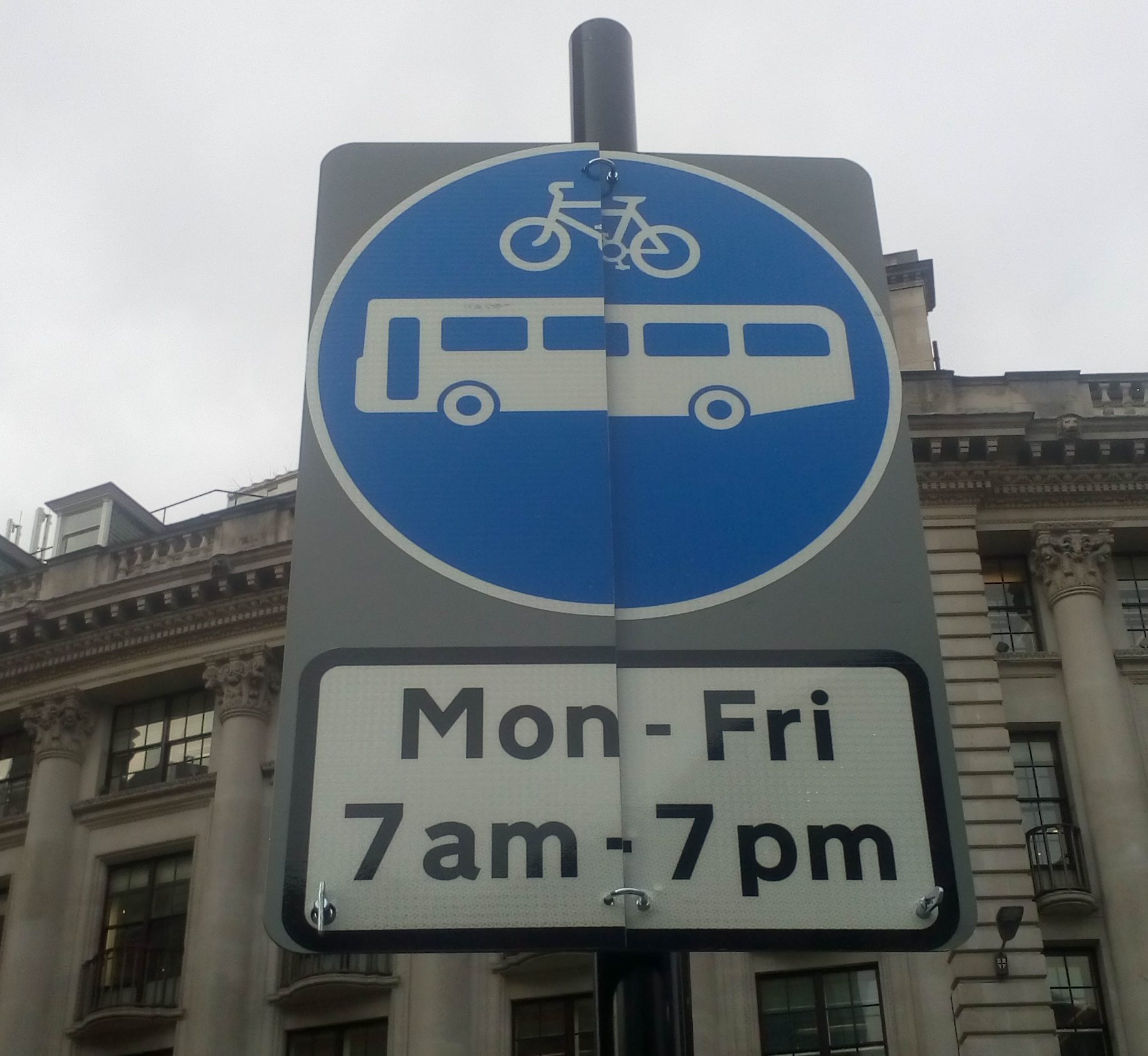 Today saw a major transport shift in the City of London as Bank Junction was finally closed to motorised traffic.
Bought in by the City of London Corporation the ban, between 7am to 7pm, Monday to Friday, only cyclists and buses will be allowed into the junction for a trial period which will last 18 months.
Authorities brought in the changes following a series of traffic collisions in the area which injured and killed pedestrians and cyclists.
Cycling safety campaigners Stop Killing Cyclists were there to celebrate the changes, commenting that it was their first 'Live In' demonstration, compared to the number of 'Die Ins' that the group is known for
Bikesy were also there celebrating this change in transport thinking in the financial heart of the UK
Images are free to use and share provided you include an HTTP link back to this page or to the main bikesy site
[Best_Wordpress_Gallery id="6″ gal_title="Bank Junction"]
UK Police Giving Away Free Gold Standard Bike Locks to Encourage Cycling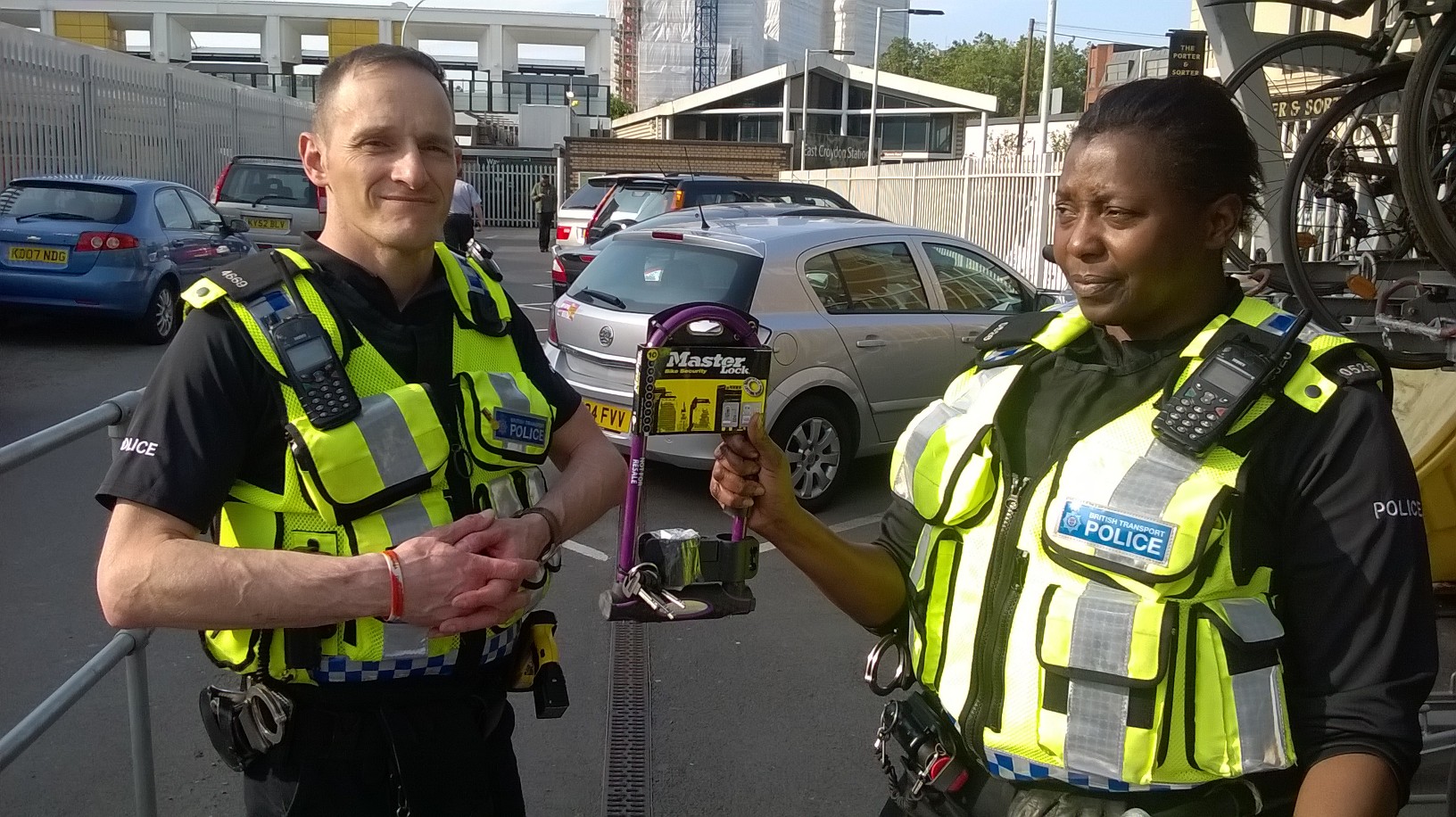 There are many initiatives for getting more people cycling as an everyday transport. One we've just come across is from the British Transport Police which tackles the concern around bike theft that puts some people off of cycling to a station rather than driving, incase their bike gets stolen while they are away at work.
Police officers are currently touring stations they deem as cycle theft 'hotspots' and offering free Bike Register marking to commuters unlocking their bikes.
The process involves taking the frame number from the cycle along with your personal details and then applying the BikeRegister sticker and the subsequent discrete marking ink. The days of using a hammer and engravers set to punch your postcode into the bottom bracket shell are long gone! This current method won't damage the frame in any way and will still allow you to be contacted should you move house.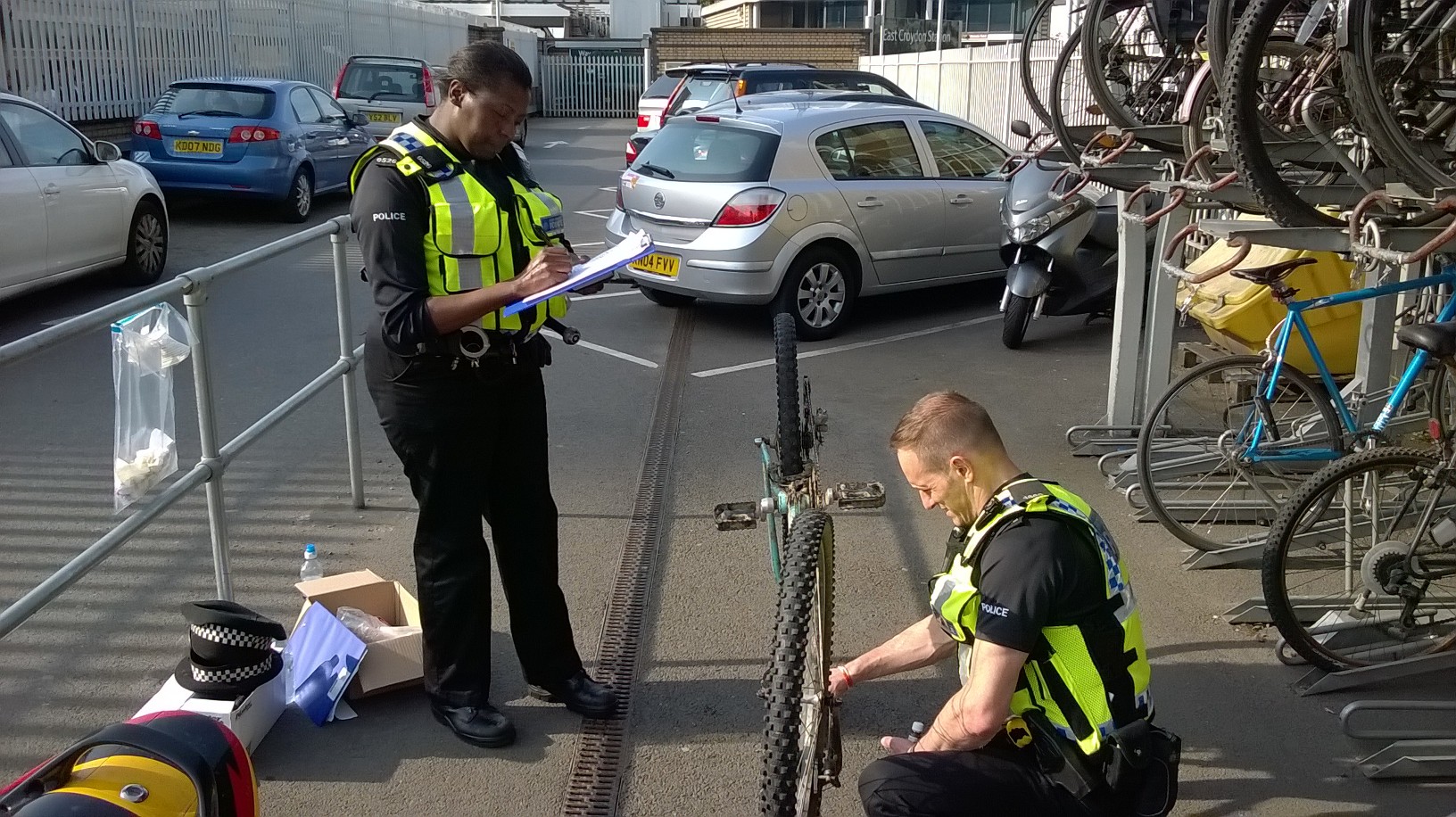 You can then have a sticker placed very visibly on the bike informing any potential thief that the bike is part of the BikeRegister scheme as a deterrent.
If you were to register for BikeRegister yourself you'd be looking at spending £20 for this alone, plus you get to avoid any of the faff by having a skilled officer do it for you.
If you are lucky enough to find the officers doing this at your local hotspot you'll discover that on the form there is a checkbox for a 'Gold Standard Cycle Lock'. If you enquire about this you'll probably discover that your friendly officer has a box of U-locks with him and you can receive one for free.
I'm not sure if you need a special type of bike to qualify but it didn't appear so when we registered.
Even if you've got a lock, this is a smart move, especially if your other lock ISN'T a U-lock. The logic is that a thief would need two sets of tools to break two different types of lock and will not want to hang around for another 30 seconds breaking the second lock as it gives people a chance to see the first broken lock and realise what's happening.
With pollution at record levels in London (and no doubt in other parts of the country too) and obesity levels rising, anything that can encourage people to cycle is a good thing.
Naysayers may complain about the cost of having officers working on crime prevention, the cost of the bulk registrations to BikeRegister and the cost of the U-Locks but in the bigger scheme of things getting people out of their cars, exercising not having to report thefts to police and burden the insurance industry further makes the scheme very worthwhile.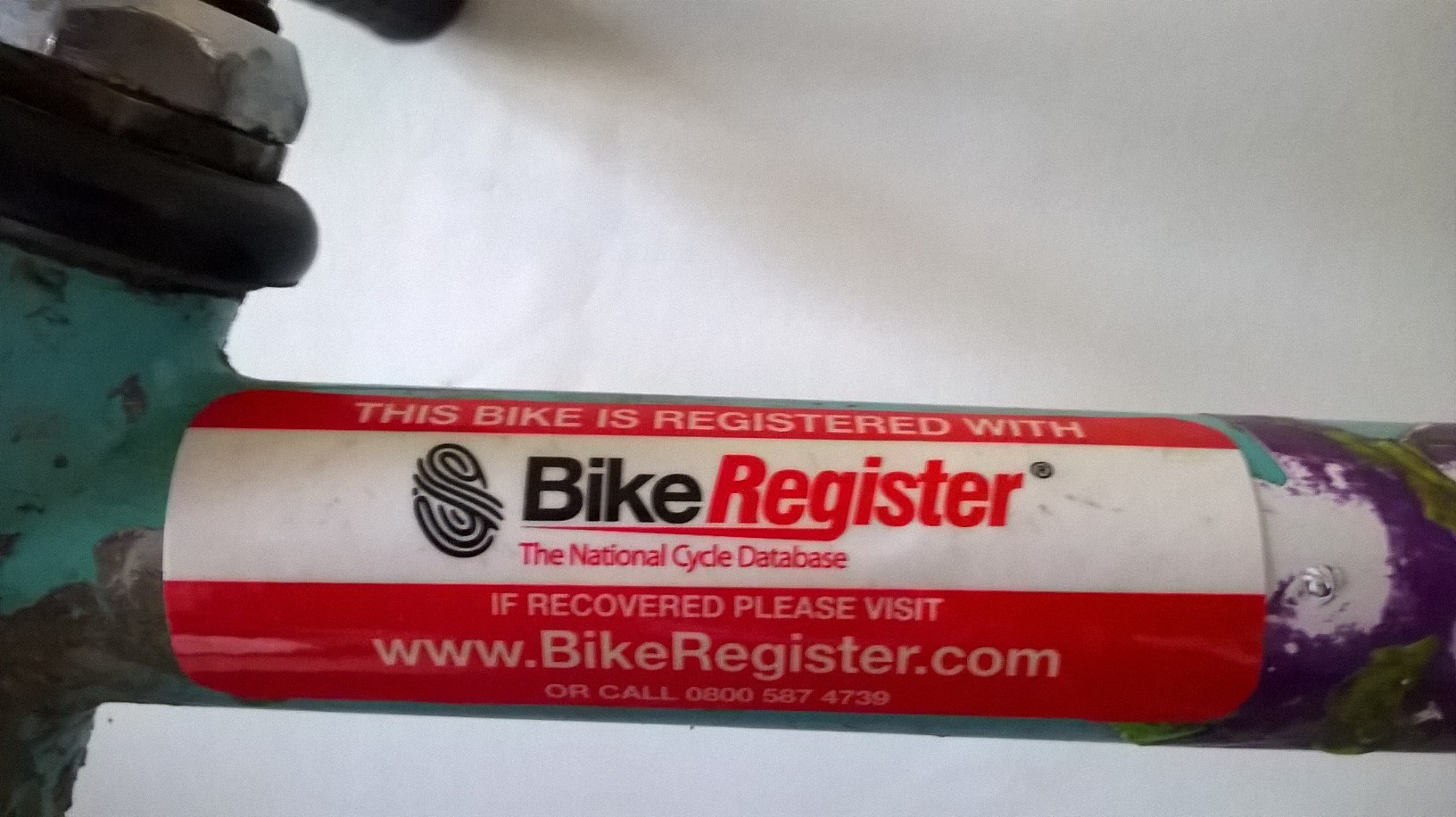 We at Bikesy would fully recommend finding out when the British Transport Police are at your local station and making sure you lock your bike up there that day. This is an excellent initiative.
A nationwide schedule of stations is regularly updated at http://www.btp.police.uk/advice_and_information/travelling_safely/bicycle_security.aspx or you can tweet them at https://twitter.com/BTP